Stretching Out
Jeans maker Lucky Brand looks to fashion comeback with more shops, product lines.
Monday, August 10, 2015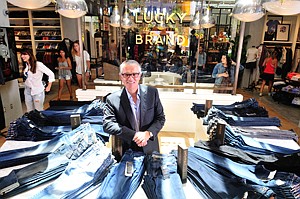 Jeans are fading, and not in a fashionable way.
But even as denim sales slump, the head of downtown L.A. denim maker Lucky Brand thinks he can nearly double the company's sales over the next few years – to more than $1 billion annually. His plan? Sell a lot more than jeans.
Under Chief Executive Carlos Alberini, Lucky is working to refresh a brand that's grown stale, add a slew of new products and refashion its retail stores to house all the new offerings – all part of a plan to become a lifestyle brand rather than just a denim label.
The first item on the company's checklist was expanding its product line to include home furnishings and so-called athleisure wear – yoga pants and other athletic apparel that's increasingly worn beyond the gym. Now, Lucky Brand is checking off another item –
a new concept store, which opened late last month at El Segundo shopping center the Point.
The 5,740-square-foot store, which is more than twice the size of Lucky's average outpost, features a bar serving alcohol and other refreshments, touch screens inside fitting rooms to view and request clothing as well as a conveyor belt displaying its denim. Alberini said the larger format, which will be a model for future retail stores, is necessary as Lucky plans to carry much more than just jeans and T-shirts.
"When we decided to expand the product line, the next question was: How are we going to showcase all that additional product?" he said. "It was very clear that a 2,500-square-foot store was too small of a space to feature the assortment that we were building in an effective way."
New cuts
Lucky Brand was founded in Vernon in 1990 and its jeans were hot items through much of the following decade, though Alberini acknowledges the brand, while still well known, has lost much of its cachet.
"One thing we inherited when we came here was a brand that has tremendous awareness," he said. "That is a beautiful attribute, but what the brand lost in all those years is relevancy."
Three years ago, the 371-employee company moved into its current headquarters, a gated two-story office in downtown L.A.'s Arts District. Soon after, in 2013, the company was sold for $225 million by New York firm Fifth & Pacific Cos. to West L.A. private equity giant Leonard Green & Partners.
The same year, Leonard Green brought in Alberini, who was previously co-chief executive of high-end furniture company Restoration Hardware Holdings Inc. in Corte Madera. He replaced former chief executive David DeMattei.
For reprint and licensing requests for this article, CLICK HERE.
Prev Next