Car Shopping Site Holds Camp to Rev Up Workers
INTERNET: Edmunds.com joins trend of firms using social events to stir staff.
Sunday, August 9, 2015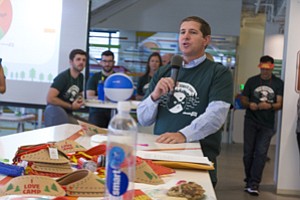 Pingpong tables? Old news. Open office spaces? De rigueur.
As local tech firms fight for talent and try to brand themselves as fun places to work, they continue to look for ways to keep their office culture fresh. Some host company picnics or happy hours. Others have sports teams and special interest groups.
Avi Steinlauf, chief executive of car shopping company Edmunds.com Inc., wanted to go a step further, so he decided to take a step back into one of his fondest childhood memories: summer camp.
For four days late last month, Edmunds employees were encouraged to stop working and instead take hip-hop lessons, learn to rock climb or get lessons from a martial-arts instructor. At the company's Santa Monica headquarters, conference rooms were stocked with inflatable campfires and s'mores for "fireside chats" with company executives, and Edmunds even invited guest speakers such as Greg Brandeau, a former Walt Disney Co. and Pixar Animation Studios executive.
"We want our employees to have fun while at work and at the same time develop themselves professionally and fuel their potential," Steinlauf said. "This is a great way for us to bring everyone together and do just that."
Edmunds' summer camp is just the latest in a fun-office arms race among tech companies as they try to attract and retain employees amid competition from nearby firms – and as a new generation of workers expects more than just a paycheck from the workplace.
If a companywide summer camp sounds like an odd way to keep employees around, that might be exactly the point. Leura Fine, founder and chief executive of West Hollywood virtual interior design firm Laurel & Wolf, said the silliest events can be the most valuable. Her company hosts monthly events, ranging from renting an indoor trampoline to a Margaritaville-themed murder mystery dinner, hoping to stoke employees' spirits and engagement.
"We don't assume today that people are going to get a job, work up the corporate ladder and stay in that job for 20 years," Fine said. "People want to work in places that make them feel excited every day. They want to be passionate about what they do, and love the team and the environment. I don't think there's anything wrong with expecting more out of your workplace."
It's not clear yet if similar efforts by companies are paying off, but Alec Levenson, a senior research scientist at USC's Center for Effective Organization, said it's good that companies are at least making an effort.
"You want people to feel engaged at work," Levenson said. "It's a phrase people use a lot – and often gets overused – but you want people to identify with your company, to feel good about your company and work better together as a team."
Happy campers?
Edmunds' summer camp, which kicked off July 27 and lasted through four workdays, took place during regular business hours. While participation was optional, employees were encouraged by department heads and team leaders to take part in as many activities as possible – without getting behind on their work.
There were about 45 workshops and activities, many of them led by Edmunds employees who wanted to flaunt their skills in hip-hop dancing or improv comedy. The week capped off with a Thursday talent show and a Friday picnic.
Steinlauf called it a "new age approach" to professional development and a way for employees to get to know colleagues across departments. He thinks the event, a first for the company, was a success and something he'll consider making an annual tradition if enough employees are interested.
Elbert Mendoza, a systems administrator at Edmunds, said he enjoyed the camp and that it was a good opportunity to meet people working in other parts of the company.
Others were less enthusiastic, with one employee, who asked his name not be printed, saying he felt peer pressure to attend at least a few events even though they were not mandatory, and thought the time could be spent elsewhere.
"I'm more focused on advancement and self-improvement and this ultimately doesn't help that much," the employee said. "I don't think it hurts, but I think they could have spent the money on something else."
Either way, events like these are not without value, said USC's Levenson. Companies benefit when employees know each other, get along and feel like part of a team – one of the reasons so many companies are hosting social events.
"There's a huge benefit to having people come together and get to know each other much better than they do during the normal workday," he said. "Finding ways to do that can be important to make sure people actually work better together. There's quite a few companies that don't do stuff like this that could really benefit from doing it."
For reprint and licensing requests for this article, CLICK HERE.