TrueCar's Scott Painter to Step Down
Thursday, August 6, 2015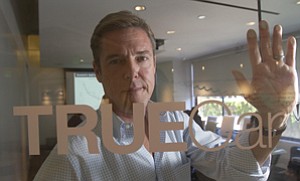 After a disappointing earnings report and new fights with car dealerships, TrueCar Chief Executive Scott Painter will step down by the end of the year.
Painter will stay on as TrueCar's chairman, but he will not be involved in the day-to-day operations of company. A search for a new chief executive is underway.
Santa Monica's TrueCar, a third-party car pricing information website and app, collects car sales data from dealerships, giving shoppers a chance to compare prices with regional averages. It also allows dealerships to offer a set price for cars, with the company getting paid a fee when leads from its website or app are converted into a sale.
Many auto dealerships rely on TrueCar for car leads, but believe the price transparency service is cutting away at their profit margins. Hard-charging Painter sometimes also rubbed those dealers the wrong way, creating additional conflict in an already tenuous relationship.
At times those tensions broken out into all-out war, such as in early 2013, when one-third of TrueCar's dealer customers cut ties with the company. Painter went on an apology tour shortly after and managed bring many dealers back into the fold.
But distrust began to emerge again in May when TrueCar was sued by the California New Car Dealers Association, a Sacramento trade group representing 1,100 of the state's new car dealers, for operating as an auto dealer and broker without a license. Then, in July, the nation's largest car dealer, AutoNation of Fort Lauderdale, Fla., ended its relationship with TrueCar, citing a dispute over data sharing and compensation.
The breaking point for return-anxious investors came last week, when TrueCar predicted revenue for the second quarter and the rest of this year would be lower than it had anticipated. That announcement sent the company's stock price down nearly 40 percent.
The company on Thursday reported second-quarter revenue of $65.3 million, an increase from $50.5 million a year earlier. But despite that growth, investors were spooked by the company's $14.7 million net loss for the quarter and its prediction that revenue would remain flat in the third and fourth quarters. Total revenue for this year is expected to be to be in the range of $252 million to $258 million, well below analysts' expectations of $283 million.
On a conference call following Thursday's earnings release, Painter took responsibility for problems with dealerships and announced plans to step down.
"I recognize that as founder of TrueCar I've had a sometimes strained relationship with the very dealer community we exist to serve. In addition, I do not believe I have always communicated our value proposition to our investors as effectively as I could have. Those things are on me," Painter said. "The bottom is we failed to deliver the operating results that our shareholders deserve. As the CEO, I bear the ultimate responsibility for our performance and falling short of expectations, including my own."
TrueCar announced earnings after markets closed Thursday. Shares fell 6 percent to $5.54 in advance of the announcement. TrueCar shares have lost 75 percent of their value since the beginning of the year, when they traded at nearly $22.
Technology reporter Garrett Reim can be reached at greim@labusinessjournal.com. Follow him on Twitter @garrettreim for the latest in L.A. tech news.
For reprint and licensing requests for this article, CLICK HERE.