Packing 'Em In
Loot Crate scores with fan boys despite other e-tailers' subscription struggles.
Monday, August 3, 2015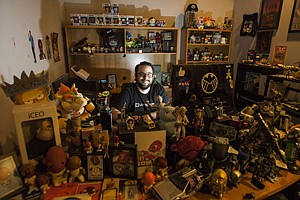 Loot Crate's co-founders have come a long way in three years.
After launching their geek-gear subscription business in 2012 with only a handful of customers, Matthew Arevalo and Chris Davis have recruited 400,000 customers, each of them paying $20 a month for a mystery box filled with merchandise related to popular movies, TV shows, video games and comic books.
But the swag merchant's meteoric rise brings up a question central to the success of any e-commerce enterprise: How long can solid subscriber growth continue before the cost of attracting customers eats up too much cash?
Part of the answer for Arevalo and co. is an ever-expanding catalog of online content that aims to engage current Loot Crate subscribers daily and introduce its brand to new customers. And, of course, Loot Crate is becoming a fixture at fan-boy events such as San Diego's Comic-Con International, where the company's presence included a large booth on the convention floor.
The company sold out of two exclusive "crates" produced specifically for that event, stuffed with toys and merch from "Jurassic World," "Ghostbusters" and "Star Wars." Loot Crate sold 10,000 boxes priced at $50 each, while fans also snapped up all 2,000 crates priced at $100, which featured limited-edition items such as translucent Stormtrooper figurines.
Small-box retail
Loot Crate generates between $8 million and $10 million in sales every month. That's based on the last publicly announced base of more than 400,000 subscribers who pay $20 a month (although international customers pay $30) coupled with revenue from special partnerships, events and limited-edition product sales. The $20 price point includes the cost of shipping. The fee goes down if customers pay for several months in advance.
Each crate is typically filled with between six and 10 items such as toys, action figures, comic books, T-shirts and other types of swag. Each month's box carries a different theme, such as "fantasy" or "fear," and everyone gets the same products. Last month's cyber-themed box included a replica bust of a "Terminator," while May's crate, titled "unite," featured a Marvel comics superhero ice-cube tray. Several of the comic books included in shipments have gone on to become top sellers.
Loot Crate purchases limited-run items for its customers directly from movie studios and comic-book and video-game publishers. It purchases other products, most of which are exclusive items only available to subscribers, from manufacturers such as Canoga Park's Quantum Mechanix Inc. and eFX Inc. in Los Angeles, which have licensing deals with a number of popular science-fiction and fantasy brands such as "Star Wars," "Star Trek," Marvel Comics and DC Comics, to name a few.
"No one places a single order as big as Loot Crate does," said Andy Gore, Quantum's chief executive.
And those orders have been growing. Loot Crate has more than doubled its subscriber base since November, when it had 200,000 customers, thanks in large part to a number of online content initiatives, Arevalo said.
Arevalo has experience in such cyberstrategy, having founded digital marketing firm Relentus in 2008, which specialized in developing campaigns targeting specific online communities.
Loot Crate has an active YouTube presence, which consists of programming such as a show called "Looter News," featuring a host breaking down recent gaming and pop-culture happenings. Other videos showcase popular YouTubers opening up Loot Crate boxes and talking about what's inside.
Loot Crate also pays video-game celebrities on YouTube to talk about its service and products, such as Felix Kjellberg, known as PewDiePie, who boasts the most YouTube subscribers in the world.
The company also sponsors a number of competitive video-game teams, including one of the top-ranked "Call of Duty" squads in the world.
Arevalo declined to break down how much all this marketing costs, but at least a portion is offset by video ad revenue.
"The content we do comes from a user-acquisition standpoint," said Arevalo, who serves as Loot Crate's chief experience officer. He sees a strong sense of community among his company's customers, known as "looters," as one of the secrets to its success.
Loot Crate facilitates offline events, too, such as monthly meetups attended by hundreds of looters at retail shop Meltdown Comics in Hollywood. Each meetup features food trucks, a costume contest and a trading post where looters can exchange items with one another.
"As a monthly mystery box company, we need to keep that experience going every single day," Arevalo said.
Subscription surge
Like other players in the item-of-the-month industry, Loot Crate has seen rapid growth just a few years removed from a drop in interest from venture capital firms in the business model after the struggles of companies such as ShoeDazzle and Beachmint Inc.
El Segundo women's fashion e-tailer JustFab Inc. acquired ShoeDazzle in August 2013 for an amount that PandoDaily reported at the time was less than half of the $66 million of venture capital the firm had raised. Beachmint, meanwhile, formed a joint venture with Condé Nast's Lucky Inc. fashion brand last August.
"Silicon Valley has a love-hate relationship with e-commerce," said Adam Goldenberg, co-chief executive of JustFab, which carries a $1 billion valuation and is on pace to generate more than $500 million in revenue this year.
"Why it sometimes goes out of favor is that, compared to social media or mobile or ad tech, it's typically more capital intensive," he said.
Yet Loot Crate hasn't raised venture capital beyond an initial angel investment from Spot Runner Inc. co-founder David Waxman in 2012.
By comparison, JustFab, which boasts nearly 3 million monthly subscribers, has raised more than $250 million in venture capital since launching in 2010, including an $85 million Series E round last August. Goldenberg said he expects the business to be profitable this year.
Loot Crate, though, is profitable already, Arevalo said. And because the company has never gone through a formal fundraising process, Waxman said Loot Crate's co-founders have been able to focus solely on building something its target audience wants.
"The Loot Crate guys have not depended on investors to define their success," he said. "Whether it's in fashion or out of fashion is sort of irrelevant to them."
Waxman, who co-founded Century City seed investment firm TenOneTenVentures with partner Gil Elbaz in 2013, met Arevalo and Davis while judging the L.A. Startup Weekend contest in July 2012.
While Loot Crate didn't win, or even place in the top three, it was the only company in the contest to generate any revenue by the time the judges made their decision, Arevalo said.
A few weeks later, Waxman invited Loot Crate to work out of his office and decided to make an angel investment. He declined to disclose the terms of his investment.
Scaling heights
Yet as subscription e-commerce businesses scale, it becomes harder to recruit customers beyond a company's core audience. That means spending more money on marketing, which results in smaller margins on each sale, said David Fink, chief revenue officer at Santa Monica's Science Inc., which has invested in a number of e-commerce firms.
"We have increased our media spend for customer acquisition every year for the last five years," said JustFab's Goldenberg.
JustFab and Loot Crate are dealing with the reality of recruitment by moving in to more targeted product areas, a tactic that both attracts new customers and generates additional revenue from existing ones.
"We're working with some of the top video-game publishers to create specialty boxes tailored to super fans of that franchise," said Arevalo.
What Loot Crate shouldn't do, said Science's Fink, is turn to venture funding specifically to fill that gap.
"Going out and raising capital to underwrite the cost of goods for a box isn't necessarily a win," added Fink, former president of acquisition marketing at Beachmint. "There are very few economies of scale at that point."
But Arevalo said Loot Crate is prepared for what comes next, including its new offerings, precisely because he and Davis never sought venture capital.
"We had to watch every dollar we spent," he explained. "That disciplined day-to-day operation has led us to be a little more flexible now that we have a larger reach."
For reprint and licensing requests for this article, CLICK HERE.