Packing 'Em In
Loot Crate scores with fan boys despite other e-tailers' subscription struggles.
Monday, August 3, 2015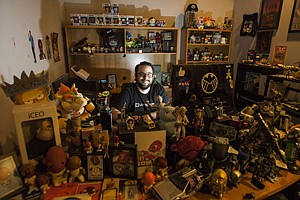 Loot Crate's co-founders have come a long way in three years.
After launching their geek-gear subscription business in 2012 with only a handful of customers, Matthew Arevalo and Chris Davis have recruited 400,000 customers, each of them paying $20 a month for a mystery box filled with merchandise related to popular movies, TV shows, video games and comic books.
But the swag merchant's meteoric rise brings up a question central to the success of any e-commerce enterprise: How long can solid subscriber growth continue before the cost of attracting customers eats up too much cash?
Part of the answer for Arevalo and co. is an ever-expanding catalog of online content that aims to engage current Loot Crate subscribers daily and introduce its brand to new customers. And, of course, Loot Crate is becoming a fixture at fan-boy events such as San Diego's Comic-Con International, where the company's presence included a large booth on the convention floor.
The company sold out of two exclusive "crates" produced specifically for that event, stuffed with toys and merch from "Jurassic World," "Ghostbusters" and "Star Wars." Loot Crate sold 10,000 boxes priced at $50 each, while fans also snapped up all 2,000 crates priced at $100, which featured limited-edition items such as translucent Stormtrooper figurines.
Small-box retail
Loot Crate generates between $8 million and $10 million in sales every month. That's based on the last publicly announced base of more than 400,000 subscribers who pay $20 a month (although international customers pay $30) coupled with revenue from special partnerships, events and limited-edition product sales. The $20 price point includes the cost of shipping. The fee goes down if customers pay for several months in advance.
Each crate is typically filled with between six and 10 items such as toys, action figures, comic books, T-shirts and other types of swag. Each month's box carries a different theme, such as "fantasy" or "fear," and everyone gets the same products. Last month's cyber-themed box included a replica bust of a "Terminator," while May's crate, titled "unite," featured a Marvel comics superhero ice-cube tray. Several of the comic books included in shipments have gone on to become top sellers.
Loot Crate purchases limited-run items for its customers directly from movie studios and comic-book and video-game publishers. It purchases other products, most of which are exclusive items only available to subscribers, from manufacturers such as Canoga Park's Quantum Mechanix Inc. and eFX Inc. in Los Angeles, which have licensing deals with a number of popular science-fiction and fantasy brands such as "Star Wars," "Star Trek," Marvel Comics and DC Comics, to name a few.
Prev Next
For reprint and licensing requests for this article, CLICK HERE.