Organic Growth
GROCERY: Market chain Erewhon lays out expansion plan as it works to cart off customers from rival Whole Foods.
Monday, August 3, 2015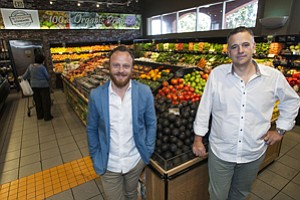 Organic grocery Erewhon Market will open a location in Venice this fall, part of a slow-motion expansion that chain co-owners Tony and Josephine Antoci are ready to speed up.
The Venice store will be Erewhon's third, and the Antocis plan to bring the total to 10, all in Southern California, over the next five years – an increasingly aggressive growth plan in an already crowded market for organic food stores.
But the Antocis think their concept – essentially a smaller, more locally focused Whole Foods Market – can compete, at least in the parts of Los Angeles where consumers are willing to pay higher prices for the highest-quality goods, Josephine Antoci said.
"They know way more information than most of us here do," she said. "They know how to read labels and they know how to question."
Given that focus on high-spending, label-reading consumers, pricey Venice was an obvious choice for the next Erewhon location, following the chain's original market in L.A.'s Fairfax District and its second in Calabasas. The Erewhon team sees the beachfront neighborhood as a haven for the kind of health-conscious consumers they're after.
"We knew this was our people," said Jason Widener, director of Erewhon's Fairfax store.
The Antocis tried to open a Venice location two years ago after being approached by business developer Yuval Chiprut, owner of L.A. real estate investment, design, and construction firm Slated Projects.
That plan fell through when they couldn't come to terms with the owner of the location they wanted, but they kept looking and in November signed a lease at 585 Venice Blvd.
It's a prime location, right at Venice and Abbot Kinney boulevards. Since signing the lease, the Antocis and Chiprut have redesigned the space – formerly a surf shop – and added décor from local artists. The Antocis haven't set an opening date yet, but say the store should be open this fall.
While Venice and Abbot Kinney is a high-traffic spot, especially with the increased interest in Abbot Kinney over the past few years, it's also just about a mile from the Venice outpost of Erewhon's biggest competitor, organic and natural grocery giant Whole Foods.
Paul Zaffaroni, a managing director in the consumer practice at Newport Beach investment bank Roth Capital Partners, said the big challenge will be for Erewhon to differentiate itself from Whole Foods.
"In a category that is crowded you have to be different and (Erewhon) have a higher standard than other stores that are out there," he said.
For reprint and licensing requests for this article, CLICK HERE.
Prev Next