Office Properties Leave Room for Hotel Projects
DEVELOPMENT: Sky-high vacancy rate makes LAX area ripe for conversions.
Monday, August 3, 2015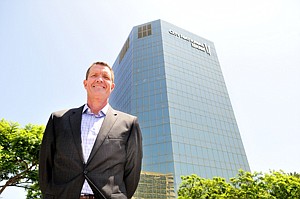 The real estate market around Los Angeles International Airport is a bit unusual: Hotels are doing well while the office market – with a 45 percent vacancy rate – is not.
So it probably was no surprise recently when an office building on Century Boulevard was converted into a hotel.
Corona Del Mar's Seaview Investors bought a 12-story office tower at 5933 W. Century last year for $10.8 million and hired Irvine firm R.D. Olson Construction to convert it into a 231-room Residence Inn by Marriott, which cost an additional $44.5 million. When the extended-stay hotel opened its doors in March, it was the first new hotel in the area in 23 years.
Many see that hotel conversion as an example of the best use of existing offices in the area, because the LAX hotel submarket is doing well. It finished last year at more than 89 percent occupancy, outshining Los Angeles County's occupancy rate of 82 percent, according to Bruce Baltin of downtown L.A. hospitality consulting firm PKF Consulting USA.
Oddly enough, despite the LAX area's rosy hotel occupancy rate, the average rate customers pay for a room was $121 last year, well below the $179 county average.
"While occupancy is very strong, rates are not high enough on Century Boulevard to support new (ground-up hotel) development," Baltin said, citing a lack of retail and restaurant options in the area as the culprit.
That only adds to the logic of converting existing office buildings into hotels because it is a significantly cheaper than ground-up construction.
Observers expect more office-to-hotel conversions. Although it's not a sure thing office buildings that recently sold will be converted into hotels, there has been an increase in sales of late. Eight office buildings have traded hands in the past three years in the area surrounding the airport bounded by West Manchester Avenue and Sepulveda, La Cienega and West Century boulevards, the latter of which is considered to be the heart of the area's business district. Only five offices traded in the six previous years.
Laurie Hughes, executive director of business improvement district Gateway to L.A., said the office market faces massive hurdles.
"We've got old product, we're in a city that has high business tax and we're surrounded by cities like El Segundo that don't have business tax and have newer buildings," Hughes said. "I think that we'll see fewer office buildings and more of the trend of converting them to hotels because this area has the highest (hotel) occupancy rates in Los Angeles."
The office market around LAX suffers from a lack of institutional buyers, said Eric Lastition, a senior executive vice president in the El Segundo office of Colliers International, who recently became a leasing agent and property manager at Skyview Center, a two-building office development at 6033-6053 W. Century that is not a candidate to be converted into a hotel. Lastition said a problem in the area is that one-off buyers lack the money to improve the buildings they buy and the disrepair is unattractive to tenants.
Hotel corridor
It cost Seaview less than $56 million to acquire and convert its Century property into the Residence Inn. With an average cost of building a full-service hotel from scratch running at about $268,000 a room last year, a ground-up project of the same size would have cost roughly $62 million, not to mention the cost of demolition.
Some office properties recently purchased near LAX are said to be awaiting hotel conversions. Sources said Paul Solomon, who bought a 43 percent-vacant 82,000-square-foot Class B office building at 6171 W. Century, is considering a hotel use. Solomon did not return calls for comment.
The Los Angeles County Metropolitan Transportation Authority is in the midst of building the $2 billion Crenshaw-LAX Transit Project, an 8.5-mile light-rail line that began construction last year and is expected to be completed in 2017 or 2018. It is possible that project will aid the office market, Hughes said.
"I had a conversation with a property owner last week who said that transit will be a game-changer," she said. "It could also incentivize property owners to improve their office buildings because they see a potential change in the area."
Last year, Los Angeles World Airports, the city of L.A. agency that runs the city's airports, proposed a series of improvements called the LAX Landside Access Modernization Program that could ease traffic going into the airport and free up land for development. If approved, construction would begin in 2017 and be completed between 2021 and 2023.
These projects could bring in more retail and better restaurants to what is now a fast food-dominated area, Hughes said. That, in turn, could bolster office use, at least a bit.
Still, she said, hotel conversions are a more likely trend than an office turnaround.
"There's a variety of factors that have made (the office market) unattractive," she said. "The (rail line) will help with traffic congestion, but that's just one of them."
For reprint and licensing requests for this article, CLICK HERE.