Fake Beef Firm Plants Products
FOOD: Beyond Meat signs up partners to serve vegan items.
Monday, August 3, 2015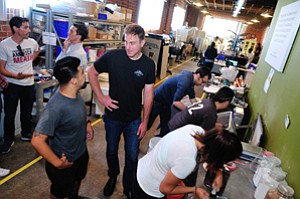 "In our case it's about delivering the best product to our customer base," he said. "Their product not only has a similar taste to a real similar pork or sausage product, but it looks like one as well."
Another local customer is Craig's, an upscale West Hollywood eatery that offers a vegan spaghetti Bolognese dish for $25.
The company has also sold its nongenetically modified plant meat, which is cholesterol and gluten free, to two public school districts in the Dallas area, and Brown said that he's had discussion with Los Angeles Unified School District officials as well.
"We'll be in there soon," he said.
Masking taste
So why add the partnership route now?
Brown said that when his products are prepared in ready-made dishes, taste tests revealed that the difference between plant and animal protein becomes harder to distinguish. But substitute meat standing alone on a plate seems more like substitute meat.
"That tells you why I'm pursuing this strategy," said Brown. "I wish on a stand-alone basis it was indistinguishable."
But Beyond Meat is hell-bent on closing the gap. According to Brown, the company has invested millions of dollars to enhance the taste and texture of its items by analyzing how proteins, fats and water are distributed in animals versus plants and trying to replicate it. He's assembled a team of 22 scientists and researchers in a division he refers to as the "Manhattan Beach Project," a reference to the nuclear scientists who developed the atomic bomb in the 1940s.
"We wanted to connect people to a sense of urgency and scale," said Brown. "What's at stake is so important."
While that sounds grandiose for a company that makes pizza toppings, he said his ultimate goal is to get people healthy and save the environment.
"Meat does require more resources to produce and results in more greenhouse gas emissions than plant products," said Brian Todd, an associate professor in the department of wildlife, fish and conservation biology at UC Davis.
Government officials agree.
In early April, the Department of Agriculture made a splash when its dietary guidelines committee recommended that Americans eat more food derived from plants rather than animal products, angering the the beef, pork and poultry industries.
"A diet higher in plant-based foods … is more health promoting and is associated with less environmental impact than is the current U.S. diet," the department's annual report said.
For reprint and licensing requests for this article, CLICK HERE.