Fake Beef Firm Plants Products
FOOD: Beyond Meat signs up partners to serve vegan items.
Monday, August 3, 2015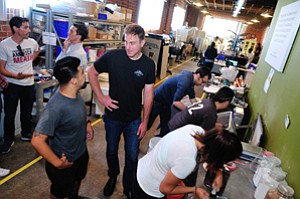 While it might sound ridiculous for someone who sells something called the Beast Burger to talk about driving down meat consumption, that's exactly what Ethan Brown wants to do.
Brown, chief executive of Beyond Meat, an El Segundo manufacturer of vegan meat substitutes, has lined up a slew of partnerships with other manufacturers and vendors to show that others are starting to buy in to the vision, too, at least in part.
"It's driven by a growing recognition around the implications of continuing to use livestock for protein production," said Brown.
Beyond Meat's faux chicken and beef products, including its top-selling Beast Burger, are made from plant proteins and available in 7,000 stores, including big chains such as Whole Foods, Target, Ralphs and Vons. The company proclaims that it wants to reduce global meat consumption by 25 percent in five years.
When you consider that alternative meat sales represent a roughly $600 million market, a mere fraction of 1 percent of the $180 billion beef and poultry industry, Beyond Meat's goal sounds like a tall, if not impossible, order.
However, Brown said the company is making headway.
"We've been doubling (sales) every year for the past several years," he said, though he declined to break down the numbers any further.
Now his company is deploying a new tactic to get its products in the mouths of more consumers: partnering with other food manufacturers, restaurants and schools to include its products in vegan dishes.
Beyond Meat has struck a deal with national sandwich chain Which Wich that will see the Dallas company offer Beyond Meat's chickenless meat, made from pea protein, in all its stores later this year after an initial trial run in Texas.
Last month, the company partnered with Vancouver, Canada, alternative dairy maker Daiya Foods, whose frozen dishes are available in 20,000 grocery stores nationwide, to produce a Supreme Pizza featuring Beyond Meat's faux sausage.
It also makes vegan sausage for L.A. pizza chain Fresh Brothers, a customer for two years, which offers it as a topping option at its 13 local stores.
Beyond Meat is priced very competitively to other vegan meat suppliers, said Adam Goldberg, Fresh Brothers' founder and chief executive.
Goldberg said the Beyond Meat-topped pizza has been selling well and that his company plans to start purchasing vegan pepperoni from the company in the near future, though a bit more research and development is needed.
Prev Next
For reprint and licensing requests for this article, CLICK HERE.