Fake Beef Firm Plants Products
FOOD: Beyond Meat signs up partners to serve vegan items.
Monday, August 3, 2015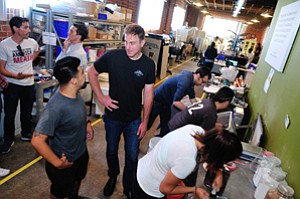 While it might sound ridiculous for someone who sells something called the Beast Burger to talk about driving down meat consumption, that's exactly what Ethan Brown wants to do.
Brown, chief executive of Beyond Meat, an El Segundo manufacturer of vegan meat substitutes, has lined up a slew of partnerships with other manufacturers and vendors to show that others are starting to buy in to the vision, too, at least in part.
"It's driven by a growing recognition around the implications of continuing to use livestock for protein production," said Brown.
Beyond Meat's faux chicken and beef products, including its top-selling Beast Burger, are made from plant proteins and available in 7,000 stores, including big chains such as Whole Foods, Target, Ralphs and Vons. The company proclaims that it wants to reduce global meat consumption by 25 percent in five years.
When you consider that alternative meat sales represent a roughly $600 million market, a mere fraction of 1 percent of the $180 billion beef and poultry industry, Beyond Meat's goal sounds like a tall, if not impossible, order.
However, Brown said the company is making headway.
"We've been doubling (sales) every year for the past several years," he said, though he declined to break down the numbers any further.
Now his company is deploying a new tactic to get its products in the mouths of more consumers: partnering with other food manufacturers, restaurants and schools to include its products in vegan dishes.
Beyond Meat has struck a deal with national sandwich chain Which Wich that will see the Dallas company offer Beyond Meat's chickenless meat, made from pea protein, in all its stores later this year after an initial trial run in Texas.
Last month, the company partnered with Vancouver, Canada, alternative dairy maker Daiya Foods, whose frozen dishes are available in 20,000 grocery stores nationwide, to produce a Supreme Pizza featuring Beyond Meat's faux sausage.
It also makes vegan sausage for L.A. pizza chain Fresh Brothers, a customer for two years, which offers it as a topping option at its 13 local stores.
Beyond Meat is priced very competitively to other vegan meat suppliers, said Adam Goldberg, Fresh Brothers' founder and chief executive.
Goldberg said the Beyond Meat-topped pizza has been selling well and that his company plans to start purchasing vegan pepperoni from the company in the near future, though a bit more research and development is needed.
"In our case it's about delivering the best product to our customer base," he said. "Their product not only has a similar taste to a real similar pork or sausage product, but it looks like one as well."
Another local customer is Craig's, an upscale West Hollywood eatery that offers a vegan spaghetti Bolognese dish for $25.
The company has also sold its nongenetically modified plant meat, which is cholesterol and gluten free, to two public school districts in the Dallas area, and Brown said that he's had discussion with Los Angeles Unified School District officials as well.
"We'll be in there soon," he said.
Masking taste
So why add the partnership route now?
Brown said that when his products are prepared in ready-made dishes, taste tests revealed that the difference between plant and animal protein becomes harder to distinguish. But substitute meat standing alone on a plate seems more like substitute meat.
"That tells you why I'm pursuing this strategy," said Brown. "I wish on a stand-alone basis it was indistinguishable."
But Beyond Meat is hell-bent on closing the gap. According to Brown, the company has invested millions of dollars to enhance the taste and texture of its items by analyzing how proteins, fats and water are distributed in animals versus plants and trying to replicate it. He's assembled a team of 22 scientists and researchers in a division he refers to as the "Manhattan Beach Project," a reference to the nuclear scientists who developed the atomic bomb in the 1940s.
"We wanted to connect people to a sense of urgency and scale," said Brown. "What's at stake is so important."
While that sounds grandiose for a company that makes pizza toppings, he said his ultimate goal is to get people healthy and save the environment.
"Meat does require more resources to produce and results in more greenhouse gas emissions than plant products," said Brian Todd, an associate professor in the department of wildlife, fish and conservation biology at UC Davis.
Government officials agree.
In early April, the Department of Agriculture made a splash when its dietary guidelines committee recommended that Americans eat more food derived from plants rather than animal products, angering the the beef, pork and poultry industries.
"A diet higher in plant-based foods … is more health promoting and is associated with less environmental impact than is the current U.S. diet," the department's annual report said.
Price point
Another reason Beyond Meat has adopted this business strategy has to do with the price point for consumers, since the unit cost of vegan meat is still more expensive than comparable animal products.
Take chicken strips as an example. Last week, a 9-ounce bag of Beyond Meat's chicken-free strips cost Vons Club members $4 at a local store, while a 20-ounce bag of Foster Farms grilled chicken-breast strips sold for $6.
But prominent investors from the tech community seem to believe in the company's upside. While Beyond Meat doesn't disclose the amount of funding it's received, Menlo Park's Kleiner Perkins Caufield & Byers; Microsoft Corp. co-founder Bill Gates; and San Francisco's Obvious Ventures, a VC firm launched by Twitter Inc. co-founders Evan Williams and Biz Stone, are all backers.
Soylent, an alternative food company in downtown Los Angeles that produces a nutrient-rich food powder, has also raked in $24.5 million from the likes of Andreessen Horowitz and Alexis Ohanian, a co-founder of Reddit.
And just last week, Redwood City's Impossible Foods, another fake meat maker backed by Gates, reportedly turned down an offer to be purchased for between $200 million and $300 million by Google Inc.
Greg Bettinelli, a partner at Santa Monica's Upfront Ventures, said tech venture capitalists are not afraid to invest in products they use themselves – to a point.
"You don't see them investing in golf companies," he said. "That's because of market size. Food in particular is a large market."
For reprint and licensing requests for this article, CLICK HERE.