Buzzworthy?
Jamison gets creative in bid to woo tech firms, boost rep
Monday, April 13, 2015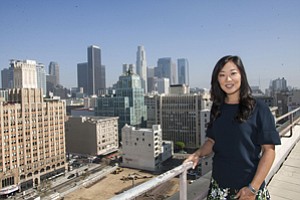 Not long ago, Jamison Services Inc. owned more L.A. office space than any other landlord. Stretching west from downtown along Wilshire Boulevard, its portfolio held millions of square feet in aging Class B buildings.
Jamison, still a major player in the Koreatown market and beyond, was toppled as the largest office landlord in the last few years as it pared back its holdings amid the recession and Brookfield Office Properties rolled up more than 8 million square feet in a series of downtown tower acquisitions.
Now, Jamison, led by Dr. David Lee, is embarking on a repositioning of sorts, converting some of its Wilshire Corridor office holdings into residential properties and, perhaps more importantly, attempting to put a new face on an operation that by many accounts was able to offer low rents because it paid little attention to the upkeep of its assets.
The new face, specifically, is that of Jaime Lee, the 30-year-old daughter of Jamison's press-shy founder. As chief executive of Jamison Realty, the firm's leasing and brokerage arm, the younger Lee is leading the push to rebrand the company and its properties by positioning them to capitalize on a burgeoning tech scene in and around downtown.
Her first task: rethinking the California Market Center in downtown's Fashion District. She has hired a team of brokers to repackage parts of the 2.1 million-square-foot Class B office building at 110 E. Ninth St., traditionally leased as showrooms for fashion lines, as creative office space, in the hopes of attracting tenants to fill some of the property's roughly 35 percent vacancy.
Finding Lee's office on the seventh floor of the A building, one of three interconnected 13-story towers that make up the CMC, requires navigating hallways with 1960s signage and stained carpets, reminders that the building is more than 50 years old.
"People tell me, 'You're the next generation, you're the new face of Jamison,'" she said. "It's a family business so I wear a lot of hats, and it's a constant exercise in defining roles. But right now I'm focused on a refresh of the portfolio."
Beyond fashion
At the CMC, that refreshing will include marketing the fact that, while not technically designed as creative office, 250,000 square feet of the property is already occupied by fashion-related startups and other firms that differ from the building's apparel core.
Among those is Tobi.com, an e-commerce clothing site based in San Francisco, which moved its L.A. branch into 30,000 square feet of converted storage space in the CMC last year.
Prev Next
For reprint and licensing requests for this article, CLICK HERE.