SPECIAL REPORT: Seeding the Future
A rush of angel and VC investment in L.A. means fast times for local tech startups, but speedbumps for the region's once-hot accelerators.
Originally published April 6, 2015 at midnight, updated May 6, 2015 at 3:09 p.m.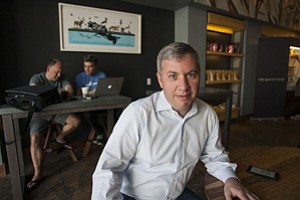 There's never been a better time to start a technology business in Los Angeles.
Ten years ago, there were perhaps three venture capital firms that tech founders could turn to for a seed investment to help them build their core product and get it to market. But these days, that number has multiplied about tenfold as firms and angel investors, many of them minted by big money exits of their own, have emerged within the city.
"As L.A. has more and more hits, that in turn churns out a number of angel investors," said ChowNow co-founder and Chief Executive Christopher Webb, whose food-ordering platform just closed a $10 million capital raise led by Santa Monica's Upfront Ventures, the largest venture capital firm in Southern California. (See The List on page 27.)
"A number of these angel investors are starting to institutionalize," he said. "That's just the evolution of the way tech works."
This explosion of early capital has made it much easier for startups to find the seed funding they need and put founders in the enviable position of choosing which venture firms they want to work with. And it's caused several of the city's top accelerators – entities set up a few years ago to kick-start the tech economy in Los Angeles – to change their business models as they figure out new ways to stay relevant and profitable.
In addition, more local seed money means more founders are staying here. Whereas companies started by local entrepreneurs used to move to Silicon Valley – think Yammer Inc. and Box. Inc. – now firms and their founders, such as Snapchat's Evan Spiegel and Robert Murphy, are choosing Los Angeles.
"The historical problem with the L.A. tech ecosystem was that entrepreneurs used to leave," said Paul Bricault, co-founder and managing director at Venice accelerator Amplify.LA. "That increase in available funding for entrepreneurs has effectively kept them here in Los Angeles."
With more companies staying, there's more money pouring into the local tech scene overall, not just in the earliest funding rounds.
Last year's fourth quarter alone saw a total of 28 equity financing deals in L.A. tech companies, amounting to nearly $765 million – nearly three times the amount invested during the same quarter in 2013, according to January data from CB Insights released by downtown L.A.'s City National Bank.
Planting seed
Of course, while fundraising is on the rise in Los Angeles, Silicon Valley firms still rule, raising $23 billion last year compared with L.A. firms' $1.6 billion. In part, that's because while you can probably count on one hand the L.A. companies that have created local angels, you'd need multiple limbs to tally the same list up north.
Prev Next
For reprint and licensing requests for this article, CLICK HERE.