Satellites to Play Big Role for Studios
FILM: Digital coalition beaming over cost savings for distribution.
Monday, September 29, 2014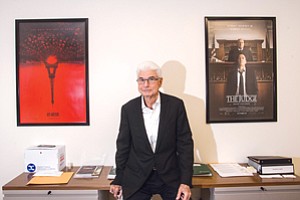 While Hollywood studios and movie theater owners don't often see eye to eye, they have found common ground on one thing: their desire to save money.
Advances in digital delivery and projection technologies have created an opportunity to streamline and cheapen the process of getting films from studio to screen, leading studios and exhibitors to join forces.
It used to be that studios would ship out 35 mm film prints to thousands of theaters across the country, with the distributor and exhibitor sharing shipping costs.
Over the past decade or so, digital copies of films started being stored on physical hard drives, which still had to be sent via FedEx to each individual theater.
But now, the era of satellite delivery is upon us, whereby studios can beam out their shoot-'em-ups, romantic comedies and everything in between from a single throughput to movie houses near and far.
The product of that effort, Century City's Digital Cinema Distribution Coalition, now delivers movies, trailers, commercials and live-streaming events via its network to more than 1,300 theaters accounting for more than 16,000 screens across the country.
Formed to take on third-party vendors such as West Hollywood's Technicolor and Deluxe Entertainment Services Group Inc. of Burbank, which dominated the digital delivery market for the last decade, the coalition has been delivering content for a year.
"We said, 'What if we fund our own infrastructure and make it a utility?'" said Brian McKay, executive vice president of production operations at Warner Bros. Entertainment who sits on the group's board.
Rather than letting middleman vendors control pricing, member studios and exhibitors set about creating a unified electronic distribution network that would drive down costs across the board. Once the hurdle of outfitting theaters for digital projection is overcome – at a cost of from $50,000 to $70,000 per auditorium – the savings from digital delivery can be significant.
"It costs between $1,500 and $2,000 to strike a (film) print," said Jason Squire, a film distribution expert and associate professor at USC's School of Cinematic Arts. "That's a lot of money if you have 3,000 or 4,000 prints out there."
Although executives remained tight-lipped about how much it costs for satellite delivery, it clearly is a fraction of making and delivering physical copies of films.
Joining forces
The coalition was formed with the financial backing of exhibitors AMC Entertainment, Regal Entertainment and Cinemark Holdings Inc. and distributors Universal Studios Inc. and Warner Bros. While antitrust considerations prohibited additional partners from joining, Walt Disney Co., Sony Pictures Entertainment Inc., Twentieth Century Fox Film Corp., Paramount Pictures Corp. and Lions Gate Entertainment Inc. have all signed on to provide content through the coalition's pipes.
For reprint and licensing requests for this article, CLICK HERE.
Prev Next