Offshoot of O.C. Paper Folds Up Quickly in L.A.
MEDIA: Register continues on Web after failing to make headlines with arrival.
Monday, September 29, 2014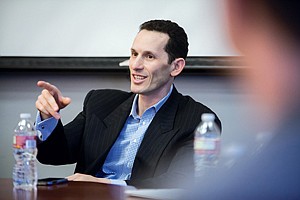 When Orange County Register publisher Freedom Communications launched the Los Angeles Register in April, Freedom executives and employees hand-delivered the first copies to L.A. fixtures such as Mayor Eric Garcetti, Chamber of Commerce Chief Executive Gary Toebben and Tommy Lasorda.
But apparently not many other people ever got a copy.
In the course of its short run, the paper struggled to sell subscriptions and make an impression on the community. Freedom ceased publishing the daily paper last week, though it will keep its website active.
The quick shuttering underscores the steep challenges undertaken by Freedom co-owners Aaron Kushner and Eric Spitz – and their misunderstanding of the L.A. market – as they took on entrenched competitors including the Los Angeles Times and papers in the Los Angeles News Group.
"They overestimated the appetite of readers for another paper," said Ken Doctor, a Bay Area news industry analyst.
Doctor said the Freedom plan needed years of investment, although it quickly became clear the company didn't have the capital for that long-term commitment. "It needed at least five years of staying with it and investment," he said.
Would-be readers pointed out that they rarely or never even saw the newspaper. Few newsstands sold the paper and no advertising blitz enticed people to subscribe.
Freedom's plan was to carve out market share in Los Angeles with as little added overhead costs as possible. For example, most of the reporters sent to cover Los Angeles were relocated from Orange County. Many of the paper's advertisers were also from Orange County.
Even with the strategy of producing, printing and distributing at a very low cost, the L.A. expansion was too much for Freedom. It was not able to stay current with payments to the Times, which distributed the Register, triggering last week's shutdown, according to the OC Weekly.
Freedom also last week cut dozens of employees. In yet another effort to shore up its balance sheet, the company earlier this month sold its Santa Ana headquarters for $27 million to an Orange County developer and is now leasing its space back.
As the company retreats from its bold expansion in Los Angeles, its mistakes could have been easily avoided, analysts said.
Reasonable plan?
Kushner, a former greeting card executive and the face of Freedom, made his big splash when he led the purchase of the Orange County Register in 2012 for $50 million and the assumption of $110 million in pension obligations.
Shirking the trend of investing in digital rather than print, Freedom hired newsroom staff to beef up the Orange County Register. Freedom then launched the print Long Beach Register in August of last year and bought the Riverside Press-Enterprise for $27 million. (The Long Beach paper was later scaled back from a daily to a weekly section within the L.A. Register).
But Freedom had trouble closing the Press-Enterprise deal, an indication that the company was having financial trouble. Nonetheless, it pushed on. In January, the company announced it was taking over operations of the weekly South Bay Easy Reader. The L.A. Register was then launched in April, although the execution of its rollout has been widely criticized.
Aside from handing out copies to L.A. leaders, the launch was publicized with video ads and radio spots that aired on news-talk station KFI-AM (640), but the campaign failed to make an impact outside media circles.
Marc Cooper, a professor at the USC Annenberg School for Communication & Journalism, said raising awareness in the vast and expensive L.A. market would take significantly more money than Freedom spent. Another of the company's mistakes was thinking readers would welcome the L.A. Register's more conservative opinion pages as an alternative to the Times' more liberal op-eds, a strategy that defied the political makeup of Los Angeles, Cooper added.
Given Freedom's heavy debt load from acquisitions and the industrywide shift toward digital news delivery, the L.A. Register was doomed from the get-go, he said.
"It didn't seem like a reasonable business plan," he said. "If Mr. Kushner possessed a secret formula for keeping newspapers alive in an age of dying newspapers, he'd be a much wealthier man than he is."
Now that the paper has ceased publishing, Freedom said in a statement that it will continue to update the L.A. Register website with stories that are relevant to Los Angeles, such as news about the Dodgers.
Freedom will also continue to operate Easy Reader, along with three monthly Easy Reader papers that it launched earlier this year. Those papers are distributed for free to readers in Torrance, beach communities from Playa del Rey to Venice and in an edition covering the area from Santa Monica to Malibu. Freedom leased the operations of Easy Reader from its publisher, Kevin Cody, earlier this year and generates money from selling ads in the papers.
Cody said the papers are on solid footing and that he has no complaints about his working relationship with Freedom.
But he said he thinks the L.A. Register might have had more success if it had used Easy Reader's business model of giving away the paper for free to increase circulation and charge higher ad rates.
"Dailies are so entrenched in the paid model they can't wrap their heads around 'free,'" he said. "It's really hard to sell subscriptions. But it's not so hard to get people to read a newspaper if it's good."
For reprint and licensing requests for this article, CLICK HERE.