Deal Price for Tower Takes Elevator to Top Floor
REAL ESTATE: $175 million sets new total-dollar high for downtown market this year.
Monday, September 29, 2014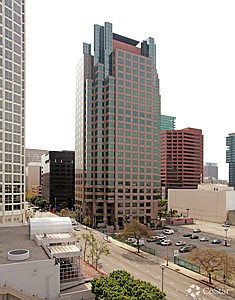 In one of the priciest downtown L.A. office deals since the recession, real estate investment management company Cornerstone Real Estate Advisers has negotiated to buy the tower at 801 S. Figueroa St. for about $175 million, according to sources familiar with the transaction.
The Hartford, Conn., company, which has a western region office in Santa Monica, completed the due-diligence process after its offer was accepted earlier this month by the building's West Hollywood owner, Mani Brothers Real Estate Group. Cornerstone was expected to close the purchase of the 25-story tower Sept. 29.
Once closed, the sale will be the largest by total dollar value so far this year for a downtown office property. But perhaps even more significant, the sale marks only the second time since the recession that a high-rise property there has changed hands for more than $350 a square foot. At $175 million, the nearly 458,000-square-foot tower will have traded for about $382 a square foot.
Last fall, Brookfield Office Properties Inc. acquired a portfolio of downtown skyscrapers from the now-defunct MPG Office Trust Inc. for an average of about $388 a square foot, according to real estate data provider CoStar Group Inc. At the time, a sale for so high a price was considered a gamble: The downtown market had seen vacancy rates for Class A office buildings rise to nearly 18 percent as corporate tenants such as accounting and law firms continued to consolidate or otherwise shed square footage.
Jonathan Larsen, regional managing principal of real estate brokerage Cassidy Turley Inc., said that while office market fundamentals in downtown are still generally sluggish, the tower at Figueroa and Eighth Street was likely able to get top dollar because of its proximity to major development projects. Adjacent to the tower's northwest property line, Shanghai-based developer Greenland Group is already digging to make way for its $1 billion Metropolis project, while one block to the northeast, co-developers Korean Air and Hanjin Group are well under way on the $1.1 billion Wilshire Grand project.

"A major driver of the pricing for that building was all the development going on around it, specifically the huge mixed-use projects by foreign investors," said Larsen, who was not involved in the transaction. "You couldn't get that same pricing were this building on Bunker Hill or in other areas of downtown."
John Kennedy, western region managing director for Cornerstone, declined to comment on the pending transaction. Principals for Mani Brothers did not return requests for comment.
Retro look
Conceived in the late '80s by a pair of Japanese developers and completed in 1992, the tower has a decidedly retro aesthetic. Its walls are sheathed in slabs of polished pink granite and its windows are covered in a reflective green glaze. Four illuminated geometric glass pillars crown the 22-year-old building.
The tower traded hands three times in as many years before Simon and Daniel Mani came on the scene. The brothers made their money in baked goods, selling their International Baking Co. to Chicago food giant Sara Lee Corp. in 1992. They co-founded their real estate company two years later.
The Manis bought the Figueroa tower in 2003 for nearly $105 million, about $229 a square foot. In a statement at the time, Simon Mani said the price was a record high for a property in downtown.
"This is a very valuable building, purchased deeply below replacement cost, and we are extremely confident about the current strength and the future growth of the downtown area," he said in 2003.
The brothers' confidence and patience paid off. At $175 million, the expected sale price would be a 67 percent premium to what they paid 11 years ago.
Despite the high price, the sale was still likely seen as a value-add proposition by the buyer, an institutional investor with a reputation for buying, fixing and reselling buildings at peak performance. It's a strategy the company is midway through implementing for the only other office property it owns in Los Angeles County, a five-story Class B office building in El Segundo. There, at 2101 E. El Segundo Blvd., the company completed a $5 million renovation in April in partnership with Irvine development company Bixby Land Co. and is now building out tenant spaces as it signs new leases.
Cassidy Turley's Larsen said the tower at 801 Figueroa has long had higher-than-average occupancy rates for a building in downtown – about 93 percent at the time of sale – but it could use some tender, loving care. Though it was well built for its time with quality materials, it hasn't been upgraded in the decades since it was first brought to market.
"Some of the granite and marble in the building is cracking, elevators need to be upgraded and so do the common areas," he said. "It's got great bones. It just needs some capital investment put back into the property."
For reprint and licensing requests for this article, CLICK HERE.