Take and Give
Lenders compete to help business owners tap dividend recapitalizations for hefty payouts while loading their companies with debt. Once limited, the practice nears record pace.
Monday, September 22, 2014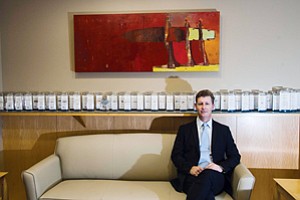 It's not quite money for nothing, but it might be the next best thing.
Tempted by lenders offering piles of cash at cheap rates, L.A. businesses are borrowing money and using it to pay big dividends to their owners. And they're doing so at record levels.
Local investment bankers and lenders say so-called dividend recapitalizations – or, more simply, debt-funded dividends – have surged in popularity. Once used only by private equity firms to boost returns from their portfolio companies, more owner-operators are now using dividend recaps to take money off the table and hedge against an economic downturn. (See story, page 30.)
It's a way of shifting financial risk from business owners to their businesses. The owner gets cash now, while the business is saddled with new debt. That's fine so long as a business continues to perform, but the added debt can weigh on a company's balance sheet, eating up free cash flow and making it difficult to borrow for other needs – or to weather a swoon in business.
Despite the risks, the market for dividend borrowing is hot. Through last month, U.S. companies have borrowed nearly $41 billion this year to pay dividends to their owners, according to S&P Capital IQ. That's on pace to nearly match last year's record volume of $69.9 billion and to easily surpass the prerecession high of $49 billion in 2006.
Those figures only capture loans taken out by large companies, but bankers and lenders said the dividend recap market has been similarly hot in L.A.'s vast middle market.
"Absolutely we've seen the activity over the last two years get bigger. It's absolutely growing," said W. Hunter Stropp, the Westwood-based president of publicly traded Boston lender THL Credit Inc., which offers dividend financing and other loans to middle-market companies. "And it can be considerably bigger than it is today."
It's a trend driven by a confluence of economic forces. Capital markets flooded with cash have prompted lenders to scramble to put all that money to work. Historically low interest rates have made it easier – and cheaper – to borrow. In addition, a roaring stock market has helped pump up the value of public companies and, in turn, boosted valuations for private companies, tempting owners to cash out.
The recession is still fresh enough in owners' minds that they're anxious to take money off the table and hedge their bets, said Jim Freedman, chairman of Intrepid Investment Bankers in West Los Angeles.
Prev Next
For reprint and licensing requests for this article, CLICK HERE.