Hides & Seek
West Hollywood fur ban raises hackles, questions
Monday, September 22, 2014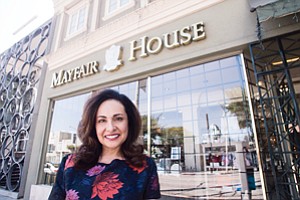 Stroll down the boutique-lined streets of West Hollywood and you'll quickly spot an illicit product hanging from clothing racks, gracefully propped on tables or proudly showcased in store windows. It's fur.
This week marks one year since the city banned the sale of fur products, but retailers are still carrying shearling coats, mink scarves and women's vests made of coyote fur.
The city made national news after becoming the first in the country to ban the sale of fur, but implementing the law has proved difficult. Some retailers say they're confused about the ordinance while others openly violate it. Meanwhile, the city does little to enforce the ban.
To date, the city has issued just one citation for violating the ban – against the only store that has sued over the law. That citation was overturned this month, an illustration of the limits of both the ban and the city's ability to enforce it.
Mayfair House of West Hollywood received that lone citation in April. It had sued the city last year in federal court over the ban.
The action was dismissed, though Mayfair has sued again in a lower court.
The city fined the boutique $250 for displaying a pair of UGG Australia slippers made of shearling – tanned lamb skin with wool still attached.
Elizabeth Solomon, manager of Mayfair House, said that she wasn't trying to flout the fur ban and thought the UGGs were OK. When the ordinance took effect, she emailed and met with several city officials, trying to get clarification on whether she could place an order for the UGG slippers.
"One of them said, 'Go ahead, place your buys,' " Solomon said. "Another one didn't know shearling was part of the ban and another didn't know what UGG was."
Overturned
Mayfair House's citation was dismissed two weeks ago on a technicality: The code compliance officer who wrote it did not see a sale take place.
Mayfair House's attorney, Joseph Wilson of Washington, D.C., firm Kelley Drye & Warren, said the ordinance bans the sale, not the display, of fur products.
"The ruling clarifies what we had already thought was clear in the ordinance: that it doesn't ban the act of offering to sell," said Wilson. "The hearing commissioner went on to clarify that it doesn't ban displaying fur products."
Michael Jenkins, West Hollywood's city attorney, said the hearing commissioner who overturned the citation got it wrong and that displaying fur is illegal.
"I don't agree with the outcome," Jenkins said. "It's not our interpretation of the ordinance. I think the display for the purposes of sale is a violation of the ordinance. I don't believe we have to personally observe a sale at the cash register in order for there to be a violation."
He also said that while Mayfair House is the only business that has sued the city over the ban, the boutique was not singled out for that reason.
"We'll issue a citation to any (retailer) that's violating the ordinance," said Jenkins. "They sued us, but they were openly violating the ordinance."
Getting the citation dismissed was a victory for Mayfair House, but Genevieve Morrill, chief executive of the West Hollywood Chamber of Commerce, said it's indicative of the confusion many retailers face in interpreting the fur ban ordinance. The problem, she said, stems from the fact that the ban affects apparel but not other fur products.
The ordinance prohibits apparel made "in whole or part from the pelt or skin of an animal with its hair, wool or fur." Leather products are OK – perhaps adding to the shearling confusion – and secondhand stores can sell used fur products. Because the ban applies only to clothing, shoes, hats and gloves, it remains legal to sell pocketbooks, handbags, jewelry and home furnishings made of fur.
"They can sell a fur throw, but they can't sell a pair of UGGs," Morrill said. "So, it's arbitrary in that way and it's capricious in the sense that it doesn't meet the city's final objective, which is West Hollywood being fur free."

Mayor John D'Amico said home goods simply weren't part of the discussion about the ban.
"West Hollywood is known for having people who are fashion-forward and people who are thoughtful, and this is about that," he said. "Including home goods and other items was just not part of the way that it was discussed."
Window shopping
The West Hollywood City Council approved the fur ban ordinance in 2011 over heated opposition from the chamber and the Fur Information Council of America, an industry trade group that – ironically – is based in West Hollywood. The ban took effect Sept. 21 of last year.
After that, Mayfair House challenged the ordinance in federal court, saying it is unconstitutionally vague. The case was dismissed by federal court, which said that the ordinance's language is clear.
Mayfair House has filed a complaint in state court claiming it violates a state law that prevents cities from enacting wildlife-related ordinances.
The boutique now has no fur products on display. But several retailers continue to carry banned fur products, often alongside items not covered by the ban. For example, boutique 3.1 Phillip Lim carries a shearling handbag, an approved item, but also a shearling coat, which is prohibited.
Luxury retailer Maxfield on Melrose Avenue last week displayed a fur-covered men's gym bag, an item OK to sell, as well as a selection of banned fur items such as an Isabel Marant vest made of coyote and a Louis Vuitton mink scarf.
Those retailers did not return calls for comment.
Mayor D'Amico said he was unaware of retailers selling fur products, but those stores are risking citations, which can cost up to $850. Four citations within 12 months add up to a misdemeanor charge.
But given the city's lack of enforcement so far, retailers seem to have little cause for concern.
Jenkins, the city attorney, said code compliance officers will act on tips and monitor stores by doing spot checks. He's unsure if officers go out on a scheduled basis but that they will keep an eye out on display windows while conducting business.
Jeffrey Aubel, code compliance manager of West Hollywood, said if a store is seen violating the ordinance, officers issue a warning and retailers have anywhere from one hour to several days to comply. An officer will then return to the store and issue a citation if the fur product is still on display.
But, again, the city has issued just one citation to date, and that one was tossed out. Keith Kaplan, the fur council's executive director, said the city underestimated how difficult enforcing the law would be.
Even if stores don't have fur on site, retailers can show customers fur products available online, he said.
The ban, he said, "has no meaning and may not even be enforceable."
Solomon of Mayfair House said she's not against a fur ban and that her store has no plans to move out of West Hollywood. The boutique also stopped selling UGGs after the April citation.
But she said she finds the law unfair.
"If you're going to enact a law, everyone needs to abide by that law," she said. "If they can sell a fur rug three doors down and I can't sell a pair of shearling slippers, then there's a problem with that law."
For reprint and licensing requests for this article, CLICK HERE.