Northrop Aims to Land Big One
Aerospace: Winning bid for spacecraft could lift entire sector.
Monday, September 15, 2014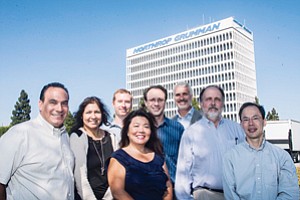 The Defense Advanced Research Projects Agency wants to build an unmanned plane that can fly into space and land back on Earth, and Northrop Grumman Corp. and its partners are trying to figure out how to do it.
If successful, Northrop engineers in Redondo Beach could land a contract that could boost Los Angeles County's aerospace industry – a sector that's lost roughly two-thirds of its workforce since 1990.
The company launched its bid in conjunction with Scaled Composites of Mojave and Virgin Galactic in Las Cruces, N.M., part of Richard Branson's Virgin Group Ltd.
But creating a reusable launch vehicle, which would be called the XS-1, is a Herculean task. Apart from NASA's space shuttle and an unmanned Soviet look-alike that flew a single mission in 1988, none has succeeded. Recent history is strewn with the husks of failed space-plane projects that died due to technical and financial burdens that proved too much to overcome. That's why some see the goal of creating a true space plane as the Holy Grail of space flight.
"This is another one in a long line of these programs," said Marco Caceres, senior analyst and director of space studies at Teal Group Corp. in Fairfax, Va., which monitors the aerospace and defense industry. "Don't get too excited."
In addition to the effort by the defense agency, commonly called Darpa, five aerospace companies are developing orbital or suborbital launch vehicles that are partly or mostly reusable. Two of those, including Elon Musk's Space Exploration Technologies, known as SpaceX, in Hawthorne, are in Southern California.
Job boost?
The end of the Cold War hit the local aerospace industry hard as defense spending plummeted. Since 1990, the county has lost more than 130,000 aerospace jobs. While the pace of job losses slowed a bit after Sept. 11, the industry has yet to rebound.
Despite some high-profile achievements, including notable advances made by SpaceX regarding its partly reusable Falcon 9 rocket, the industry is still shedding workers. Between 2012 and 2013, aerospace and defense-related industries lost 372 jobs in the county, dropping the overall tally to 56,239, according to figures from the California Employment Development Department.
Even now, the team at Northrop's Redondo Beach facility, under the direction of Chief Engineer Jeff Lane, has fewer than a dozen members working on the project.
Northrop hopes to change this. As part of its Darpa submission, the company will be required to formulate a business plan for bringing the space planes to the commercial market, because additional federal funding would be highly unlikely.
Prev Next
For reprint and licensing requests for this article, CLICK HERE.