Name-Dropping Worked for Bank
finance: New handle offered Cappello new life in court fight.
Monday, September 15, 2014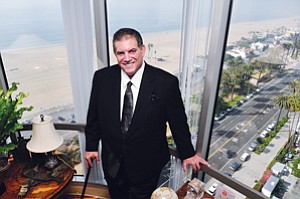 One of L.A.'s biggest local investment banks, Cappello Capital Corp. in Santa Monica, closed its doors earlier this year – then promptly reopened them under a slightly different name.
It's all part of a years-long battle, now seemingly on the verge of ending, in which Cappello Capital argued it was owed more than $11 million in fees by former client AmericanWest Bank of Spokane, Wash. Two federal judges said otherwise and ordered the firm to pay millions to AmericanWest – a shattering order that cost the firm a key license.
Alexander Cappello, the firm's chief executive, is now working deals through another entity, Cappello Global, which employs several key bankers from Cappello Capital and maintains the same offices overlooking Santa Monica beach from the 12th floor of 100 Wilshire.
In an interview with the Business Journal at his office, Cappello, joined by his attorney, said it's business as usual at his firm, though he feels snake-bitten by the courts.
"We've been in business a long time and we're going to be in business a long time," he said. "I've learned some things through all this. I've learned the little guy cannot go to the legal system to get protection."
Attorneys for AmericanWest declined to comment.
Shut down
It was Cappello Capital, not AmericanWest, that took the issue to court. The firm sued in 2011, saying the bank owed it investment banking fees for a recapitalization deal that closed in the final days of 2010. However, the fees went to Sandler O'Neill & Partners of New York, which was credited with putting together a deal in which New York's Goldman Sachs and downtown L.A.'s Oaktree Capital Management bought AmericanWest and recapitalized it in a prepackaged bankruptcy.
Cappello Capital said it had the exclusive contract to raise capital for AmericanWest and therefore deserved the fees. It sued the bank and Sandler O'Neill, but federal bankruptcy and district courts in Washington state both sided with AmericanWest and Sandler.
Though Cappello Capital appealed, saying the courts had overlooked its contract, a federal district court judge ordered Cappello Capital in January to pay AmericanWest $2.3 million in court costs.
But the firm didn't have the money to pay the fees, Cappello said, and was forced to close down that month.
The Financial Industry Regulatory Authority, or Finra, an industry group that monitors and licenses investment banks and other financial firms, requires registered broker-dealers – the type of firm Cappello Capital was – to maintain certain amounts of capital. At the time of the January order, Cappello Capital had only about $25,000 in capital.
That was enough to meet Finra requirements before the order, but not after, because of the judgment. The firm had to cease its broker-dealer operations, which are key to most investment banking transactions.
"It wiped out Cappello Capital's net capital," Cappello said. "Once you're out of net capital, you can't operate. You can't collect fees. We weren't able to answer the phones as 'Cappello Capital.'"
Unlike Cappello Capital, the new Cappello Global is not a broker-dealer. Instead, investment bankers there are registered as representatives of Niagara International Capital, a broker-dealer in Clarence, N.Y., near Buffalo.
Money trouble
Finra spokeswoman Nancy Condon confirmed that broker-dealers are not allowed to operate if they run out of capital. But she also said firms can get back into compliance by raising capital from existing owners or new investors.
Cappello said he looked into the possibility of raising capital, but said it wouldn't have worked.
"I tried to see if I could get my hands on $2 million," he said. "I don't think it could have been done."
At the time of the order, he said that he was actively working on a few investment banking deals, including the eventual sale of La Canada sporting goods retailer Sport Chalet Inc., a deal that closed last month. Other deals were even closer to closing. Cappello said it could have taken months to bring in new investors, leaving clients in the lurch.
"What are my clients supposed to do?" he asked. "They can't wait three months for me to raise capital."
Cappello could have put money into the firm himself, but he said that, too, was out of the question.
"There are times in my life when I could have written a $2.3 million check," he said. "A few months ago wasn't one of them."
Indeed, Cappello personally has fallen on hard times since the recession. He lost his pricey Brentwood mansion to foreclosure – it was bought and later sold by now-divorced power couple Seal and Heidi Klum – and still owes about $4 million on a defaulted loan held by HSBC Bank. To speed repayment, the bank is garnishing the fees Cappello gets as a director of publicly traded Cheesecake Factory Inc. of Calabasas.
Winding down
Though Cappello Capital ceased operations months ago and appealed the district court's ruling, AmericanWest continued to seek money from the firm, as well as from Cappello Global.
The bank argued that with Cappello Global representing Sport Chalet and some other Cappello Capital clients after that firm closed, Cappello Capital closed down explicitly to avoid paying the court fees.
Cappello called that a "revolting" allegation and said any Cappello Capital clients that went on to work with Cappello Global were sent notices cancelling their relationship with the old firm then signed agreements with the new firm.
"You have to disclose who the new firm is and show them a new contract," he said. "We did exactly as required."
Craig Levra, chief executive of Sport Chalet, said he was not aware of the circumstances behind Cappello Capital's shutdown. But he also said the sale of Sport Chalet wasn't delayed by the switch to Cappello Global and that he'd be comfortable using the firm again.
"No question about it," Levra said. "Alex and his team did a world-class job for Sport Chalet."
AmericanWest persisted, and over the summer asked a judge to issue restraining orders to prevent Cappello Global from accepting fees from Sports Chalet, which was in the process of closing its sale to a private equity firm, and from Midwest AgEnergy Group, a North Dakota ethanol producer.
On Aug. 21, the district court judge in Washington state granted the Midwest AgEnergy restraining order, saying AmericanWest could likely show there was a fraudulent transfer of business between Cappello Capital and Cappello Global.
Six days later, the two sides told the court they had reached a settlement agreement.
Cappello said he would have preferred to see the firm's appeal through, but said the litigation was costing the firm about $2 million annually. Those fees, he said, have been paid by other Cappello entities, not by Cappello Capital.
"We have other means," he said. "Is the only entity we own the broker-dealer? No. We own lots of other entities."
Cappello also said he sought a settlement because the case had become a headache for the firm's clients and employees.
"They were serving subpoenas to our employees and our clients," he said. "Our business is all based on referrals. I don't need ongoing litigation."
Cappello said he could not provide details of the settlement but expects the deal to be finalized Sept. 16.
"By the 16th, nobody will be owed anything," he said.
For reprint and licensing requests for this article, CLICK HERE.