HEADLINER
Ex-banker Austin Beutner turns page as Times chief
Monday, September 15, 2014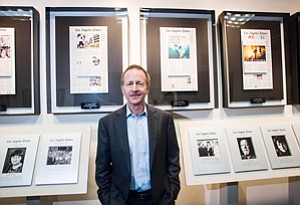 Austin Beutner is an accomplished guy, what with being a co-founder of a successful investment bank and deputy mayor in Los Angeles. But since he has no experience in the news business, why did he take the top job at the Los Angeles Times?
"Maybe a fresh set of eyes is what an enterprise like this needs," Beutner said. "You'll see us start to experiment. That's the nature of an evolving enterprise."
Exactly how the newspaper might experiment is largely undecided for now, given that he's still on the steep part of the learning curve. Beutner said he's putting in 12-hour days that often start at 6 a.m. as he learns the ins and outs of being publisher and chief executive of America's fourth-largest newspaper.
Beutner, 54, who was hired last month to replace Eddy Hartenstein, has an impressive resume: He co-founded New York investment bank Evercore Partners and more recently served as deputy mayor and L.A.'s first "jobs czar" under Antonio Villaraigosa before making his own aborted run for mayor. Last year, he looked into buying the newspaper as part of a group that included billionaire Eli Broad.
Beutner's appointment is the latest in a string of changes at the Times after former parent company Tribune Co.'s exit from bankruptcy proceedings in late 2012. Tribune explored a sale of its newspapers, but chose instead to spin them off into a new entity, Tribune Publishing, which began trading on the New York Stock Exchange a week before Beutner was hired a month ago. The Times is the largest of the 10 daily newspapers in the new company, which also includes the Chicago Tribune and Baltimore Sun.
How long the new company stays intact has been the subject of speculation. After all, the new owners are investment companies that typically look to sell after a time, and Beutner is a career deal-maker.
Ken Doctor, a Bay Area news industry analyst, said he believes the company's major shareholders, which include investment firms Oaktree Capital Management, Angelo Gordon & Co. and JP Morgan, will seek a sale once certain tax-related restrictions expire six months after the August spin-off.
He expects a deal to materialize in the next year or two. If and when that happens, he said Beutner would be in a good position to participate.
"I think essentially he's positioned for that," Doctor said.
Beutner dismissed suggestions that his role at the paper positions him to take another run at buying it, saying the Times is not for sale.
For his part, Broad has maintained his interest in seeing local ownership of the paper. He said in an interview that Beutner was the perfect choice for publisher, since he brings a big-picture perspective and has ties to the community to raise the newspaper's profile.
"Austin is very smart and has a broad view of things," Broad said. "The paper will become more important to the city. He's going to get more people engaged."
Humble beginnings
Given the financial realities of the business, it seems Beutner will be forced to work under the same approach he took at City Hall: Do more with less.
It's a lesson that ought to be familiar to him.
Beutner said he was raised by a father who had emigrated from Germany in the 1930s and a public school teacher mother who pushed him to seek new challenges and work hard.
After graduating from Dartmouth College in 1982, he joined private equity firm Blackstone Group, rising quickly to become a partner before turning 30. In 1995, he co-founded Evercore and moved to Los Angeles in 2000. He was nearly killed in a 2007 biking accident that broke his neck, and the next year he left Evercore a wealthy man. He became the city's first jobs czar in charge of economic development efforts in 2010.
He got his new gig with the recommendation of Hartenstein, now Tribune Publishing's nonexecutive chairman, whom he has known for years.
Beutner said his first few weeks on the job include a combination of meetings with government and business leaders and advertisers as well as correspondence with Times staff around the world and refereeing internal disputes.
"The challenge in a new setting like this is to not get so captivated by the fire hose that you drown," he said. "It's been a learning experience."
Under the terms of his three-year contract outlined in a filing with the Securities Exchange Commission, Beutner takes home a base salary of $675,000 and can earn a cash bonus equal to that salary, though the benchmarks for earning that bonus were not disclosed. He has been granted options to buy 69,000 shares of Tribune Publishing stock at $19.20 (shares were trading last week at around $22) and was awarded an additional 17,500 shares in restricted stock. Both grants will vest over the next four years.
Beutner said he's focusing on developing new digital initiatives based on what has worked for the Times and other news organizations, though he didn't give any specifics.
Before Beutner, the Times had already been trying to adapt to the digital world with a range of initiatives that include YouTube videos and a division called Brand Publishing, which produces content for brands that is intended to resemble editorial content. The paper also revamped its website earlier this year with a format that is more conducive to mobile scrolling.
Since Beutner's hiring, the Times has also announced it has reached a deal to distribute L.A. Times documentary movies on DirecTV's Audience Network channel.

Digital dollars?
The biggest challenge for Beutner – along with the rest of the publishing industry – is well known: replacing lucrative print advertising dollars with digital revenue that flows in nickels and dimes.
The Times and its parent company have been profitable, however the margins are thin. In the second quarter, Tribune Publishing reported net income of $15.2 million, down 31 percent compared with the same period a year earlier. Revenue dropped 4 percent to $430 million. That's a net margin of 3.5 percent.
What's more, the newspaper holding company was saddled with $350 million in debt as part of the spin-off. Of that, $275 million was paid out as a dividend to shareholders of Tribune Media Co., which now holds the more profitable TV station assets of the former company.
Given the decline in the publishing business, Beutner said the paper's investments will come from "redeploying resources," although he's hoping to avoid making widespread cuts.
"It's about redeploying resources to be successful in a digital era," he said. "Cuts are a draconian way to go about business."
Although he wouldn't specify what exactly might be redeployed to where, he left the impression that the digital products would continue to get resources.
Luckily for the Times, many digital innovations, including promoting stories and driving Internet traffic on social media, come at minimal cost.
Still, Tribune Publishing has sought to make cuts where it can. The Times recently asked readers if they would be amenable to a smaller-format paper, which would be cheaper to produce, although Beutner said that idea is no longer on the table.
And last month, a vote to decertify the union representing press workers at the paper's plant near Olympic Boulevard in downtown Los Angeles, which could have cut labor costs, failed. The members elected to keep the union by a vote of 44-36. Still, the turnout shows just how few employees are left. There are about 100 press room employees now, down from 700 in the Times' heyday, according to a union official.
For reprint and licensing requests for this article, CLICK HERE.