Treat Makers Sweet On New Space
Sugar lab lets trio of tenants get creative with confections.
Monday, September 1, 2014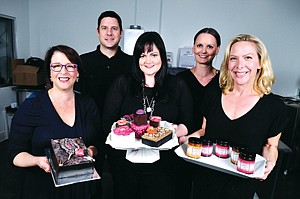 B&K Sugar Arts Lab in Culver City is molding its own artist co-op – but with a culinary twist.
The new retail and commercial space opened last week and will serve as a home to three confectioners: Bohnhoff & Kent, maker of edible art such as handbags made of chocolate and cake; Department of Sweet Diversions, a boutique jam company; and Mollie B's Cookies, Cakes and Pies.
Olivia Bohnhoff and Cory Pohlman, chefs and co-founders of Bohnhoff & Kent, wanted to open a kitchen that resembled an artist's studio, with large table tops and skylights to let in natural light.
"We had worked in florescent-lit, dungeonlike kitchens in the past," said Pohlman. "So we really wanted it to feel more like a studio space where you felt creative."
Products from each of the dessert makers will be sold at B&K Sugar Arts Lab.
Thomas Urech, co-founder with Virginie Strub of Department of Sweet Diversions, said the companies will also collaborate to create exclusive products only available at the lab. For example, it may create a special jam flavor as filling for one of Mollie B's cookies.
The space is a joint venture among the companies with the special products made under the B&K Sugar Arts Lab label.
Bohnhoff & Kent was established in 2012 and business took off when singer Lady Gaga became its first client two months after it started.
Sue Leedom, Mollie B's founder, said the opportunity to join the lab was serendipitous as she was leaving another commercial kitchen in Los Angeles. While the three companies are still working out a kitchen schedule, Leedom said it's different than commercial kitchens that are often fully booked by small businesses that need a large kitchen to work out of.
"Like a roommate, you learn how to dance together," said Leedom. "This does not feel like a commercial space. This feels like home."
– Subrina Hudson
For reprint and licensing requests for this article, CLICK HERE.