Different Tune
Your Music gives crowdfunders slice of song profits
Monday, September 1, 2014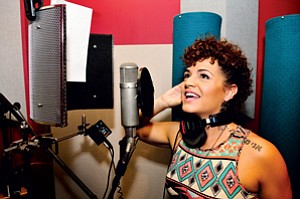 L.A. pop artist Georgia Jane can thank her grandfather for helping kick-start her professional music career – one that has turned out to be groundbreaking and, so far, unique.
While attending a wedding in the south of France in summer 2011, her grandpa sat next to a French music executive who was gearing up to launch an L.A. music label called Your Music Co. He suggested the exec check out Jane's music.
She did. Three years later, Jane, 30, has launched her first single, an up-tempo rhythm-and-blues track called "Do the Same for Me," and she's recording her debut album after raising $100,000 online using Your Music's crowdfunding model, which enables fans to become investors in an album and share in the profits. Jane is Your Music's inaugural artist.
While other crowdfunding platforms have been used to fund projects by individual music artists in the past, Your Music appears to be the only American label to exclusively employ the funding scheme and offer investors a stake in the success of the artists they back.
Artists are chosen to participate in Your Music's crowdfunding program through a process that starts with fan voting on the label's website. Artists must earn a total of 5,000 votes in order for fundraising to begin.
Jane reached that threshold, and about 270 people subsequently invested a total of $100,000 to fund her album. Unlike other crowdsourced projects that essentially act as pre-sales efforts, giving contributors a T-shirt or CD in exchange for a contribution, Your Music investors will split 25 percent of all net profits from album and track sales. Net profits are calculated after distributors such as Apple Inc.'s iTunes take their cut, typically 30 percent of the cost of a track or album.
Jane is the first of its musicians to successfully raise the money needed to produce her album, and the former wedding singer said she is making the album she's always dreamed of.
"I am very lucky that my grandpa went to that wedding," she laughed.
Taking slice
The rest of the income from her recording will go 25 percent to Jane, with Your Music taking the remaining 50 percent.
While fan investors take a slice of album sales, they don't participate in any other revenue streams such as concert fees or merchandising. Your Music, in Century City, funds each artist's marketing efforts, including music video production and social media campaigns.
Royalties are set to be doled out in quarterly installments and each investor is paid in proportion to how much they put in. For instance, one of Jane's fans shelled out $10,000, so that person's share of the profit pool will be 1,000 times greater than someone who paid the $10 minimum.
The $100,000 goal was not arbitrary: Jane and the label concluded she would need that much money to produce the album she wanted. The figure varies for each artist. Had the goal not been reached, the album would not have been made and contributors would have gotten their money back. Of the 34 artists listed on Your Music's website, Jane is the first to reach her fundraising goal. An artist named Stef DM tallied more than 30,000 votes earlier this year and easily qualified to participate in the crowdfunding, but failed to meet his financial target once in the program.
Significantly, Jane's $100,000 also will help pay for hiring veteran producers Jamie Jones and Jack Kugell, known as the Heavyweights, who have previously collaborated with the Pussycat Dolls and 1990s R&B foursome All 4 One.
Early production
A former songwriter and music producer, Yael Benamour worked as a talent scout for a French record label during the 1980s and '90s. She met Christel Gidouin in 1998, and together they launched Beny Music, which managed projects for producers and labels.
They decided to bring the crowdfunding model to the U.S. music industry after seeing the success of French firm My Major Co., which uses a similar approach. Benamour and Gidouin moved to Los Angeles in 2011 and worked closely with business attorney Howard Hart of Ervin Cohen & Jessup in Beverly Hills for two-and-a-half years to get their company off the ground. Jean-Luc Azerad, chief executive of downtown L.A. real estate firm Feyss Enterprises, assumed the role of chief financial officer in 2012 after investing the majority of the company's $1.2 million in seed funding. Benamour and Gidouin put in the rest of the money themselves.
While they were inspired by My Major's model, Benamour and Gidouin wanted to remedy what they saw as a serious flaw: failing to maintain a dialogue with investors.
"The fans could invest, but after that they have no news from the artist or the company," Benamour said. "They didn't know what was happening with the money that they invested."
Jane, the singer, also happened to be an investor in a My Major project a few years ago and saw this firsthand.
"I got very mad because they did not follow up with us," Jane recalled, adding that she never saw any royalties.
In an effort to enhance transparency, Your Music investors can keep track of how much money they've earned through a Web portal. Your Music will start distributing payments to the "fanvestors" with the first income from sales of Jane's single and album.
Since Jane's music was recently released, no financial data has been reported yet.
Active participants
In addition to raising money to fund the recording, Your Music expects that by giving people an equity stake in albums, the investors will become promoters as well, sharing artists' music through social media channels and driving sales.
The incentive to promote the song is there: If Jane's net album and track profits hit $400,000, the investors would be made whole.
While that's possible, "it's a very high threshold for a new, independent artist," said Cedar Boschan, a music accountant and principal with accounting firm Green Hasson Janks in Westwood.
That's due primarily to the high budget, Boschan said, which makes it difficult for investors to recoup. However, she's still supportive of the trend.
"I think crowdfunding is one of the most exciting things that's happened in the music industry in decades," Boschan said.
Former Indiegogo Evangelist Adam Chapnick said Your Music's model could bring much needed disruption to an industry dominated by major record labels. But adding a financial layer to the artist-fan relationship might also lead to problems.
Fans, he said, "now stand to lose."
"When you change a fan into an investor," said Chapnick, who now works as chief strategy officer for Santa Monica commercial real estate crowdfunding firm AssetAvenue, "you might actually sour the water entirely."
The challenge, he added, becomes managing investor expectations and making sure they understand the risk.
Jane and Your Music realize that staying in touch with investors is vital to the process. In addition to the online investor dashboard, the label sends each investor a monthly newsletter that delivers updates on how their money is being spent. Jane also interacts regularly with fans on the label's website and through social media.
"You always have a small amount of fans that are in just for the money," she acknowledged. "I think it's only a very small percentage."
For reprint and licensing requests for this article, CLICK HERE.