Cleaning Up
LAUNDRY: Wash Multifamily expands coin-operated business into Pacific Northwest, Alaska through pair of acquisitions.
Monday, September 1, 2014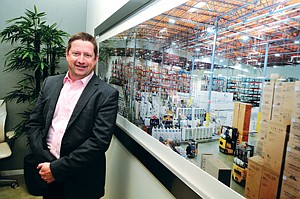 A string of acquisitions over the past six years has resulted in Wash Multifamily Laundry Systems of El Segundo becoming one of North America's largest providers of coin-operated laundry machines to apartment complexes.
Wash's most recent buy, Seattle's American Meter & Appliance, provided the company with an entryway into the Pacific Northwest and Alaska. Wash made a deal last year that made it possible for the company to do business across the breadth of Canada.
The acquisitions have been part of a growth strategy undertaken with the help of a Chicago private equity firm that could lead to Wash going public within a few years.
"Our ultimate objective is to create a $3 billion to $5 billion public company in the next three to five years," said Adam Coffey, Wash's chief executive, who values the company now at about $1 billion.
Wash, known as Web Services Co. until 2011, was co-founded by Bill and Peggy Bloomfield in the late 1940s. Coffey, who became the company's president in 2003 and chief executive two years later, was the first person outside of the firm's founding family to take the helm.
The company operated in California, Nevada and Hawaii when Coffey arrived. It now does business in 15 states and its Canadian subsidiary, Coinamatic, has a presence spanning from British Columbia to Nova Scotia.
"We've done 11 acquisitions since 2008 and have essentially doubled the size of the company," Coffey said.
The El Segundo company had an EBITDA of about $57 million in 2008, Coffey said, which has since increased to $120 million. (EBITDA, or earnings before interest, taxes, depreciation and amortization, is a measure of operating profitability.)
Wash's expansions took place after Chicago private equity firm CHS Capital became its majority owner in 2008. CHS owns 51 percent of the business, but is likely to pursue a sale in the near future.
"It's been just over six years. I'd say over the next 12 to 24 months we'll look to find a new partner for Adam and the team," said Richard A. Lobo, a partner at CHS.
Coffey said an initial public offering could take place after any ownership change.
Wash's acquisition of American Meter & Appliance was announced in mid-August. Terms of the deal prevent disclosure of the purchase price, Coffey said.
Wash now has 462,000 coin- or card-operated laundry machines at some 65,000 locations, said Coffey, who observed that Wash is the second-largest company of its kind in the United States and the largest in Canada.
By comparison, CSC ServiceWorks of Plainview, N.Y., reported that its companies have more than 1 million laundry machines in service. CSC is also owned by a private equity firm, Pamplona Capital Management of London, and its components include laundry service firms Coinmach and Mac-Gray.
Mac-Gray was publicly traded until January, when a CSC unit acquired the firm for $584 million. That deal followed Pamplona's purchase of CSC in May 2013 for $1.4 billion.
Next cycle
Although companies like Wash have been largely built on the premise that apartment complexes have centralized laundry rooms where tenants would do their washing, recently constructed buildings have frequently been built with in-unit connections where people can install their own machines, Coffey said. That might seem to be a hindrance to laundry service providers' ability to grow outside of buying other companies, but he and Lobo anticipate the common laundry room will come back in fashion.
Common-area laundry rooms might be a seen as a more water-efficient option, compared to a plethora of service connections throughout a complex, because tenants might be less likely to wash a partial load of laundry if they have to carry their wash to a common room and pay for each use, Coffey said.
Acquisitions are only a part of Wash's strategy. The company opened its Wash Technology Center in January in Rancho Dominguez as a place to develop ways to improve its business practices and then show the results of those labors to customers.
"Laundry isn't sexy. We all know how to do it and we don't like doing it, but the way we run our company is very high-tech," Coffey said.
For example, he said the company employs GPS and dynamic routing technology to improve its ability to respond to service calls. Wash also has an app available for Apple and Android devices that allows apartment managers or residents to scan a broken machine.
Even if laundry management is not one of the business world's sexier fields, Coffey said Wash is the "Neiman Marcus in our industry."
"My product isn't white boxes. It isn't washers and dryers. Our product is customer service," he said.
For reprint and licensing requests for this article, CLICK HERE.