Cards Swipe Market From Big Stars
FINANCE: Card.com bases debit business around lesser brand names.
Monday, September 1, 2014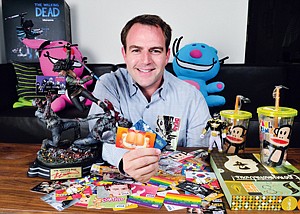 Lakers great Earvin "Magic" Johnson. Boxer Manny Pacquiao. Reality TV starlet Kim Kardashian.
All have tried to use their celebrity power to sell prepaid debit cards. And they've not only been unsuccessful in that endeavor, they've been outdone by the Care Bears and Garfield.
While celebrities have struggled to get into the booming prepaid debit card market, Brentwood prepaid card issuer Card.com is growing fast using almost the same celebrity-based strategy. The difference is that Card.com isn't banking on any single name to sell its cards, said Ben Katz, the company's chief executive. Instead, it has licensing deals with a still-growing list of more than 100 brands and celebrities, from Care Bears and Garfield to Elvis and retired quarterback Brett Favre.
"No one could live off any one of these brand partners," Katz said. "No individual card is more than a couple percent of our total."
That milewide, inch-deep strategy has helped Card.com sign up thousands of new customers. The 2-year-old company shipped about 80,000 debit cards last year, but is on pace to ship more than 240,000 this year. Its most popular brands are Care Bears, comic-book series the Walking Dead, Sesame Street and Garfield.
Meanwhile, other prepaid card issuers using much bigger names to help them sell cards have fallen short or run into legal trouble. Brentwood's 24/7 Card tried to market its card to Filipinos by using Pacquiao as a spokesman, but the company shut down last year.
In June, OneWest Bank in Pasadena axed its Magic by Magic Johnson prepaid card after just two years on the market – and a legal battle with a Florida company that said it owned the rights to use Johnson on its prepaid cards. OneWest declined to comment and representatives for Johnson did not return calls.
Kardashian and her sisters, too, hawked a prepaid card a few years ago, but the product never got off the ground.
In short, the celebrity-branded prepaid card hasn't worked, said Ben Jackson, director of the prepaid practice group at consulting firm Mercator Advisory Group in Maynard, Mass. But he said Card.com has managed to buck that trend both by offering a wider array of brands and by convincing consumers that its cards, no matter what image is on the front, are useful and user-friendly.
"They're saying, 'This card is a useful tool and you can get it in whatever color you want,'" Jackson said. "That's different than saying, 'This is a useful tool because Magic Johnson says it is.' I think in a lot of other cases, the celebrity came first and then the value of the cards came afterward."
Standard system
For Katz, who co-founded Card.com in 2012 with Chief Technology Officer Ron Lin, the company is a mashup of prior endeavors. He was previously a director at Pasadena prepaid debit card pioneer Green Dot Corp., and before that with Coveroo, a San Francisco company that sells branded phone and tablet cases.
Like Coveroo, Card.com is trying to sell a commodity product by appealing to consumers' affinity for brands and celebrities.
Other than how its cards look, Card.com is just like other prepaid card issuers. Its cards are issued by a Delaware bank and linked to a prepaid account – similar to a basic checking account, but customers can't overdraft.
A Card.com smartphone app lets customers check their balance, deposit checks and find ATMs where they can withdraw cash for free – just like with American Express Co.'s Serve prepaid card. Customers can also add cash to their cards at Wal-Mart and other retailers and set up direct deposit – just as they can with a Green Dot card.
Those systems are the same for every Card.com debit card, regardless of whether Spock, Beetle Bailey or Jerry Rice is pictured on the front. And that's part of the pitch Katz makes to brands and celebrities: Fees, compliance practices and technology are the same for everyone.
That's a big deal in the world of celebrity prepaid cards. Several celebrities have been pushed out of the market by bad press over high fees, said Daniel Carusotto, a prepaid market analyst in the New York office of consulting firm IBISWorld.
"When celebrities such as the Kardashians, Magic Johnson and Suze Orman rolled out their own cards, they were met by negative publicity which eventually forced them to exit the industry," he said.
Profit, soon
Card.com, housed on the top floor of a nondescript 14-story office building at Wilshire Boulevard and Centinela Avenue, has 40 full-time employees, up from about 20 six months ago.
It's a venture-backed company, so the owner-investors include Katz, Anthem Venture Partners and Wavemaker Partners, both in Santa Monica, among others.
Card.com makes money by collecting so-called interchange fees, the pennies on the dollar that merchants pay to process credit and debit card transactions. Katz said Card.com gets about 1 percent of the money its customers spend. The company also charges a monthly fee of $5.95 – the same fee as market leader Green Dot – though the fee is waived if customers deposit at least $800 a month. Most customers meet that threshold and don't pay the fee.
Katz wouldn't disclose Card.com's revenue, but he said the company loses money. He expects to become profitable next year as more customers sign up.
One disadvantage for the company is that, unlike Green Dot or American Express, Card.com has to pay licensing fees to brands. The company pays 25 cents each month for every active card, and 50 cents a month if the brand is a charitable organization, such as the National Autism Association.
That amounts to hundreds of thousands, perhaps millions, of dollars a year in costs that Green Dot and American Express don't have. And those costs will continue to grow as the company issues more cards.
But brands also help market cards themselves – the National Autism Association, for instance, has an advertisement for the cards on its website – and they make it easy for Card.com to find likely customers, Katz said.
The company does much of its marketing through Facebook and other social media sites, where it's easy to find "Deadliest Catch" or Care Bears fans.

"The Internet is organized by affinity," Katz said. "You know who's tweeting about the Walking Dead or reading about 'Star Trek.' "
Of course, most of Card.com's brands and celebrities aren't as recognizable as Star Trek. There are a handful of minor reality TV personalities and retired athletes, but no Magic Johnson-caliber personalities.
But Mercator's Jackson said the bevy of lesser brands seems to be paying off, giving Card.com access to a few thousand customers here and a few thousand customers there.
"Prepaid is very much a volume business: There have to be a lot of active cards for it to work," he said. "It's much easier to build that volume when you combine all those different affinity groups than it would be to say, 'I'm just going after Magic Johnson fans.'"
In Johnson's case, Jackson noted that the Lakers icon probably didn't sell many cards in Maynard, which is just outside of Boston.
"We're Larry Bird people," he said.
For reprint and licensing requests for this article, CLICK HERE.