Fashion Video Site Could Be Good Fit for Pickup
INTERNET: StyleHaul's niche could make it next target for big-media acquisition.
Monday, October 27, 2014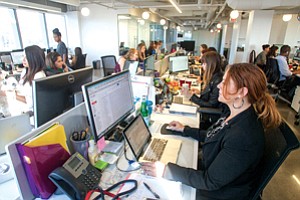 There's no question that multichannel networks have been hot buys for big media.
Three of L.A.'s biggest MCNs – AwesomenessTV, Maker Studios and Fullscreen – have been scooped up by mainstream media companies in the last 18 months. And as audiences of smaller YouTube channels grow, more deals are expected.
That has attention turning to narrowly focused MCNs, which are abundant in content-rich Los Angeles: Culver City's MiTu Network speaks to Latino audiences. Foodies savor Santa Monica's Tastemade. Video gamers log into West Hollywood's Machinima.
The reason, said Redpoint Ventures Partner Geoff Yang, is that offering highly focused content that appeals to specific interests or demographics produces passionate audiences. High engagement leads to more ad revenue.
"When you think about next-generation content networks, you think about an interest area or demographic that you're serving," Yang said. "The analogy is what the cable networks did. ESPN, CNBC and CNN, they were interest oriented. But there were also demographically oriented ones like BET, Telemundo or Univision."
That focused attention on an engaged market has led to speculation in the Silicon Beach community that the next MCN domino to fall could be StyleHaul, which is highly concentrated on the fashion and beauty markets.
"At StyleHaul, we're an inch wide and a mile deep," said Chief Financial Officer Seth Klein.
It's an emphasis that has helped the four-year-old Hollywood company quickly expand.
Chief Executive Stephanie Horbaczewski founded the MCN in 2010, and brands such as Macy's, L'Oreal Paris and Banana Republic jumped on board to work with its network of popular YouTube stars.
The Hollywood company has raised $17 million in total funding. Investors include RTL Group, Bertelsmann Digital Media Investments and RezVen Partners.
StyleHaul said 40 percent of the top 500 fashion and beauty YouTube channels belong to its network, and its 4,600 content creators garner more than 900 million views a month.
While those numbers fall short of Maker's nearly 7 billion monthly views or Fullscreen's 4 billion, a good buy isn't always based on metrics. E-commerce is what's in these days and that could make the fashion and beauty network the next must-have MCN.
StyleHaul would not comment on talk that it was in line for a buyout.
"The marketplace will dictate that," Klein said, declining to comment further.
'Game is on'
The money that has flowed into general interest MCNs this year has been enough to stir up speculation.
DreamWorks Animation scooped up L.A.'s AwesomenessTV in May 2013 in a deal potentially worth more than $100 million. Walt Disney Co. bought Culver City's Maker this March for upward of $950 million. Neighboring MCN Fullscreen was acquired last month by AT&T and Chernin Group's Otter Media joint venture for an estimated $200 million to $300 million.
With those big players off the market, attention has shifted to L.A.'s smaller networks.
"The game is on for the leading vertically focused MCN," said Peter Csathy, chief executive of digital media consulting firm Manatt Digital Media in West Los Angeles.
What could help StyleHaul stand out is how easily its content would transition into an e-commerce platform.
"Style, fashion and beauty are natural areas of spending," Csathy said. "When you have the commerce opportunity so closely aligned with the content itself, like with StyleHaul, that's interesting to buyers."
StyleHaul's "mile-deep" content includes a beauty guru whose video tutorial lists 14 different makeup products to look like singer Katy Perry. A bubbly Londoner on another channel shows off her latest haul of affordable clothes and home goods.
The network's target audience is 18- to 34-year-old women, a demographic primed to whip out the plastic and spend. Millennials, a group that brands are clamoring to figure out how to market to, make up 87 percent of the network's 175 million total subscribers.
Most MCNs' money comes from advertising, as opposed to subscription fees, and reaching demographics that are ready to spend is among the keys to success.
It's a business model that might not be enough to entice a buyer because YouTube's revenue split lets the site keep 45 percent of a video's ad revenue. The remaining 55 percent would be shared between a MCN and its talent.
Yang, who sits on the boards of Tastemade and Machinima, said diversifying revenue streams, such as helping brands sell goods directly to viewers, would make a network particularly appealing to acquirers. Imagine one that creates an online marketplace where content and commerce are offered side by side.
"StyleHaul has the natural ability to be in the middle of a commerce transaction," he said.
For reprint and licensing requests for this article, CLICK HERE.