Online Network Channels Retail
INTERNET: AwesomenessTV sold on value of pop-up shop.
Monday, October 20, 2014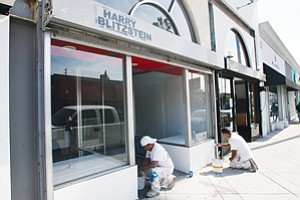 The more you talk to folks at YouTube multichannel networks these days, the less likely you are to hear them utter the name of the Google Inc.-owned online video platform that put them on the map.
That's because they're broadening their business models to include revenue streams more aligned with the multipronged strategies of the Hollywood studios that have paid millions of dollars to acquire them.
Upstart network AwesomenessTV, an independently operated subsidiary of Glendale's DreamWorks Animation, will dip into mainstream merchandising waters next month with a pop-up retail store to market branded items. Also, last week it announced an imprint that will publish books based on series appearing on the network.
"I was intrigued and continue to be intrigued every day about this intersection of retail, fashion, tech and content," said Jim Fielding, global head of consumer products and retail for Awesomeness. "I feel we're right at the vortex of that intersection, specifically for our demographic at AwesomenessTV."
Fielding joined Awesomeness in May after serving as chief executive of retailer Claire's Stores Inc. and, before that, as president of Disney Stores Worldwide. He said the Fairfax District store will be a pilot project that will allow him and his team to analyze what types of products and in-person events resonate most with fans. They'll be able to judge that not only by sales figures but also through social media posts.
Called Scene@AwesomenessTV, the shop will open in mid-November at 428 N. Fairfax Ave., across the street from Canter's Deli. It will remain open for about six weeks and play host to a series of as yet unannounced live events featuring a number of AwesomenessTV stars who are also expected to film videos and shows at the location.
"It's brand awareness," Fielding said. "It's a way to bring our creators to their fans and their community."
In another effort to make that connection, the teen-oriented content producer launched a junior fashion line available at Kohl's Corp. department stores last month. And its publishing effort, Awesomeness Ink, will put out two young adult novels, "Runaways" and "Side Effects," that are based on AwesomenessTV YouTube series that have garnered millions of views.
Expand brand
Awesomeness' effort reflects a wider trend of multichannel networks, called MCNs in the industry, and individual content creators moving their brands beyond the confines of YouTube.
A number of YouTube stars have signed book deals over the past year. And last month, Culver City's Fullscreen staged a daylong festival at the Pasadena Convention Center where its talent performed songs and played games on stage.
For reprint and licensing requests for this article, CLICK HERE.
Prev Next