New Focus
Internet: Ora TV looks to expand online network with shows built around Larry King and other celebrities.
Monday, October 13, 2014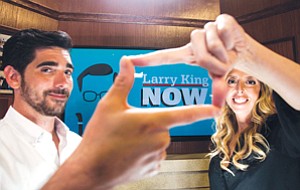 After Larry King retired from CNN a few years ago, he moved his show to an unlikely destination: Ora TV, an upstart Internet network launched two years ago with backing from the world's richest man, Carlos Slim Helú.
Now, Ora is expanding far beyond the realm of news talk. The company's Glendale production studio is also churning out celebrity and infotainment programming as it tries to become a larger player in the online entertainment world.
In doing so, the ad-supported network is banking on celebrities such as William Shatner, Haylie Duff and Jesse Ventura to help the network stand out in an online entertainment landscape often dominated by YouTube's Internet-native sensations.
"One of the toughest jobs in all of media right now is how do you get awareness for your shows in an incredibly cluttered and difficult landscape?" asked Chief Executive Jon Housman, who works from Ora's New York office. "In our case it starts with the shows themselves. We try to create shows that are different from what you see in the short-form video space, that involve talents and hosts."
The company is both a producer and distributor of content. Money comes from selling advertising as well as licensing shows to outlets such as Hulu or foreign TV networks.
The L.A. studio is run by Allison Glader and Jason Rovou, who both worked with King at CNN. The company produces "Larry King Now," an informal talk show, and "Politicking," which focuses on politics. Other programming on the network includes "Beer Geeks," which follows a brewer as he travels the country, as well as the celebrity programs that were added this year.
Executives said they expect Ora's revenue to double this year compared with last, though they would not be specific about financial metrics.
Still, Ora needs to be careful not to rely too heavily on celebrities to build viewership, said Steven Oh, chief operating officer at L.A. digital media firm Young Turks. In the online world, star power often means having a connection with the viewer rather than just being famous.
"In the digital world, it really doesn't matter whether it's William Shatner," he said. "The audience has to feel that the host, whether that is William Shatner or an unknown person, is connecting with them."
Digital transition
Ora was launched in 2012 after a discussion among King; his wife, Shawn; and Slim over a meal at King's house in Beverly Hills.
For reprint and licensing requests for this article, CLICK HERE.
Prev Next