Runneth Over
Beverages: Reed's has new equipment, ad campaign, lenders as the drink maker nears capping its first profitable year.
Monday, October 6, 2014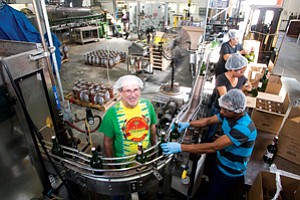 Ginger ale and soda maker Reed's Inc. is ready to chugalug. The company, on track for its first profitable year, is buying equipment, rolling out its first national advertising campaign and, thanks to sudden interest from lenders, refinancing high-interest debt.
Chris Reed, the company's namesake and chief executive, is the kind of guy who wears tie-dye shirts to work, but he's also a businessman who gets excited relating how, for the first time, banks are competing to do business with his company.
"I was aggressively pursued," he said. "I had a sense of what it's like to be a hot chick for a while."
If not Reed himself, the company's sales have been hot enough lately for the company to commit to spending more than $1 million on new machinery that will speed up production at its L.A. bottling plant. Reed said the new gear will triple the plant's output and let him take on orders he's had to turn down.
"We've maxed out," he said. "We're actually turning away too much business right now."
The company is also close to wrapping up a financing deal that will save nearly $1,000 per day in debt service costs, and new ads for Reed's ginger ales, root beer and other products are now airing on cable networks including BBC America and Food Network.
It's quite a shift for Reed's, which is on track for its first profitable year. Still, investors seem cautious about the company.
Reed's shares fell 29 percent, to $5.65 a share, in a single day in late March thanks to an annual report that included a big yearly loss. At the time, Reed, who with his wife, Judy, owns 37 percent of the company, said the stock would eventually "get religion."
Shares have since bounced up a bit, closing Oct. 1 at $5.84 a share, but they have yet to return to their peak of more than $8 before the March sell-off.
Reed's reported net income of $418,000 for the first half of this year, compared with a loss of $897,000 in the same period last year. And that swing to profitability has made it possible for the company to get new and better loan terms than it had from its current lender.
Equipment upgrade
Reed's owes about $4.5 million to PMC Financial Services Group, an Anaheim lender that works with struggling or high-growth companies. But now Reed said the company has just about wrapped up a refinancing with a major bank.
Prev Next
For reprint and licensing requests for this article, CLICK HERE.