More Room To Bloom
Life Science: Lab Launch looks to help early stage firms put down L.A. roots.
Monday, November 24, 2014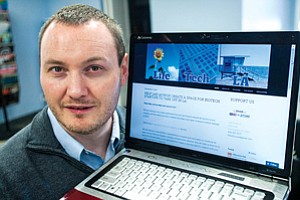 If you build it, will they stay?
Much has been made about the lack of funding for early stage L.A. life science companies, but it has also been argued that a lack of affordable lab space is just as deep a problem.
To address that side of the equation, molecular biologist Llewellyn Cox and a pair of partners with experience developing biotech businesses are setting up Lab Launch to act as an incubator for fledgling L.A. biotech companies.
The idea, said Cox, is to address concerns about a pattern he's seen play out in which scientists develop intellectual property at a local university, license it from the school and get some funding. But then comes the painful twist.
"They're ready to take their research on to that next proof of concept, to either raise a Series A or get acquired, and they leave town," partly for lack of lab space, Cox said.
It's what a recent report on the local industry referred to as the "leaky bucket" phenomenon. Even though Los Angeles County's academic medical centers generate nearly $1 billion in National Institutes of Health-funded research, ranking Los Angeles in the top tier of metropolitan areas, the region hasn't realized its potential as a bioscience hub.
The report, from Battelle Memorial Institute in Columbus, Ohio, noted one of the county's key weaknesses is a lack of "wet lab" space – facilities equipped to handle mildly hazardous chemicals or biological matter. Cox couldn't agree more. There are a few other life science incubators renting space to startups in Los Angeles, including Pasadena Bioscience Collaborative and Ventura BioCenter, but Cox expects Lab Launch to help address the overall deficit of affordable space for bioscience startups.
Building up
Cox, who has a Ph.D. in molecular and cell biology, gained experience building out lab space while working for City of Hope. Earlier this year, he teamed up with Lab Launch co-founders Ryan Bethencourt and Cory Tobin, who have started biolabs here and in the Bay Area. Bethencourt, who has a masters in bioscience enterprise, works in business development for biotech firms and helped found East Bay citizen science group Counter Culture Labs and the Berkeley Biolabs accelerator. Tobin, a plant biologist at California Institute of Technology, co-founded and helps run community-based lab Los Angeles Biohackers.
The team is looking for 7,000 to 8,000 square feet of industrial space near downtown Los Angeles to house Lab Launch. That location is key because it would be accessible via freeway or light rail for grad students or postdoctoral fellows at the area's major research universities, who tend to run a lab's day-to-day operations outside of school hours, Cox said.
The idea is to provide "bench space" (an actual bench and access to basic lab equipment) for about 12 to 15 life science companies. There would also be co-working office space with about 30 to 40 desks. They are aiming for rent to be less than $2,000 a month.
Cox said the incubator would not provide any funding to or take an equity stake in the companies that come through its doors. Rather, Lab Launch will be a pure space play aimed at creating a community in which startups can share ideas and have room to experiment. Potential tenants would come from a broad range of life science fields such as medtech, synthetic biology and virtual biotech.
Lab Launch, which has applied for 501(c)(3) status, started fundraising this month. Cox said they're aiming to raise a minimum of $300,000 and are targeting institutional donors. Those funds will cover the cost of leasing and renovating a space and operating expenses for the first year. Lab Launch would like to open by the middle of next year.
Unique challenges
While bioscience startups might sound similar to fledgling high-tech and Internet companies, they have their own peculiar complexities – and needs. For starters, these companies must have far more details hammered out before getting any significant money.
"You need a fairly good idea of who is going to be your customer," said Richard Koffler, chief executive of Greenwings Biomedical, a Pacific Palisades incubator that forms and grows its own startups rather than renting space to other ventures.
Koffler said defining the customer is complicated. The immediate customer is often not the end user or beneficiary of the technology because the health care system uses third-party payers, such as insurers, and they don't all behave the same.
There also isn't a quick return for investors.
"The investment in these companies is a 10-year horizon or more," said Bruce Blomstrom, president of Pasadena Bioscience Collaborative. "You have to be patient."
His incubator opened in 2004 in a 500-square-foot space. Thirty-eight companies and a decade later, it occupies 14,000 square feet in three buildings. Tenants are charged $1,200 a month for their space, though the cost includes access to advisers with technical and administrative expertise in areas ranging from engineering prototyping to grant writing.
The startups housed in the incubator usually are trying to develop a pharmaceutical product or diagnostics. Some are in other areas like environmental sciences, possibly working on water purification. Pasadena Bioscience Collaborative requires applicants to be legitimate life science companies that have a business plan, a $2 million product liability insurance policy and $100,000 in the bank, among other criteria. Like Lab Launch, the incubator does not take an equity stake in its tenants' businesses.
Leaving nest
To Ahmed Enany, president of the Southern California Biomedical Council in downtown Los Angeles, the biggest issue is providing startups with enough resources so they're primed for success and able to move beyond the incubators after a couple of years. He likens it to a conveyor belt where companies need to keep moving along while getting guidance and forming a network.
Enany stressed the importance of connecting these young companies with funding and also investing in them directly as an incubator so as to recoup costs and foster a "virtuous ecosystem" that can sustain itself.
"You're dealing with a population of companies who is vulnerable," Enany said. "Eight out of the 10 companies that get started don't make it. You have to find the two companies that will make it and make money on them. … It's not a project for the faint of heart."
For reprint and licensing requests for this article, CLICK HERE.