USC Releases Campus Safety App
Friday, November 21, 2014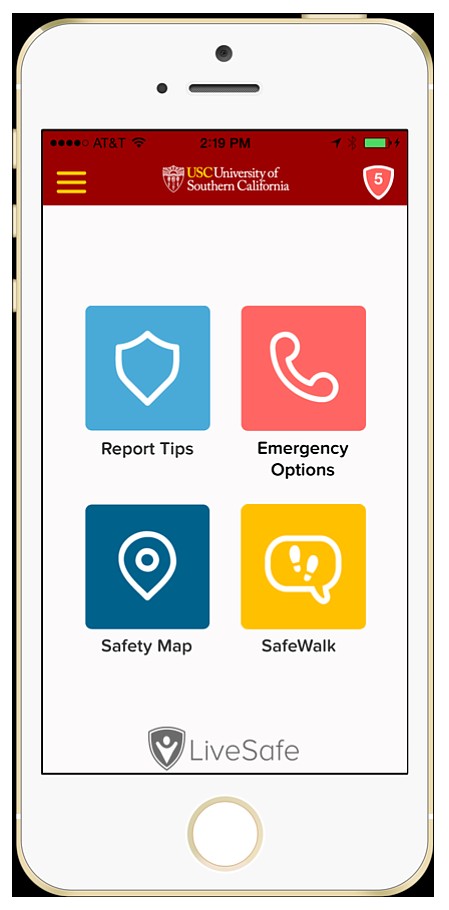 Campus safety has long been a thorny subject for USC.
In May 2012, two international graduate students were fatally shot while sitting in a parked car in a neighborhood near the campus. That same year, a gang-related shooting that took place Halloween night, this time on campus, left four injured.
Those kinds of incidents prompted the university to take a more aggressive strategy to protect its students.
The latest effort is the Trojan mobile safety app managed by the university's Department of Public Safety and Department of Emergency Planning. Released this week, the app includes features such as push calls to DPS or 911, anonymous reporting of crimes and a "safewalk" function that lets students track their friends as they head home.
"We know that if it's not simple and quick, students won't use it," said DPS Deputy Chief David Carlisle. "It's a push of a button, and you're immediately in touch with a live person at Public Safety."
The mobile app is powered through Arlington, Va., company LiveSafe, whose tech is used by universities in 18 states, according to Chief Executive Jenny Abramson.
The app is free for students. USC fronts the bill to license LiveSafe's platform. Both the school and LiveSafe declined to disclose the size of the annual fee.
Within 24 hours of launch, more than 1,200 USC students downloaded the app. But this is just another added safety measure and shouldn't be seen as an end-all solution, Carlisle said.
USC currently employs more than 300 DPS members. It also relies on 30 LAPD officers who are assigned to its University Park campus and has hired 60 private security guards to monitor streets both on- and off-campus. The university supports its foot patrol with nearly 200 video cameras, a third of which are used for license plate recognition for incoming and outgoing vehicles.
The school hopes the mobile app will help students feel more secure by having help at their fingertips.
"It's turned each student's mobile phone into a mobile blue light emergency phone," Carlisle said.
Staff reporter Melissah Yang can be reached at MYang@labusinessjournal.com. Follow her on Twitter @MelissahYang for the latest in L.A. tech news.
For reprint and licensing requests for this article, CLICK HERE.