Raising Bar
Protein product maker Quest Nutrition among local standouts quickly bulking up their revenue.
Monday, November 17, 2014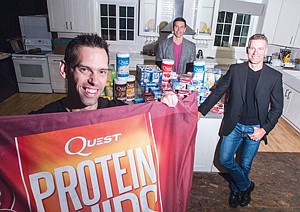 Fastest Growing Private Companies #3
When the team behind Quest Nutrition was scaling up their homespun protein bar business, they ran into a large, steel roadblock.
The bootstrapped startup had spent hundreds of thousands of dollars on equipment to manufacture its bars, but the machines couldn't handle the texture of Quest's product.
There's no added sugar in the company's protein bars, which was the point, but also the problem.
Sugar, said Chief Executive Ron Penna, "makes things run easier. It (makes the mix) more viscous and easier to manage."
Though Penna and partners Tom Bilyeu, Quest's president, and Michael Osborn, its chief financial officer, had previously run a software company, Osborn was a farm boy and was handy in a pinch. He grabbed a saw and a welder and rearranged the machine so it cut the thick protein bars earlier in the process.
That resourcefulness, combined with a couple of decades of experience founding and selling tech companies, has helped Quest thrive. Launched in 2010, the El Segundo company generated more than $82 million in revenue last year, a 2,500 percent increase over 2011. That extraordinary growth placed it No. 3 on the Business Journal's list of Fastest Growing Private Companies. (See page 32.)
The business, like so many, was born out of a perceived necessity.
The co-founders were all into fitness and all the protein bars on the market at the time were "glorified candy bars," according to Penna.

Quest's protein bars started out as hand-rolled snacks concocted by Penna's wife, Shannan, in her kitchen. She said she used ingredients still found in the bars today, which include whey protein; peanuts; and stevia, a plant-based, noncaloric sugar substitute.
"We weren't thinking about a commercial application," Bilyeu explained. "We were busy guys who all lift (weights) and concerned about what we eat, looking for something high protein, low carb and with no sugar."
Part-time process
Longtime business partners, Penna, Osborn and Bilyeu brought the bars to the data-loss prevention company they owned, Awareness Technologies in Marina del Rey. They were amazed that even the less health-conscious programmers working for them loved the taste.
Sensing the bars had a broader appeal beyond satisfying their own fitness needs and eager to start a passion project, the team rented time in a commercial kitchen alongside cupcake companies and caterers. Outside work hours, they used massive mixers, rolling pins and knives to crank out large batches of the bars, and they set up a website for selling direct to customers. Penna said his wife took a food certification course to learn about food safety and working in a clean environment.
Though the co-founders were coming from the technology industry, they were all "super focused on health and fitness," Bilyeu said. He explained that they did their own research and met with experts, eventually bringing Ph.D.s and people with food science backgrounds on board.
The team sold Awareness in 2010. The three stayed on for a while, but Bilyeu left to work full time at Quest shortly after the sale, with Osborn and Penna following in 2011.
Quest initially targeted low-carb fanatics in online forums, sending out free samples of two bars at a time, or handing them out in person at fitness expos around the country. Though it cost $5 to send out each sample (the bars now retail at $2.39 each), they said the orders the freebies generated more than recouped the expense.
Penna attributed a big part of Quest's growth to the comprehensive social media plan Bilyeu started formulating back in 2009.
"He outlined a vision of using social media to allow customers to talk to each other," Penna said. "You don't control it, you don't manipulate it. You allow it to happen and customers become evangelists."
Quest encouraged its customers to share photos of themselves with the company's products.
"People go to Machu Pichu, the Eiffel Tower and Instagram picture after picture of themselves posing with the bars," Penna said.
Bilyeu remembered celebrating when they hit 1,000 likes on Facebook after about six to eight months in business. It took about two years to get what he called really significant numbers.
Today, Quest has more than 300,000 followers on Instagram and north of 900,000 likes on Facebook. The company ropes in fans with slick videos featuring step-by-step instruction for creating carb-conscious baked goods incorporating the protein bars.
Quest has branched out into creating low-calorie pasta, protein peanut butter cups and chips, and a recently launched protein powder. GNC and Vitamin Shoppe now carry the company's products along with other supplement shops, health food stores and gyms across the United States and in more than 50 countries.
Big market
Penna and company have clearly benefited from the expansion of protein bars into a $500 million annual market in the United States.
"There's no question that a combination of medical research and interest from consumers has pushed protein to top of the list," said Santa Monica food industry analyst and author Phil Lempert.
Lempert reasons that faced with the rising cost of animal proteins, consumers have been searching for more affordable alternatives. He said fewer people are eating three square meals a day, and protein bars are both more convenient and tastier than they were 20 years ago when they were designed for people who had medical conditions.
Matthew Hudak, a research analyst at Euromonitor International's Chicago office, agrees.
"Right now is a pretty good time for protein bars," he said. "People want more protein in their diet because it makes them feel more energetic or they're following the Paleo Diet," which has a higher protein intake.
Hudak said PowerBar, Met-Rx and Clif bars roughly split about 60 percent of the market, leaving plenty of room for smaller players.
"Something new could definitely interest people, a lot of it is trying to find your own niche," he said.
Reaping rewards
Cultivating its customer base helped grease the wheels with retailers. Penna said people started asking for Quest bars in supplement shops and health food stores, putting the startup on a more level playing field.
"When we have retail partners we can treat them like partners," he said.
The direct contact with end users also means Quest can learn about its customers faster and respond to their needs.
"A lot of people in the manufacturing business don't understand their customer because they only deal with retailers," Penna explained.
It also helped that the co-founders weren't beholden to any investors as they set about hacking away at their expensive equipment, as Osborn did, flouting contract manufacturers who wouldn't make the bars. They spent a few thousand dollars of their own cash at the outset and later used the proceeds from the sale of Awareness to buy the industrial production equipment. Quest still hasn't taken any outside investment.
"We wanted to do a lot of strange things and we didn't want a lot of people telling us, 'Do it this way,'" Penna said. "It might not make sense to a business person, but it made sense nutritionally."
For reprint and licensing requests for this article, CLICK HERE.