Raising Bar
Protein product maker Quest Nutrition among local standouts quickly bulking up their revenue.
Monday, November 17, 2014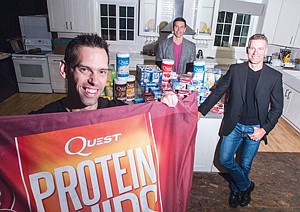 Fastest Growing Private Companies #3
When the team behind Quest Nutrition was scaling up their homespun protein bar business, they ran into a large, steel roadblock.
The bootstrapped startup had spent hundreds of thousands of dollars on equipment to manufacture its bars, but the machines couldn't handle the texture of Quest's product.
There's no added sugar in the company's protein bars, which was the point, but also the problem.
Sugar, said Chief Executive Ron Penna, "makes things run easier. It (makes the mix) more viscous and easier to manage."
Though Penna and partners Tom Bilyeu, Quest's president, and Michael Osborn, its chief financial officer, had previously run a software company, Osborn was a farm boy and was handy in a pinch. He grabbed a saw and a welder and rearranged the machine so it cut the thick protein bars earlier in the process.
That resourcefulness, combined with a couple of decades of experience founding and selling tech companies, has helped Quest thrive. Launched in 2010, the El Segundo company generated more than $82 million in revenue last year, a 2,500 percent increase over 2011. That extraordinary growth placed it No. 3 on the Business Journal's list of Fastest Growing Private Companies. (See page 32.)
The business, like so many, was born out of a perceived necessity.
The co-founders were all into fitness and all the protein bars on the market at the time were "glorified candy bars," according to Penna.

Quest's protein bars started out as hand-rolled snacks concocted by Penna's wife, Shannan, in her kitchen. She said she used ingredients still found in the bars today, which include whey protein; peanuts; and stevia, a plant-based, noncaloric sugar substitute.
"We weren't thinking about a commercial application," Bilyeu explained. "We were busy guys who all lift (weights) and concerned about what we eat, looking for something high protein, low carb and with no sugar."
Part-time process
Longtime business partners, Penna, Osborn and Bilyeu brought the bars to the data-loss prevention company they owned, Awareness Technologies in Marina del Rey. They were amazed that even the less health-conscious programmers working for them loved the taste.
Sensing the bars had a broader appeal beyond satisfying their own fitness needs and eager to start a passion project, the team rented time in a commercial kitchen alongside cupcake companies and caterers. Outside work hours, they used massive mixers, rolling pins and knives to crank out large batches of the bars, and they set up a website for selling direct to customers. Penna said his wife took a food certification course to learn about food safety and working in a clean environment.
For reprint and licensing requests for this article, CLICK HERE.
Prev Next