Message Received
INTERNET: Oracle vet Justin Nelson connects with TigerText's focus on secure-messaging phone app for health care sector.
Monday, November 17, 2014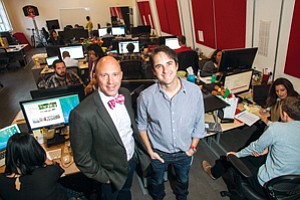 It's not every day that a Fortune 100 vice president leaves the company for a four-year-old startup – especially one they'd never heard of before being approached by a recruiter.
But it happened last month when Justin Nelson left Oracle Corp. to become chief sales officer at secure messaging provider TigerText, a newly created position at the Santa Monica developer of a smartphone app for health care providers.
The addition of Nelson comes as TigerText has been growing rapidly and is on a path to see revenue triple this year, according to co-founder and Chief Executive Brad Brooks.
The company, which developed a technology that allows medical personnel to send and receive secure messages from phones, tablets and desktops that are connected to a health care facility's network, has raised more than $31 million in venture capital funding from top firms including Shasta Ventures in Menlo Park and a number of health care-focused funds since its 2010 launch.
Its enterprise product has been downloaded more than 4 million times and is deployed in more than 5,000 facilities.
Despite those impressive numbers, Nelson was in the dark when the call came.
"I had not heard of TigerText," he admitted. "I really was a big-company guy."
At Oracle, Nelson managed sales of health and life sciences products designed to increase patient care. He had previously worked at telecom manufacturers ShoreTel and Avaya Corp.
"There is a comfort level for us knowing he's cut his teeth in places like that," said Brooks. "We're positioning ourselves to go to the next level now."
Despite some initial skepticism, Nelson said once he began the interview process and started doing his own research, he quickly realized that the market for secure communications at hospitals is growing rapidly.
And TigerText's numbers prove it.
"Our growth rate this year will probably be close to 300 percent in terms of revenue," Brooks said.
There were other draws as well.
Nelson said Brooks gave him a lot of freedom and flexibility when it comes to hiring sales staff. And the compensation was compelling enough to lure him from the Redwood City software giant.
Unprotected texts
TigerText has staked out a position in a market that is scaling quickly as health care providers look to avoid hefty federal fines when doctors and staff communicate about patients via text messaging.
"If you speak to clinicians, doctors, nurses, or anyone that practices or delivers ambulatory or acute care, they're texting today," Nelson said.
Every time they do, they're probably violating the Health Insurance Portability and Accountability Act, a 1996 federal law that created standards for the disclosure, security and privacy of protected health information. Even a quick question about a patient's room number could potentially expose both the sender and the institution to fines of as much as $50,000 under HIPAA guidelines, which have been revised multiple times to stiffen penalties.
The problem is that the law doesn't specify exactly what type of information falls within its reach.
"There's a large gray area," said Dr. Nhat Tran, chief medical information officer at Hoag Memorial Hospital Presbyterian in Newport Beach.
Hoag's 1,500 doctors and a select number of case managers have been using TigerText for about a year. Other large local customers include Torrance Memorial Medical Center and Ventura County Medical Center.
"At every hospital this is an issue," Tran said. "Because who doesn't text?"
Brooks said TigerText, which is HIPAA compliant, charges between $5 and $10 a month per user, depending on the size of the customer.
The company's competitors include PerfectServe Inc. in Knoxville, Tenn., and Imprivata Inc. of Lexington, Mass., both of which sell secure messaging apps. Imprivata, which went public earlier this year, is projecting 2014 annual sales of at least $94 million, compared with $39.1 million last year.
Additionally, Dr. Patrick Soon-Shiong told the Business Journal in April that NantHealth, his Culver City tech company, and minority partner BlackBerry Ltd. would produce by the end of this year an HIPAA-secure smartphone designed specifically for health care providers.
On a broader scale, the global health care information technology market is estimated to reach nearly $57 billion by 2017, up from more than $40 billion in 2012, according to Dallas research firm MarketsandMarkets.
Tran estimated that only one in three hospitals nationally has addressed the issue of secure messaging in some way, which means there's plenty of potential customers out there for Nelson and his growing team of 20 sales people to target.
"The entire industry will pick some kind of vendor to address this issue within 24 months," Brooks said.
While the regulatory issues are reason enough for hospitals such as Hoag to buy a product like TigerText, Tran said it has also enhanced the patient experience.
The faster doctors can communicate with one another, the sooner patients can receive diagnoses. It also eliminates the need for doctors to play phone tag, Tran said, while also giving them a tool for group communication.
"It started off as an HIPAA-compliance issue, but what it boils down to is that we are improving patient care," he explained. "What was a few-hour-long process is now potentially a few minutes."
For reprint and licensing requests for this article, CLICK HERE.