Grocer Hoping for Long Shelf Life on Internet
ONLINE: Thrive plans to deliver with natural foods sold at wholesale prices.
Monday, November 17, 2014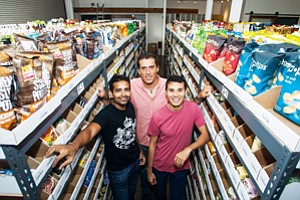 Imagine getting products similar to those at Whole Foods Market that you order online Amazon.com style while enjoying warehouse prices through a membership, a la Costco. That's the combination behind Culver City startup Thrive Market, an online grocery store that launched this month.
The members-only company sells wholesale-priced organic and natural food products that are ordered online and delivered most everywhere in the United States.
And it's attracted some influential investors, including Brian Lee, co-founder of e-commerce companies Honest Co. and Shoedazzle.com Inc., who sees the logic in combining elements of Thrive's bigger role models.
"Whole Foods has proven there's a pretty large marketplace for people searching for organic and natural products," Lee said. "And Costco has proven there's a market for membership shopping, and so I think Thrive is sitting at a good spot between the two."
More importantly, though, Lee said consumers are showing they're ready to do at least some of their grocery shopping online.
Gunnar Lovelace, Thrive's chief executive, said the company's online offering should be especially attractive to young city dwellers – customers who want healthy food but need to save money and don't have the storage space to warrant a Costco membership. Thrive doesn't sell in bulk.
"Think about it, if you live in a city like San Francisco or New York, what are you going to do with 72 rolls of toilet paper?" Lovelace said.
Like Costco, Thrive plans to sell products at or near their wholesale price and make money mostly through membership fees. A Thrive membership costs $59.95 annually.
But throwing in a membership model could be a tough sell, especially for a startup that doesn't have the name recognition – or selection – of Costco and Wal-Mart Store Inc.'s Sam's Club, said Steven Mednick, a professor at USC's Marshall School of Business who studies startups.
What's more, counting on membership fees puts the company on shaky ground, he said.
"They're going to have to find other ways to drive revenue," Mednick said. "Think about how many customers need to sign up for them to make a reasonable amount of money."
Natural habitat
Thrive, co-founded by Lovelace, Sasha Siddhartha and Nick Green, launched two weeks ago and has 13 employees at its headquarters and distribution center in Culver City.
The members-only site sells items such as organic quinoa and raw cacao nibs for between 25 percent and 50 percent below retail price. Shipping is free on orders over $49 and is done by FedEx Corp. Thrive sells shelf-stable foods – no fresh meat or produce – as well as beauty products and a few home goods.
To market Thrive, Lovelace is counting on a few of his investors, including fitness author and blogger Mark Sisson, to spread the word.
Products found on Thrive's website are also available from Amazon and discount health e-commerce company Vitacost, which was acquired by Chicago grocery giant Kroger Inc. this year. But Lovelace said those sites are clunky and that Thrive's site is more user-friendly. For instance, Thrive members can search for products that are categorized as gluten free, vegan or raw.
"We see the (natural food) market as bifurcated," he said. "On the one hand you have Whole Foods where you've got an aspirational brand experience and on the other you have discount players like Amazon and Vitacost, which are really like a Web 1.0 experience."
But Paul Zaffaroni, managing director at investment bank Roth Capital Partners in Newport Beach, said it won't be so easy to lure customers away from bigger competitors that offer more products and don't charge a membership fee.
"There are already some larger established players, so are you offering a better price or a better selection?" Zaffaroni asked.
Middle man
Thrive raised $1 million from Lee and other investors last year. Lee, who heard of Thrive through an angel investor friend, said the business is positioned to take advantage of shopping habits that have shifted thanks to the growth of e-commerce.
"In the early days of e-commerce, Webvan and a couple others were trying to do groceries online," Lee said. "And, truthfully, it was just too early. Great idea, just too early. But I actually think the proliferation and acceptance of shopping online today lends itself to this type of disruption."
Lovelace, too, thinks online grocery shopping is here to stay, but he also said he launched Thrive as an online-only enterprise mostly because it was the fastest way to start up. Now he's exploring options to open brick-and-mortar locations in large cities across the country in the next three to five years.
The company is also planning to expand its product offerings to include items such as BPA-free teething rings for babies and nontoxic cleaning supplies. And next month, Thrive will launch a content side to the website so customers can read up on health tips and trends.
"We see ourselves as a lifestyle brand that's making healthier living accessible," Lovelace said.
For reprint and licensing requests for this article, CLICK HERE.