Calling Names Can Lead to Costly Online Battles
INTERNET: DirecTV fought to stop rival Dish from acquiring dot-direct domain.
Monday, November 17, 2014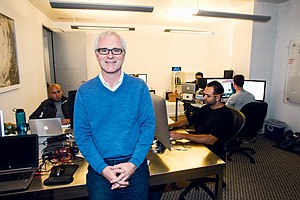 El Segundo's DirecTV and bitter rival Dish Network Corp. have thrown punches at each other for years in their fierce competition to gain market share.
But a recent battle between the satellite TV providers foreshadowed a new age of disputes, one that's poised to keep L.A. attorneys busy for years to come.
With a new set of top-level Internet domains rolling out, Dish jumped and snagged dot-direct, buying the right to control the licensing to anyone who wanted, for instance, to have the online presence TV.direct.
With as many as 1,400 of these domains set to hit the Internet in coming months, there has been a rush to protect established brands. DirecTV was one of the first to move, challenging Meridian, Colo.-based Dish's purchase and successfully forcing it to give up the handle.
Until about a year ago, there had been just 22 top-level domains – the familiar dot-com, dot-net and a handful of others. Then, companies like DirecTV focused almost entirely on ensuring new dot-com websites weren't infringing on their brand's trademark. Now more than 400 domains have been added to the mix so far.
The new names have made it harder for companies to protect their brand, said Bobby Ghajar, partner at the downtown L.A. office of law firm Pillsbury Winthrop Shaw Pittman.
"It was fairly easy to manage," Ghajar said. "Now the question is: Do you set up a watch? There are companies that will search all the new domain names and alert you if there's a match."
Imitators and competitors are often quick to buy up new domain names, he said, which forces trademark owners to try to snag each domain before anyone else registers their brand or end up filing disputes with the World Intellectual Property Organization, which handles all trademark-related disputes.
Either way, it's not cheap. It costs about $180,000 just to apply to the Internet Corporation for Assigned Names and Numbers for the right to manage the licensing of a new top-level domain. Most companies are concerned more about confusion that might be sown by "squatters" who secure traditional dot-com or dot-net domains that reflect their brands. Fewer, like DirecTV, are likely to find top-level domains that could cause that confusion.
Still, it can cost tens of thousands of dollars to fight a domain registration, said Rod Berman, a partner in the intellectual property practice at the Century City office of law firm Jeffer Mangels Butler & Mitchell.
Prev Next
For reprint and licensing requests for this article, CLICK HERE.