Different Cloth
Olivier de Givenchy saw finance career as better fit than family's fashion, design pursuits.
Monday, November 3, 2014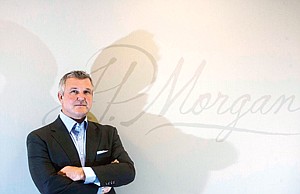 It's hard to say which is the more recognizable name: the company, JPMorgan, or the banker, Olivier de Givenchy. He's the son and nephew of the men behind the Givenchy fashion and fragrance brands. And since earlier this year, he's been in charge of the Western U.S. region of JPMorgan Private Bank, the financial behemoth's wealth management practice for the super rich. It's a world he knows well: His family was aristocratic long before Givenchy was a big brand name. Case in point: Givenchy's 2-year-old son, Louis, gets his name from Louis Taffin de Givenchy, a commissar in Napoleon's Army. But now Givenchy, who spent much of his career in New York and London, is in a whole new geography. He's charged with building JPMorgan Private Bank's presence from Los Angeles to Seattle and from Phoenix to the oilfields of North Dakota. Based in the firm's Century City office, he's getting used to dining with actors and comedians – and to being the only banker at the table. He recently spoke with the Business Journal about making the move from London to Los Angeles, being the "black sheep" of his artistic family and the many ways he's heard his last name mispronounced. (Give-ahn-shee is pretty close).
Question: You're responsible for covering a lot of ground – about half the country. What's an average week like?
Answer: On a weekly basis, I spend time in one of the offices. Last week was Seattle. Next week, I'll be in San Francisco. Then I'm spending some time in Orange County. Before that, it was Arizona. I was in Denver three weeks ago. I'm not staying the whole week there, but I'm spending a couple days in each of them. The majority of my time will be spent in Southern California.
You grew up in Paris and you worked in New York and London before coming to Los Angeles. Does your name mean as much here as it does elsewhere?
The reality is, my uncle and father created a global name. If you look today, in Asia, there are a lot of people who call their children Givenchy.
I have to ask – do people mispronounce it?
There's a lot of "Given-chee" and "Given-key" and even "Gi-when-chee." We've heard it all.
Does your name help in your line of work?
People know Givenchy and it has the ability to open doors but you need to keep that door open. When you sit at the table with people and you have nothing to add to the discussion, you're not going to stay at the table very long. I leverage the fact that I've been given the opportunity to very proudly carry this name.
Prev Next
For reprint and licensing requests for this article, CLICK HERE.