Different Cloth
Olivier de Givenchy saw finance career as better fit than family's fashion, design pursuits.
Monday, November 3, 2014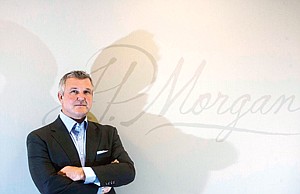 It's hard to say which is the more recognizable name: the company, JPMorgan, or the banker, Olivier de Givenchy. He's the son and nephew of the men behind the Givenchy fashion and fragrance brands. And since earlier this year, he's been in charge of the Western U.S. region of JPMorgan Private Bank, the financial behemoth's wealth management practice for the super rich. It's a world he knows well: His family was aristocratic long before Givenchy was a big brand name. Case in point: Givenchy's 2-year-old son, Louis, gets his name from Louis Taffin de Givenchy, a commissar in Napoleon's Army. But now Givenchy, who spent much of his career in New York and London, is in a whole new geography. He's charged with building JPMorgan Private Bank's presence from Los Angeles to Seattle and from Phoenix to the oilfields of North Dakota. Based in the firm's Century City office, he's getting used to dining with actors and comedians – and to being the only banker at the table. He recently spoke with the Business Journal about making the move from London to Los Angeles, being the "black sheep" of his artistic family and the many ways he's heard his last name mispronounced. (Give-ahn-shee is pretty close).
Question: You're responsible for covering a lot of ground – about half the country. What's an average week like?
Answer: On a weekly basis, I spend time in one of the offices. Last week was Seattle. Next week, I'll be in San Francisco. Then I'm spending some time in Orange County. Before that, it was Arizona. I was in Denver three weeks ago. I'm not staying the whole week there, but I'm spending a couple days in each of them. The majority of my time will be spent in Southern California.
You grew up in Paris and you worked in New York and London before coming to Los Angeles. Does your name mean as much here as it does elsewhere?
The reality is, my uncle and father created a global name. If you look today, in Asia, there are a lot of people who call their children Givenchy.
I have to ask – do people mispronounce it?
There's a lot of "Given-chee" and "Given-key" and even "Gi-when-chee." We've heard it all.
Does your name help in your line of work?
People know Givenchy and it has the ability to open doors but you need to keep that door open. When you sit at the table with people and you have nothing to add to the discussion, you're not going to stay at the table very long. I leverage the fact that I've been given the opportunity to very proudly carry this name.
You seem like an interesting choice to run the Private Bank in the Western United States. You have a very old-money, European name, but compared with the United Kingdom and Europe, it seems like the wealth here is much newer.
The impression people might have in the U.S. is that Europe is old wealth, and there's definitely a lot of old wealth there, but you don't build a business only on the old wealth. We were successful in Europe in general with entrepreneurs, the financial services industry, of course, the fashion industry, which is not old wealth. And my name is French, and my accent is not, obviously, American, even though I'm half-American, half-French.
I had no idea.
My mother was born in Washington, D.C. My grandfather was a colonel in the U.S. Army. My parents met in Germany in 1947. Then my father and my uncle, in the '50s, built Givenchy, the perfume and fashion brand. My uncle, Hubert, out of nothing, started as a designer. He worked for Schiaparelli and was a close friend of Balenciaga.
How did your parents meet?
My grandfather, he was in charge of finances for the U.S. military, so he was following the front. He called his family up and they found themselves in Baden Baden or Wiesbaden.
And your father?
He was a photographer and was sent to Germany to take after-war pictures. And he took more pictures of my mother than of anything else. (Laughs.) They eloped and got married in Paris, then my first brothers were born in '47.
Your father eventually went into business with your uncle, but what did he do before that?
He was at Air France. He joined Air France after spending some time in New York, then moved back to work with his brother in Paris. My father joined when my uncle decided to create a perfume line. He was tasked with putting that together. He had no background in that. They were entrepreneurs.
So he wasn't a perfumer?
He had to learn from scratch. The idea was, you'd set a concept, and the concept was Audrey Hepburn. They called the first perfume L'Interdit – The Forbidden – on the basis of her image. So they created L'Interdit, they found someone to design the bottle and then they had to sell it, which meant going door to door to perfumeries in Paris. Dad said the perfumeries didn't really know them. So he'd take them out to lunch, and if they had a good lunch, they'd put the perfume and a picture of Audrey Hepburn in the front window. Kind of an amazing entrepreneurial story.
You went into banking, but your twin brother, James, is a jewelry designer, right?
He played it safe, no? (Laughs.) It's a funny thing. My siblings are mostly artists and perfumers. When I went into banking, they said, 'So you decided not to play it safe.'
So you're the oddball?
My brother Patrick was one of the best perfumers in his generation. He created most of the famous Calvin Klein perfumes for men. My brother Philippe designed perfume bottles. Richard ran Givenchy for a while. Hubert is an interior designer who does hotels and restaurants in Paris. My sister Beatrice was also more of an artist. So they were all artists. I was the black sheep.
You started your career at Citibank after college, then Bankers Trust, but you've stayed with JPMorgan for more than 20 years now.
JPMorgan was always the firm I wanted to work for. Growing up in Paris, and my parents being clients of JPMorgan, I remember going to the office at Place Vendome, which is one of the most beautiful buildings in Paris. At the time, my father and mother would meet, and my brother and I would have to wait in the entrance with the butler. There was a butler with white gloves. There was something absolutely fascinating about it. The power of it.
Did you ever see yourself in the family business?
You always think of yourself as, eventually, part of the family business when your family has a business. But the private banking business was, to me, one of the most exciting branches of our financial service industry. You have the opportunity to become a specialist in finance, but at the same time you deal with some of the wealthiest, most successful, creative people in many other industries. You come to work and you always feel you're learning something new.
How much of your time these days is spent internally with the bank, and externally with clients or potential clients?
I think I'm always out. (Laughs.) I really am. I have a fantastic partner. My wife is an incredible person. She's extremely outgoing. She used to run her own PR company in the U.K., which she sold. She's genuinely interested in people and she's magnetic, so we're constantly invited to dinners and we're meeting some fantastic people.
Are you meeting different types of people than you would have in London?
We had dinner with a big executive at one of the big studios. He said to me at the table, "I don't want to be insulting to you Olivier, but what you're going to see as the difference in L.A. is that instead of sitting with boring bankers at every dinner and lunch like you did in New York or London, here you're going to meet people from very different backgrounds that are so much more interesting to you." I said, "Well, thank you very much, I'm not insulted and I totally agree." What makes me wake up in the morning is the opportunity to learn something new. There's so many interesting, creative people in Southern California, it makes every day a lot more exciting.
That reminds me of one of Howard Marks' memos. He mentioned once that he spent time over the holidays with David Geffen, Allen Grubman (an entertainment lawyer) and Robbie Robertson from the Band.
That's exactly it. I was at a dinner just before the Emmys with an English comedian, an American comedian, the head of a big studio and a comedy writer. We're all sitting around and these guys are nonstop. The writer and the two comedians are just giving it all night. And I'm sitting in the middle of this. We started at 7:30, and at about 10:30, they look at me and say, "So what do you do?" (Laughs.) I said, "Alright guys, I'm the banker here." But it was fascinating. These guys are so bright, so quick, so aware of everything in the world. It was great for me to be quiet. That's what you want to be – to be the guy listening to them.
What do you do when you're not working?
On weekends we go to Malibu. Our friend has a ranch and there's a workout on Saturday mornings. Then Sunday mornings we love to go to Melrose. There's a little market there that ties into La Cienega with all the antique shops I love going to.
Where do you live?
We're lucky enough to find a house to rent in Beverly Hills that's only 10 minutes from the office. I was told you're going to spend a lot of time in your car, so I bought a nice car, a Tesla. But my drive is so short, I don't have time to call my uncle in the morning. By the time I get from my home to the office, he's like, "Well … you know … the weather …," and then I'm like, "OK, I'm getting into the garage, sorry." So I've been disappointed in the lack of traffic.
Other than that, how are you liking L.A., especially after living in London?
It's totally different from a city where you walk out of your door and you can make a right or a left and then just walk without having a destination. This is a city where you need to have a destination. Once you're at your destination, you might walk around, but it's not a city where you wander outside of your house.
For reprint and licensing requests for this article, CLICK HERE.
Stories You May Also Be Interested In