Java Franchisee Turns Up Heat
RETAIL: Coffee Bean accused of misleading on profitability.
Monday, May 26, 2014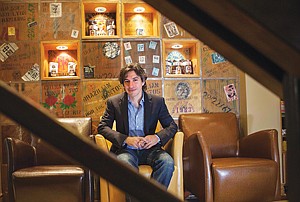 When Coffee Bean & Tea Leaf opened its first New York store three years ago, it marked a major salvo in the L.A. coffee chain's plans to go national.
Momentum seemed in its favor: A flurry of media reports touted its Hollywood celebrity clientele, with the Wall Street Journal calling the opening "an occurrence that many of us have been dreaming about for years." Internal Coffee Bean studies purportedly showed that the New York market could support at least 100 of its stores. And the chain had what seemed like the right man to lead the charge in franchisee Ira Smedra, a deep-pocketed L.A. developer with a history of fighting tough battles.
But the New York outposts have not met expectations. Smedra says they have not been profitable, and development has stalled at 15 stores.
Now, Smedra and his partners at New Amsterdam Coffee & Tea Co. are fighting to recover the money they invested and are seeking damages. They're accusing Coffee Bean of misleading them about the chain's business performance and prospects.
"NACT would not have invested in their Coffee Bean franchises or entered into the agreements … had all material information regarding the franchise opportunity been properly disclosed," the franchisee stated in a lawsuit.
What's more, Smedra alleges that he discovered he had been misled last year, when he tried to buy Coffee Bean's parent company and got a closer look at its financials. Negotiations became acrimonious, and he says Coffee Bean cut him out, selling instead to investors Smedra had brought in as part of his overture. Coffee Bean's holding company, International Coffee & Tea, announced in September that it sold a large stake to a group of private equity firms for an undisclosed amount.
A Coffee Bean spokeswoman called the allegations meritless but declined to comment on specifics regarding pending litigation.
Howard Gordon, a restaurant consultant in Santa Ana with experience in the coffee industry, said that Coffee Bean, like many Starbucks Corp. competitors, has struggled to expand beyond regional boundaries.
"One of their limitations is that they're regional," he said. "The market is very saturated. The question is: What differentiates you in the market?"
Brewing success
Coffee Bean was founded in Brentwood in 1963 by Herbert Hyman, a UCLA dropout who died earlier this month. Though it was a pioneer of the gourmet coffee phenomenon, its great cultural contribution was the Ice Blended, a blended coffee drink introduced in the late 1980s that preceded the Starbucks Frappuccino and similar products.
Starbucks took notice and, in 1991, reportedly offered to buy the company. Hyman savvily rejected the offer, then actually saw a boom in business as Starbucks flooded the market with its own stores. He ended up trying to open stores close to Starbucks.
Starbucks "just flat-out said, 'If you don't sell out to us, we're going to surround your stores,'" Hyman was quoted saying in a Los Angeles Times obituary. "And lo and behold, that's what happened, and it was the best thing that ever happened to us."
But the company remained small beans until it was purchased by brothers Victor and Sunny Sassoon. Victor, a Singaporean concert promoter, bought the Asia franchise rights in 1996 on the advice of one of his L.A. clients, singer Paula Abdul. (Months after he opened the first Coffee Bean in Singapore, Starbucks followed, opening its location some 600 yards away.) Two years later, the Sassoons bought the company from Hyman, then in his 70s, and began an aggressive expansion strategy.
They took the store's brand across Asia – today, the company has more than twice as many stores overseas than in the United States. Though ubiquitous in Los Angeles, it remains less known nationally. About half of its 303 stores nationwide are in Los Angeles.
In 2009, Sunny Sassoon, a longtime L.A. resident, began discussions about expanding into New York with Smedra, a man he had known for some 25 years, according to Smedra's Los Angeles Superior Court lawsuit. The two are on committees and donor lists of some of the same organizations, including Jewish educational non-profit Heritage Retreats and the Jewish Family Service of Los Angeles.
Once again, Coffee Bean would be following Starbucks. Since Starbucks opened its first Manhattan store in 1994, it has become the largest retail chain of any kind on the island, and has 283 locations across the city of New York.
But Smedra is no stranger to forays into hostile territory. In 1989, his fight to build a minimall on the site of a carwash in Studio City became national news when local opponents moved to deem the business a cultural monument; he was able to raze the business and build his project. In the 1990s, he proposed a $100 million project in Westwood Village, clashing with opposition for years before eventually selling the property to developer Alan Casden.
According to Smedra's suit, Coffee Bean's research had shown that for every three Starbucks stores in a given market, there was enough room to support one Coffee Bean store. (Indeed, there were 482 Starbucks stores last year in Los Angeles County, compared with 154 Coffee Bean stores – a ratio of 3.1: 1, according to Business Journal research). Smedra said he committed to open at least 100 stores.
His partner, New York's Jeffrey Srulowitz, claims he was told that Coffee Bean stores had an average annual revenue of more than $1 million. Corporate stores in Los Angeles were generating an average of 750 transactions a day, with an average sale between $4.71 and $5.25. He said he was told that some Manhattan locations could hit 800 transactions a day and $1.5 million in annual revenue.
Smedra and Srulowitz bought exclusive franchise rights for Manhattan, the other New York boroughs, Connecticut and New Jersey. Smedra and Srulowitz also personally guaranteed New Amsterdam's performance.
The first Manhattan location opened in August 2011, and Coffee Bean executives seemed to know it was going to be a tough battle.
"People have been bugging us to come to New York since the second day we were open," Bob Kaufman, then Coffee Bean's vice president of business development, told the Wall Street Journal. "But we wanted to go there in a meaningful way. It's very expensive, rent is high, competition is fierce and there's an unforgiving customer base."
Fight
Within months of opening the first Manhattan store, Smedra made a much bigger move. In much the same way that former franchisee Sassoon had taken control of the larger operations, Smedra began negotiating to purchase Coffee Bean itself with a group of investors, according to his complaint. By December 2012, the two sides were close enough to sign a nonbinding memorandum of understanding and Smedra said he delivered a deposit of several million dollars.
However, after getting a peek at the company's financials, he said he discovered things were worse off than had been represented to him. He claims he found that the average store sales were closer to $800,000, not $1 million. (By comparison, the average annual revenue of a Starbucks store in the United States is roughly $1.2 million.)
He also discovered that in 2010, Coffee Bean had struggled to stay afloat, and had been forced to obtain a loan from a South Korean franchisee to meet payroll. He found further that he was paying a 32 percent markup on materials such as coffee, tea and drink powders compared with corporate stores.
At the same time, his New York locations were struggling. He claims costs were higher than expected and sales had taken longer to ramp up than Coffee Bean told him. His lawsuit accuses Coffee Bean executives of "misrepresenting that NACT would be able to operate at a profit upon having 10 stores open and operating, which profitability never occurred."
The relationship deteriorated and Smedra claims he was cut out. In September, Boston's Advent International, Hong Kong's CDIB Capital and South Korea's Mirae Asset Private Equity bought a large stake in Coffee Bean.
Coffee Bean, which executives publicly stated last year exceeded $500 million in annual revenue, declined to comment to the Business Journal on the size of the acquired stake or the sales price. But a South Korean media report leading up to the acquisition said that the purchase price being negotiated was between $359 million and $448 million, with Mirae kicking in roughly $135 million.
Afterward, the fight between Smedra and Coffee Bean turned to the fate of the East Coast franchisees, according to the lawsuit. Coffee Bean alleges that New Amsterdam had failed to meet development schedules in areas outside of Manhattan and had failed to meet its system standards; New Amsterdam claims the infractions were minor or made up, and are being used as an excuse by Coffee Bean to take over its stores.
The dispute led Coffee Bean to declare Smedra's group in breach of its franchise agreements and moved to terminate their deals, according to the lawsuit.
In January, New Amsterdam filed for arbitration proceedings against Coffee Bean, away from the public eye. The fight only became public record this month, when New Amsterdam filed suit against Sunny Sassoon, Kaufman and former Chief Executive Mel Elias. After the September equity infusion, Elias left the CEO spot and joined the company's board.
Barry Kurtz, who reviewed the case for the Business Journal, said New Amsterdam's case would be difficult to prove. He had doubts that a sophisticated investor like Smedra, who even brought in his own accountants to vet the franchising deal, would be so misled.
"The buyer seemed to be very sophisticated," he said. "It seemed like they did an enormous amount of due diligence and to be fooled this extensively is kind of hard to accept."
He added that one possible resolution could be for Coffee Bean to buy the stores back for a negotiated amount.
Coffee Bean, meanwhile, continues to make expansion moves. In the wake of the investment, Elias told Singaporean media last year that the company wants to double its global store count – now 962 – within five years, and has publicly discussed the possibility of an IPO or strategic purchase exit for the new investors.
"This is what I call the growth inflection point for Coffee Bean," he said.
For reprint and licensing requests for this article, CLICK HERE.