USC Medical Center Doubles Up in Downtown
TREATMENT: Keck sees patient volume soar after move closer to L.A. Live.
Monday, March 31, 2014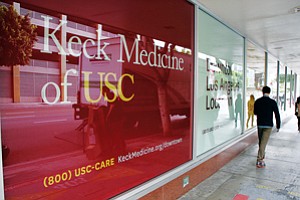 Hotels and nightlife venues aren't the only establishments finding success by being near L.A. Live. Keck Medicine of USC has found that moving its downtown clinic closer to the popular entertainment hub also has been good for business.
Keck Medical Center of USC-Downtown moved from 300 Hope St. about five blocks south to a larger mixed-use complex at 830 S. Flower St. in the South Park area. Patient volumes have doubled since the move late last year.
More than 50,000 residents now live in the city's center and more than 500,000 work downtown. But the old clinic was tucked away in an office building with high parking fees and mainly performed executive physicals for people working in the Bunker Hill towers. At the new location, patients from South Park's growing residential population are able to walk to their appointments or park more affordably in the building's garage. Keck plans to add medical imaging services, outpatient procedures and possibly even an urgent care facility.
"Our lease was coming up and we thought it was a good time to be part of the downtown revitalization," said Scott Evans, chief executive of Keck Hospital of USC and USC Norris Cancer Hospital.
Keck last year signed a 10-year lease for a health care clinic and pharmacy with landlord CIM Group at a six-story building next to CIM's Gas Co. Lofts and Market Lofts. Commercial tenants in the building include a fitness studio and a Ralphs supermarket.
A pharmacy in the supermarket doesn't pose as much of competitive conflict as might be expected, Evans said. The Keck in-house pharmacy is primarily serving patients with complex medication management issues requiring more personal attention from a pharmacist.
"We fully expect to pass a patient on to Ralphs when their condition improves," he said.
Location, Location
Gastroenterologist Dr. David Drake and dermatologist Dr. Bryna Kane will soon be practicing medicine at the site of a former Boeing aerospace facility in Long Beach.
The physicians are the co-managing partners at Long Beach Gastroenterology Associates and Laser Skin Care Center Dermatology Associates, respectively. Each practice is the lead owner of one of the two buildings that will comprise the future Douglas Park Medical Office Park. Groundbreaking on the 90,000-square-foot project took place this month, with contractor Millie & Severson Inc. to start construction next month. The new owners hope to start equipping the buildings by the end of the year.
Drake and Kane said they separately had been looking longingly at undeveloped land at Douglas Park for several years. Not only is the 260-acre wooded business park near two 405 freeway exits, it is also near six of Long Beach's largest hospitals.
When Irvine's Sares-Regis Group bought the park and ramped up development efforts, the physician groups partnered with Urbana Development of Long Beach to acquire and build on five acres.
"There hasn't been much new medical office space in Long Beach for several years, so this is going to make an impact on our community," Drake said.
Long Beach Gastroenterology and partner Greater Long Beach Endoscopy Center will occupy all of one building, which will also include outpatient surgery suites that Drake expects will be used by their next-door neighbors.
Kane said her practice will only use about a quarter of its building and lease the rest to other medical specialists.
"The future of medicine is trending toward practices banding together to offer a one-stop shop with the latest technology and convenient parking," she said.
News & Notes
Margaret R. Peterson took over last week as president of the 318-bed Dignity Health-California Hospital Medical Center in downtown Los Angeles. A former registered nurse who moved into the administrative ranks, Peterson most recently was chief executive at a hospital and medical group in Victorville. She earlier was chief executive of a hospital in Simi Valley. ... City of Hope, best known for its cancer research and treatment facilities, is making new efforts in another field. The Duarte institution is committing $30 million in philanthropic funding toward developing new treatments for types 1 and 2 diabetes. The money will be used to recruit top scientists to join the department of diabetes and metabolic diseases research at City of Hope's Beckman Research Institute. ... Nutritional supplement company Herbalife has launched a website, IAmHerbalife.com, designed to address what it calls misperceptions about its business model. Hedge fund manager William Ackman shorted the company two years ago and has been attacking it since.
Staff reporter Deborah Crowe can be reached at dcrowe@labusinessjournal.com or (323) 549-5225, ext. 232.
For reprint and licensing requests for this article, CLICK HERE.