Music Streaming Service Cues Up Revenue Plan
INTERNET: Plug.dj says money not focus as it seeks to navigate rights issues.
Monday, March 31, 2014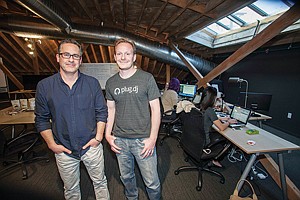 Plug.dj, a music-sharing service designed around the idea of building online communities of listeners with similar tastes, has attracted more than 2 million users from 190 countries since it launched two years ago. What the 16-employee Culver City company has not done is make money.
Now, fresh off a $1.25 million seed financing round in November from Javelin Venture Partners and the February hire of a senior business development executive, Plug.dj is laying the groundwork for what it expects will be a long road to sustainability.
"We're definitely interested in monetizing," said co-founder and Chief Executive Alex Reinlieb. But, he added, "we're not in any major rush to do it."
The service keeps its costs down by streaming music embedded on sites such as YouTube and SoundCloud, which have already cleared rights, into thousands of themed virtual "clubs." The model allows Plug.dj to avoid paying royalty fees to rights holders – a costly expenditure that helped sink Turntable.fm, an earlier competitor that shut down late last year.
It has already generated some cash through promotional arrangements with Budweiser and BBC Radio One, which set up branded clubs as proofs of concept.
More such relationships could be on the way. But as Plug.dj seeks avenues to generate cash from the clubs in which the music is streamed, it must navigate the legal intricacies that come from trying to make money off of someone else's intellectual property.
Dax Kimbrough, former director of brand partnerships at EMI Music, said Plug.dj's idea of building a community centered on the sharing of free content is a viable one. But he believes the company will face challenges should it try to build revenue on the back of intellectual property it doesn't own.
"They need to be mindful of the true legal implications of what they're doing," said Kimbrough, an adjunct professor at USC's Thornton School of Music. "How they negotiate with all the rights holders probably will take a little bit of time," he added, referring to the fractured world of music copyright ownership.
Alex Gurevich, a partner at Javelin in San Francisco, led the Plug.dj seed capital raise and has a seat on Plug.dj's board.
He said that should any licensing issues arise down the road, the company could try to solve the issue by acquiring performance rights, which his legal advisers assured him are cheaper and less cumbersome to obtain than a standard licensing agreement.
Prev Next
For reprint and licensing requests for this article, CLICK HERE.