Water Purification Business Cleans Up in Pickup
TECHNOLOGY: NanoH2O bought for $200 million by South Korea's LG Chem.
Monday, March 24, 2014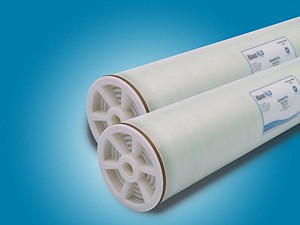 LG Chem, South Korea's largest chemical company, has struck a $200 million deal to buy El Segundo's NanoH2O Inc., a maker of reverse osmosis membranes used to purify sea water.

The deal, revealed in a March 14 regulatory filing by LG Chem with the Korea Exchange, was approved by LG Chem's board and should close by the end of next month.
NanoH2O executives declined to comment, saying no statement would be released.
The El Segundo startup, established in 2005 by Chief Executive Jeff Green, licenses its technology out of UCLA, which has a small equity share in the company.
It took five years of development before the company was able to commercialize its technology. It has received venture capital funding from Khosla Ventures, Oak Investment Partners, BASF Venture Capital, Total Energy Ventures and China-focused fund Keystone Ventures.
Each of those VCs has a seat on the company's board, as does Green, a co-founder who as a software engineer was a founder of Stamps.com Inc., where he served as vice president of marketing.
Tom Pankratz, a minority shareholder in NanoH2O, said that together the company raised between $60 million and $100 million from the VCs.
NanoH2O is a late entrant to a market with large players such as Toray Membrane Inc. in Poway, Korea's CSM Products, Hydranautics in Oceanside and Dow Chemical Co. in Rancho Cucamonga. Still, it has won deals for a couple of large high-profile sea water desalination installations in recent years, including one in Israel last year, which produces 110,000 cubic meters of potable water a day.
The company is also building a second $45 million manufacturing plant in China, which is due to be operational by the end of this year.
Brendan Rauw, associate vice chancellor and executive director of entrepreneurship at UCLA, said the university's intellectual property licensing staff has been in touch with NanoH2O. He would not comment on the transaction other than to say that the university's licensing deal would stay in place in the event of an acquisition.
On the website for its Office of Intellectual Property & Industry Sponsored Research, UCLA claims to have the first reverse osmosis technology patent, dating to the 1960s.
"And although the original UCLA membrane was replaced with more efficient membranes developed in industry, the UCLA team has been globally credited with giving birth to modern RO membrane technology," it says.
"Reverse osmosis is a very large market with global players involved," said Rauw. "The importance of desalination and reverse osmosis will only increase over time."
Prev Next
For reprint and licensing requests for this article, CLICK HERE.