Deep L.A. Roots
BUSINESS PERSONS OF THE YEAR: Agribusiness billionaires Stewart and Lynda Resnick have planted themselves at heart of philanthropic, cultural scenes.
Monday, March 24, 2014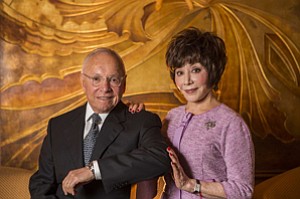 The answer to the question "What does a multibillion-dollar farming empire look like?" lies in a spot in the southwestern San Joaquin Valley.
It's a 10-minute drive from the I-5, just on the other side of Lost Hills, population 2,412. The landscape is remarkably desolate. Gray pistachio and almond orchards line the road; in midwinter, their only color comes from the pink blossoms clinging to warm, denuded branches. There are scattered but dense colonies of nodding oil pumps and, beyond that, parched land that reaches out eternally toward the coastal mountains.
On the aptly named Brown Material Road, there are long, brown hills, high sugarloaf peaks perched with crows stretching for a quarter-mile, fitting neatly enough into the arid valley. Move in closer and you'll see these hills are actually made of tiny shards from millions and millions of almond and pistachio shells.
Almost all of America's pistachios and more than 80 percent of the world's almonds are grown in California, most passing through a nearby facility owned by Paramount Farms. Last year, it processed more than 500,000 tons of pistachios, a 300 percent increase from 2009.
Paramount is owned by West L.A.'s Roll Global, a $3 billion agribusiness conglomerate headed by Stewart and Lynda Resnick.
The Resnicks are behind the Wonderful brand of snacks, which markets Paramount's pistachios and almonds, POM pomegranate juice and the Halos clementines produced by Roll's Paramount Citrus branch. Wonderful will start marketing grapefruit under the name Sweet Scarlets this year.
Their Roll Global holding company is one of the largest privately held agriculture empires in the world. In addition to Paramount, the company's umbrella covers Fiji Water; flower delivery service Teleflora; organic pesticide company Suterra; the Neptune Pacific Line, a South Pacific shipping firm; and in-house advertising, legal and management consulting practices.
As the sole proprietors of Roll, the Resnicks have an estimated net worth of $3.9 billion, placing them among the top 10 on the Business Journal's list of wealthiest Angelenos.
Los Angeles boasts its fair share of billionaires, but the self-made Resnicks have an impact on the region that is singularly profound.
Roll is viewed by many as the paragon modern agribusiness, its success fueled by the complementary mix of Stewart and Lynda's personas. Stewart is a self-made businessman with a gift for intuiting when to enter new industries. In farming, his ability to control all segments of the agricultural food chain is near total. Roll owns everything from the water for its farm land up through the in-store merchandising – a literal soup-to-nuts operation.
Prev Next
For reprint and licensing requests for this article, CLICK HERE.