Old Ford Factory May Shift Gears
REAL ESTATE: Site seen as likely mixed-use development.
Originally published March 24, 2014 at midnight, updated March 31, 2014 at 12:17 p.m.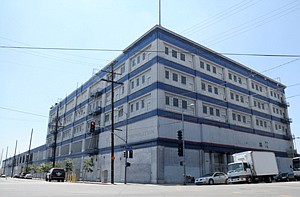 EDITOR'S NOTE: This story has been corrected to state that it was Beverly Hills developer McGregor Brown Co., with equity partner Canyon Capital Realty Advisor, that began construction on One Santa Fe about a year ago.
A century-old Ford Motor Co. factory in downtown Los Angeles is driving investment interest.
San Francisco real estate firm Shorenstein Properties is under contract to purchase the vacant 300,000-square-foot facility, which once churned out hundreds of Model T automobiles each day. The collection of four connected warehouses on a 4.3-acre parcel is one of few remaining redevelopment sites of its size in the burgeoning Arts District.
The industrial property, owned by a trust established by Imperial Toy Corp. founder Fred Kort, who died in 2003, was on the market for more than six months before it found a buyer. The package was listed for $45 million, and Shorenstein negotiated a deal for closer to $37 million, according to sources with knowledge of the deal. The purchase is expected to close as soon as late next month.
Mark Borman, principal of Hancock Park real estate development firm Borman Group, said the former Ford factory, if thoughtfully developed, could be a boon to the neighborhood. His firm has an ownership stake in several properties nearby and has been active in the Arts District for more than a decade.
"It's a trophy asset, one of the last institutional size parcels with any character in the Arts District," he said. "It deserves to have a developer with the capacity to bring up its value and enhance the neighborhood."
The property was marketed by downtown L.A.'s CBRE Group Inc., and in its 42-page offering memorandum, the brokerage touted the site's potential to be redeveloped into creative office, "eclectic retail" and residential uses.
Shorenstein declined to comment on any plans it might have for the property. But if the firm's other local projects are an indication of what's in store for the former factory's future, it might very well be the next big creative office campus in downtown.
In 2011, for example, Shorenstein, in a partnership with Santa Monica developer Worthe Real Estate Group, purchased a former Postal Service distribution center in Playa Vista. Together, the two redeveloped the property into one of the largest contiguous blocks of creative space on the Westside, a campus known as the Reserve. Tenants at the 370,000-square-foot campus, which completed redevelopment last year, include media and technology companies TMZ, Sony PlayStation and Microsoft Corp. Ad agency Team One also recently leased more than 76,000 square feet there.
Shorenstein is also an equity partner in Worthe's Media Studios North, a 1.1 million-square-foot media and entertainment campus in development on 19 acres near the Burbank Bob Hope Airport.
Shorenstein funded the Ford factory purchase from a $1.2 billion pool it has used to invest in 11 other properties across the country since 2011. Shorenstein committed $75 million to the fund; other investors include college endowments, foundations and high-net-worth individuals.
Century of history
Ford began construction on the five-story downtown car factory at 2030-2060 E. Seventh St. in 1912 and opened it two years later. Ford expanded the plant in 1923 with a two-story addition along Santa Fe Avenue in order to increase production to 300 cars a day. The plant closed in 1929 after the car company opted to relocate to a larger facility near the Port of Long Beach.
The building has since played host to an array of manufacturing companies, including Lockheed Aircraft during World War II, Imperial Toy from the late '60s to the mid-2000s and, most recently, American Apparel Inc. from 2008 to 2013.
In recent years, the gritty industrial landscape of the Arts District has begun to attract developers who believe the area's eclectic building stock holds great potential for redevelopment.
Local residential developer Linear City Development, for example, has so far converted four industrial buildings in the area – including a former Nabisco cookie factory – into residential lofts.
Ground-up developments have also gained momentum in the area. About a year ago, Beverly Hills developer McGregor Brown Co., with equity partner Canyon Capital Realty Advisor, began construction on One Santa Fe, a mixed-use project with about 80,000 square feet of retail and office space and 430 apartments. L.A. Cleantech Incubator, a city-sponsored non-profit that mentors business startups focused on renewable energy technology, broke ground in the summer on a 60,000-square-foot campus.
Shorenstein is no stranger to investing in up-and-coming neighborhoods. In fact, the Bay Area firm has a reputation, especially lately, as an early entrant in emerging creative office districts. On its home turf, it is finishing up construction of the second phase of Market Square, a 1.1 million-square-foot office redevelopment in Mid-Market, a neighborhood that, until recently, was more reminiscent of Skid Row than a hot commercial district. Now, the property's most prominent tenant, social media company Twitter Inc., recently expanded its approximately 280,000-square-foot lease there by 313,000 square feet.
Given the company's history signing high-profile technology, media and entertainment tenants, local brokers said it would come as no surprise if Shorenstein opted to continue those efforts at its latest L.A. project.
CBRE agents John Hillman, Brandon Gill and Greg Stanton held the listing on the property.
For reprint and licensing requests for this article, CLICK HERE.