Mexican Coke Hits Sweet Spots
Friday, June 20, 2014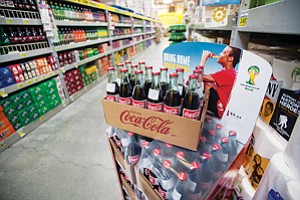 The imported Mexican version of Coca-Cola has long been a favorite in the immigrant community, with its distinctive bottles on sale at bodegas and ethnic grocery chains.
But in recent months, it's moved into the mainstream of L.A.'s food and beverage world as a new big thing. Ralphs is displaying the imported bottles at store entrances, trendy bars use it for mixed drinks, local chefs incorporate it in their recipes and one brewer even fermented the sugary drink and mixed it in a custom beer. The limited edition brew quickly sold out.
Dieter Foerstner, brewmaster at Angel City Brewery in downtown Los Angeles, said he decided to create a beer using Mexican Coca-Cola due to its distinctive flavor: It's sweetened with sugar instead of the corn syrup used in American Coke.
The brewery had a contest asking customers for their flavoring ideas.
"The one that caught my attention was Mexican Coke," he said. The woman who suggested it said she enjoyed the taste after dancing at a club and refueling on street food.
Foerstner made only one batch of 30 kegs in April. It proved wildly popular at Angel City's bar.
"It lasted for a couple of weeks and then it was gone," he said.
At Ralphs, Mexican Coca-Cola is displayed at the front of the store as part of the chain's "Taste of Mexico" promotion. When it's not a featured product, it can be found in other parts of the store, or even right next to its American cousin.
Kendra Doyle, vice president of public relations and government affairs for the chain, said that the grocer has carried the drink on and off. Sales haven't been skyrocketing, but she acknowledged that it was something that customers want.
Thomas Ortega, owner and chef at Amor y Tacos Mexican Cantina in Cerritos, uses Mexican Coke with chili peppers for his pork belly recipe.
"Because of the natural sugar in it, it just made a good glaze," Ortega said. Plus, "it just goes with the theme of the restaurant, modern Mexican."
Ortega created the dish when he opened his restaurant 11 months ago. It's one of his top selling dishes.
He also sells Mexican Coke as a menu drink for $3, but it doesn't sell as well as fountain drinks because it costs more and doesn't come with free refills.
The bar at Bazaar by Jose Andres at the SLS Hotel on the border of Beverly Hills and West Hollywood uses Mexican Coke as part its Cuba Libre, a cocktail of rum, star anise, cinnamon sticks and lemon juice. Mexican Coke is served as an accompaniment.
A search of the website Yelp showed several L.A. food trucks, including Ruben's Taco Truck, El Chato Taco Truck and El Pique, sell bottles of Mexican Coke to quench their customers' thirst.
Read the full story in the June 23 weekly edition of the Business Journal.
For reprint and licensing requests for this article, CLICK HERE.