So Who Says Med Scrubs Aren't Sexy?
Jaanuu's new line for hospital professionals has emphasis on style.
Monday, June 16, 2014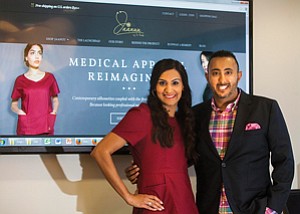 Scrubs aren't sexy. So the Los Angeles fashion industry is leading the effort to switch the outdated outfits for more form-fitting garments.
Last month, startup Jaanuu of Manhattan Beach began shipping its new brand of sleek scrubs to doctors and other medical professionals. Jaanuu joins Figs of downtown Los Angeles, which launched in 2012, in fashionable scrubs.
Jaanuu Chief Executive Shaan Sethi said scrubs are ripe for reinvention since there has been little innovation in recent decades even as medical professionals have otherwise become quite fashionable.
"Our core customer is that woman who was changing out of her designer jeans and Tory Burch flats into this unattractive uniform that was ill-fitting," he said.
Sethi, who worked previously with apparel companies while at Ron Burkle's investment firm Yucaipa Cos., financed the launch of Jaanuu with his sister, Dr. Neela Sethi Young, a Valencia pediatrician. Young had observed how women who take pride in their style lost a degree of confidence when donning traditional scrubs. "Jaanuu" is the Hindi word for sweetheart.
The siblings hired a clothing designer to get the desired look. The scrubs come in a variety of colors and, like Figs' scrubs, are coated with an antimicrobial finish. Jaanuu's tops sell for $39 online and pants sell for $42. They're made in Vietnam using a textile derived from wood pulp cellulose.
Jaanuu is planning to give a portion of proceeds to a charity that aids child victims of sexual slavery. Figs, which raised $2 million in seed funding last year, is also using a charity model: the company donates a pair of scrubs to a health care worker in countries such as Kenya or Haiti for every pair sold.
Heather Hasson, chief executive at Figs, said Jaanuu's arrival speaks to the desire for an improved medical garment.
"You have other players coming in because there is a need in this market," she said.
– Jonathan Polakoff
For reprint and licensing requests for this article, CLICK HERE.