Mideast Connections Take Off as LAX Upgrades
TRAVEL: Three new carriers land in Los Angeles with Bradley Terminal revamp.
Monday, June 16, 2014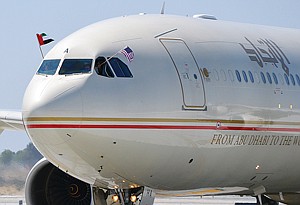 Spurred by an increase in travelers from the Middle East, an updated Tom Bradley International Terminal and a general upswing in the economy, Los Angeles International Airport has landed a series of foreign carriers new to this region.
Earlier this month, Etihad Airlines became the third new airline, and second from the Middle East, to begin international flights to LAX since the airport opened its new international terminal.
The national airline of the United Arab Emirates, Etihad began daily direct flights between LAX and Abu Dhabi International Airport on June 1. Its arrival followed that of Saudi Arabian Airlines, which began offering nonstop flights from Los Angeles to Jeddah on March 31, and of Norwegian Air Shuttle, which also launched its service here in March.
Through April, the most recent month for which official numbers are available, the number of international airline flights to LAX increased about 7 percent compared with the same period last year. Etihad's round trip each day would add to that.
Although Middle Eastern travelers represent a small portion of visitors to Los Angeles and the United States overall, the numbers of those travelers has increased steadily since the recession.
In 2012, the last year for which statistics are available, there were about 129,000 visitors from the Middle East to Los Angeles, according to the Los Angeles Tourism & Convention Board. That figure represented but 2.2 percent of the 6 million international travelers to Los Angeles that year, but was also nearly double the 56,000 Middle Eastern travelers who came to Los Angeles in 2007.
The newly arrived Middle Eastern carriers' moves to Los Angeles come nearly six years after Emirates Airline, also from the United Arab Emirates, began offering nonstop flights between LAX and Dubai International Airport in the fall of 2008. Turkish Airlines initiated nonstop flights from Los Angeles to Istanbul in 2012.
"When airlines make a list of new places where they're going to start flying, L.A. is at the top of anyone's list," said aviation consultant Jack Keady of Keady Transportation Consulting in Playa del Rey.
Keady, a former manager of marketing development for American Airlines, pointed to the obvious population sizes of Los Angeles and California as motivation for any airline wanting to do business here.
"Etihad's arrival and Saudia's arrival are 'me too' follow-ups to Emirates," Keady said.
Growing business links
Among the Middle Eastern customers of Etihad, Saudi Arabian Airlines, or the more-established Emirates Airline, Keady said, Los Angeles is often a destination for those who have investments or business interests in Southern California or who may be travelling to shop or obtain medical care in the region.
The Los Angeles region's cultural diversity is also a factor, as many people living in the area have personal or cultural ties to countries in or near the Middle East.
Etihad's Chief Executive James Hogan, visiting Los Angeles last week, said his airline is creating an "air bridge" to Abu Dhabi, the capital of a nation that imported more than $24 billion worth of U.S. products last year. Etihad also hosts a U.S. Customs facility in Abu Dhabi, allowing travelers to be screened before arriving in the United States.
Hogan, whose office is in Abu Dhabi, also said the airline's hub in that city may serve as a more convenient travel route to other destinations in the Middle East or the Indian subcontinent.
"India has a 300 million (person) middle class that wants to travel, wants to spend," Hogan said. "There are parts of the Middle East that are in turmoil, but there are parts that are thriving."
The government of the United Arab Emirates created Etihad Airlines by royal decree in 2003. Hogan said he views the airline's relative youth as a major advantage, particularly given that its business practices are not tied up by union contracts.
That freedom of action, he said, makes it easier for the airline to offer such services as an in-flight nanny.
"We come from a different part of the world where we are not a legacy airline," Hogan said. "We've established an airline with a clean sheet of paper. We're not locked into some things that were created 20, 30 years that are not relevant today."
Etihad, which also flies into Chicago, New York and Washington, D.C., relies on partnerships with American Airlines for passengers traveling to other U.S. cities.
Other airlines have expanded their business in Los Angeles by adopting the Airbus A-380, the world's largest passenger jet, for flights in and out of the city, airport spokeswoman Nancy Suey Castles said.
Emirates, British Airways and Korean Airlines have chosen the A-380 for Los Angeles routes, and Philippine Airlines plans to do the same, she said.
"Clearly the expansion at Bradley International is creating the trend for other airlines," said David Sefton, vice president of operations for Altour, a travel agency with offices in Los Angeles, New York and London.
For reprint and licensing requests for this article, CLICK HERE.