Film School
Tech firms show studios how to broaden audiences
Monday, June 16, 2014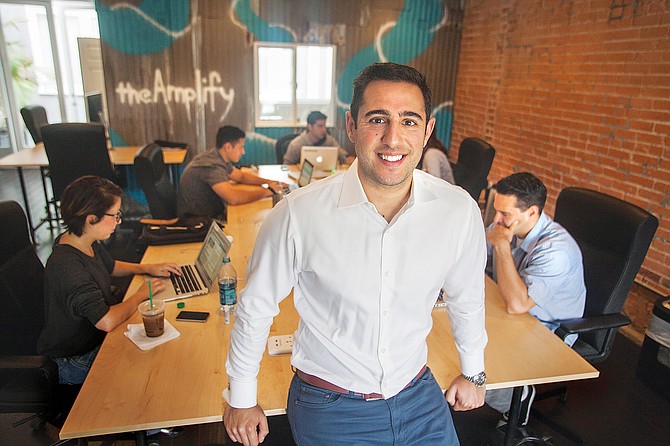 Los Angeles has long been the world's entertainment capital, so it's no wonder tech startups are sprouting up here to help content creators better reach their audiences.
Peter Csathy, chief executive of consultancy and venture capital firm Manatt Digital Media, said the opportunity is ripe for tech companies to help content makers figure out how to make money through the growing number of social media channels that have become key avenues for distribution and promotion.
"Companies big and small that have content assets are trying to understand this multiplatform world and engage with their target audience," while also learning how to monetize, Csathy said.
The bond between content and tech in Los Angeles has become so strong that one startup has grown out of a Hollywood production office.
That's Epoxy, a year-old Venice company that helps artists and studios understand who's talking about them on Facebook, Twitter and Instagram. The company, which launched its core service last month, was hatched at Team Downey, the production company founded by "Ironman" star Robert Downey Jr. and his wife Susan.
About two years ago, Team Downey started developing a Web series and tasked two of its employees, Juan Bruce and Jason Ahmad, to help turn its fans into "super fans." The Stanford-educated engineers, Bruce specializing in design and Ahmad in computers, said they interviewed dozens of YouTube stars and discovered that the successful online video creators spent massive amounts of time cultivating and engaging their audiences across multiple social media platforms – more time than they spent making videos.
So the pair came up with a Web interface that allowed creators to see in real time which of their videos were getting buzz on social media, while giving them a platform to engage with those fans immediately. Bruce and Ahmad say their technology helps studios make those connections by getting them to think like nimble YouTubers who carry on conversations with their fans and build relationships online.
A meeting with local venture capitalist Mark Suster made Bruce and Ahmad realize they had something bigger on their hands that could be used outside of Team Downey.
Backed by a $2 million seed round from Suster's Upfront Ventures, other local VCs and Downey Ventures, Team Downey's funding arm, they formed Epoxy in late 2012.
Instagram rising
Another recent entrant seeking to ease the way for content creators and other brand clients to reach the vast audiences online is Culver City's theAmplify, which launched in January.
Where Epoxy is scouring the panoply of social media ventures on behalf of its clients, theAmplify takes a much narrower approach. Founder and Chief Executive Justin Rezvani is placing all his eggs in the Instagram basket, a move validated by research that showed the app's monthly audience of 200 million is more willing to engage with brands than people on Facebook and Twitter.
Nate Elliott, a marketing analyst at Forrester Research in New York, said in an April study that Instagram users were 58 times more prone to "like," comment on or share a brand's post on Instagram than were Facebook users, and 120 times more likely to interact with the post than Twitter users.
Facebook bought photo-sharing site Instagram for $1 billion in 2012. Since then, the platform has added a video-sharing feature.
"The types of users who use Instagram are the types of users that marketers want to reach," said Csathy.
Despite Instagram's huge advantage in terms of brand engagement, there's plenty of room for growth. Forrester found that a mere 4 percent of a brand's Instagram fans interact with its posts.
That's where companies like theAmplify come in.
"Market indicators said Instagram was our best route," Rezvani explained from the company's office in a newly renovated building on Washington Boulevard in Culver City.
Rezvani said he first wrote the algorithm that would form the foundation of his company on a mirror in his bedroom last year. His original intention was to figure out how to identify spam, or "fake" followers on Instagram, but a friend convinced him to add a component that tracked audience affinities in order to make the technology more commercially viable.
Rezvani and his 11-person team now use that algorithm, which they've dubbed "SharedRank," to help marketers connect with so-called "influencers," active Instagram users with about 50,000 followers. The marketers pay the influencers to post original content related to a promotional campaign.
Rezvani's algorithm bores down to the types of posts the influencer and their audience engage with on Instagram, such as comedy, travel or art.
Based on these affinities, as Rezvani calls them, theAmplify then acts as a creative agency to help the brand and influencer craft a highly targeted campaign aimed at audiences who share related interests.
Rezvani said he's working with Hollywood entertainment companies, though he declined to mention any names. Illinois DVD kiosk-maker Redbox was theAmplify's first client.
Rezvani said the company became profitable six weeks after its launch, at which point it was backed only by a small friends and family round. He declined to disclose revenue, but noted he is not looking for any outside investment because profit is growing quickly.
Epoxy's Bruce and Ahmad also acknowledge Instagram's lure for marketers.
"Instagram is extremely powerful because of the magnitude and velocity of interaction," Ahmad said.
Epoxy's video distribution and analytics interface, which it offers to individual consumers and businesses, allows its users to see who on social media is talking about them or their video content – whether or not the brand or creator is mentioned by name.
It also helps video makers share content on Facebook, Twitter and Instagram using pages on those sites designed to replicate the YouTube channel experience, with the primary video flanked by others from the same creator.
"You're no longer just sharing a video," Bruce said. "You're sharing a channel."
Epoxy's individual subscription plans start at $20 a month, and the company negotiates rates for businesses based on their needs. It also tracks additional data about what users are engaging with that it offers to businesses as part of its service.
The company declined to disclose revenue given that its product has only been on the market for a few weeks.
Bruce and Ahmad said they're optimistic that large entertainment studios are learning how to better market their videos to the YouTube generation. They view recent acquisitions in the multichannel market as signs that studios are serious about online content.
"It's verifying to the outside world what everyone in the space was already aware of," Bruce said. "YouTubers have incredibly powerful connections with their audience across multiple platforms."
For reprint and licensing requests for this article, CLICK HERE.