Pie Fixings
DINING: California Pizza Kitchen revamps restaurant interiors and menu to reclaim share of fast-casual market.
Monday, June 2, 2014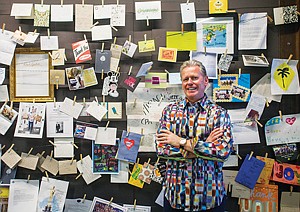 New York private equity firm Bruckmann Rosser Sherrill & Co. bought PepsiCo's stake in 1997.
Rosenfield and Flax left the day-to-day operations, but three years after the company went public in 2000, they were brought back to serve as co-chief executives.
By 2007, CPK had sales of $624 million and a market cap of $625 million.
But things started to go downhill for the chain by 2010 as commodity prices rose and the recession kept diners away. The chain reported a loss of $400,000 on sales of $642 million, well off the net income of $18.6 million it posted on sales of $665 million the year earlier.
The company spent the following year hunting for a buyer and was purchased by Golden Gate in 2011 for $470 million.
Now private, the company is withholding financial details, but a credit report issued by Moody's in March 2013 pegged CPK's 2012 revenue at about $630 million, a figure Hart said stayed about the same last year.
Jerry Prendergast, a restaurant consultant with West L.A.'s Prendergast & Associates, said he feels the company has growth potential.
"The biggest issue with growing a chain is real estate," said Prendergast. "And CPK has the real estate. They have the locations. They have the capital infrastructure already invested. I think with the right marketing and the right employee training they'll do pretty well."
The redesign calls for restaurants to be updated with unfinished reclaimed wood floors and wood chairs for a more a rustic interior. Even dishes and utensils are being swapped out to present a more fashionable yet casual look.
Hart said remodeling of the company-owned 215 U.S. properties and its 60 international restaurants, which are franchised, should take about three to five years.
He said franchises have welcomed the change, citing the already completed renovations of 20 restaurants in Mexico.
Remodel costs range from $100,000 to as much as $1 million, depending on store size.
Hart said the company invested about $250,000 into its estimated 2,000-square-foot Beverly Hills space. The average size of a CPK location is between 5,000 and 6,000 square feet.
CPK's rebranding strategy could be a sign the company is gearing up for an eventual IPO. Golden Gate said in a statement to the Business Journal that its changes have been a great evolution for the brand, but declined to comment on whether CPK will go public.
Sarah Grover, the pizza chain's executive vice president and chief concept officer, said CPK has been through many changes but it's poised to be a stronger brand.
"Being public, you have your own set of issues," said Grover. "And going private as we did three years ago was a perfect time so that we could stop and retool and refocus on what made this brand so great."
Prev Next
For reprint and licensing requests for this article, CLICK HERE.