Digital Content Turning on TV
Internet: Streaming sites test ad-supported programming.
Monday, July 28, 2014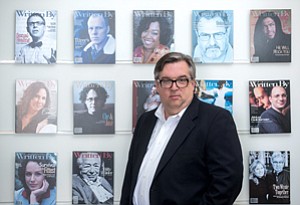 "Community" creator Dan Harmon received a tweet from a viewer in 2010, criticizing the comedy series and taunting him that "Modern Family" and "Glee" were "streets ahead" of his show. Harmon responded by mocking the phrase on Twitter and incorporated it into an episode in which the character played by Chevy Chase tried to popularize it.
Few shows may be as plugged in to the Internet Zeitgeist as "Community," which was picked up by Yahoo Inc. in June after NBC declined to renew it for a sixth season. That sort of digital savvy doesn't guarantee a bright future for the show online, but it could work in its favor.
It wasn't that long ago that the idea of high-quality programming on the Internet seemed like a fantasy. That ground shifted, however, when Netflix Inc. produced political thriller "House of Cards" in 2011. Three years on, the critical and commercial success enjoyed by the Kevin Spacey-anchored series, along with slates of original programming delivered exclusively online through other sites, has creators and advertisers ready to see whether scripted content can exist in an ad-supported environment on the Web.
Yahoo's purchase of "Community" will be the most high-profile test of that question, but a number of local online networks are dipping their toes in the waters as well.
West Hollywood's Machinima, a YouTube multichannel network focused on the young male audience, last week premiered "Chop Shop," its first scripted series produced under a year-old pact with Paramount's Insurge Pictures. And Fullscreen Inc., a Culver City multichannel network, recently announced plans to invest $10 million in original programming as part of an effort to "bridge into the world of traditional television," according to Chief Executive George Strompolos.
The lure is plain: While the $2.8 billion annual digital video ad market still pales in comparison with the $70 billion spent each year on television advertising, it is expected to grow at a compound annual rate of 20 percent through 2016.
Lingering doubts
Despite that promise, scripted programming on free, ad-supported sites has thus far not been as successful as monthly subscription streaming services operated by Netflix, Hulu and Amazon.com Inc., which don't need to rely as heavily on high ratings in order to produce profits. Netflix revealed last week that it has surpassed 50 million subscribers, who pay either $8 or $9 a month for the service depending on when they signed up.
Culver City's Maker Studios has already unveiled Maker.tv, a subscription site for premium content positioned to compete with YouTube, and Fullscreen is reportedly developing something similar.
Charles B. Slocum, assistant executive director of Writers Guild of America West, said the online version of "Community" might show whether big-budget productions can gather the Internet audiences needed to command enough ad dollars.
The three-year WGA contract ratified in April does not guarantee minimum rates for writers of original content produced for ad-supported sites such as YouTube and Yahoo, though it does for subscription video-on-demand platforms.
"The subscription model results in higher revenue per viewer," said Slocum, who added that the WGA supports recent developments in the ad-supported arena. "We're hopeful they figure it out because it's a great opportunity for our members."
'Community' model
Representatives of Machinima and Fullscreen would not comment on the advent of ad-supported programming, but the performance of "Community" on Yahoo will be seen as a significant benchmark as to whether or not big-budget online programming can work absent a subscription model.
Working in the show's favor is a built-in fan base – 2.9 million people watched the fifth-season finale on NBC, small for network TV but possibly substantial online.
"I'm very curious to see how it goes," said Michael Wayne, a former vice president of strategic alliances at Sony Pictures Television and co-founder of Kin Community, a Santa Monica digital entertainment company that produces women's programming streamed on YouTube. Kin also co-owns Pemberley Digital, also in Santa Monica, which produces scripted YouTube series such as "Lizzie Bennet Diaries," a 100-episode modern retelling of "Pride and Prejudice" that has garnered nearly 50 million views.
Wayne explained that Yahoo could be using "Community" as a way to attract more high-profile talent to the site – a collateral benefit also noted by Tubefilter Inc. founder Drew Baldwin, whose website covers the online entertainment market.
"Tentpole projects also attract new creatives," Baldwin said.
However, Wayne agreed with WGA's Slocum that the ad-based model still has a lot to prove in order for media companies to justify splashing seven-figure budgets on shows.
"Community" reportedly cost more than $2 million an episode to produce. Zack Van Amburg, president of programming and production at Sony Pictures Television, said in an interview with Entertainment Weekly last month that the show's budget will remain the same at Yahoo.
In an online landscape where a six-figure budget is considered astronomical, that's a huge jump.
At the high end, YouTube charges advertisers $30 for every thousand views of programming streamed on its site. If "Community" holds on to the audience of 2.9 million that tuned into its season finale, that adds up to just shy of $90,000 per advertiser. "If it's just ad supported, it's hard to recoup on big budgets," Wayne said. "It seems to me the high-end scripted series need to be behind some sort of subscription wall."
Reports have suggested that Yahoo could increase the number of ads that play during its videos.
But even Community's budget is still a far cry from the $5 million or so that Netflix spends on each "House of Cards" episode, so financial success will likely be judged on a different scale.
"You can't compare it to success on television," Wayne said, adding that the online video community is used to operating on "base hits and doubles, not home runs and grand slams."
Size vs. quality
What's more, consumer insight generated by big data is making scale less important.
The advent of hypertargeted online ad buys and enhanced viewer analytics means a host of different brands could place ads on the same show at the same time. The ad seen by the viewer would depend on who they are, where they live and what online habits they have.
"The more targeted you can become with your advertising messaging the more value you have and thus the prices start going up," said Paul Rand, chief executive of Chicago digital and social media marketing agency Zocalo Group.
While Yahoo's model is built on large-scale ad revenue, many YouTube creators likely to venture into the scripted game have built revenue streams beyond what they can reap from the Google Inc.-owned video platform.
"We made more money on the DVD sales and on the merchandise" than from ad revenue, Wayne said of the "Lizzie Bennet" series. "We've invested six figures and it's already returned seven figures worth of revenue."
Tubefilter's Baldwin agreed, explaining that videos are only one component of what makes YouTube stars popular – and rich.
He pointed to "Annoying Orange," which started out as a YouTube series and now boasts a line of merchandise, smartphone apps and even a show on the Cartoon Network. With more money being pumped into the sector, opportunities should also increase for creators to boost other sources of revenue, too.
"I think the big opportunity is around building brands," Baldwin said.
For reprint and licensing requests for this article, CLICK HERE.