Taking Rap
KDAY spins hip-hop into ad sales, ratings
Monday, July 21, 2014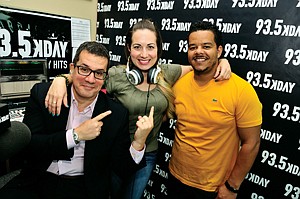 Old-school hip-hop station KDAY-FM (93.5) was on the verge of dialing in Mandarin programming. Then a local tycoon stepped in because he had fond memories of listening in his youth. Now, new ownership is remixing the business plan and says the initial results sound good.
The Hancock Park station, which plays 2Pac, Jay-Z and other classic hip-hop artists, was sold this year for $15 million to the media division of Alex Meruelo's investment firm, Meruelo Group. The company decided to keep the station's back-in-the-day hits format, which was a relief for fans concerned a prospective buyer would switch the station to Mandarin talk radio.
The station's new direction features a greater emphasis on live events, including comedy shows, and digital sales. Meruelo Media President Otto Padron said ratings in key advertising demographics are up and the station now broadcasts more ads from mainstream advertisers such as Walgreen's, Hotels.com and AutoZone, a noteworthy expansion from the car-title loan companies catering to financially distressed consumers that are a big part of its ad sales.
"We're extremely happy with the business results of the first six months of running KDAY," Padron said. "We have a much larger roster of advertising clients than we did when we started the year."
Padron said station revenue was up 30 percent through the first half of the year compared with the same period last year, which far outpaced the market. The Southern California radio market lost about 1 percent of ad dollars in that period compared with last year.
KDAY said it grew its ratings by 15 percent in the second quarter compared with the year before among listeners ages 18 to 49, a key demographic for advertisers
But a more persistent challenge will be increasing KDAY's overall share of the market for younger listeners. The station was in 27th place with a 1.5 percent share of the 6-and-up group in June according to ratings firm Arbitron – about the same as last year.
Still, Padron believes the right combination of new promotions and other innovations can grow the station's overall audience, too. One big effort toward that goal will take place Friday when KDAY presents its first live comedy event, the Komedy XXplosion, at the Forum in Inglewood. Comedian Mike Epps, known from the "Friday" movies, is among the scheduled performers.
Tuning in
Meruelo Media's deal, struck in December and closed in April, allowed it to assume operational control right away and put an end to years of uncertainty at the station, which had hampered ratings and ad sales.
Alex Meruelo, the son of Cuban emigrants, through his Downey holding company Meruelo Group, also has significant real estate holdings and owns La Pizza Loca chain of restaurants. The media division owns KWHY-TV (Channel 22) of Los Angeles – the flagship station of Spanish-language broadcast network MundoFox. And he's a self-proclaimed fan of old-school hip-hop.
KDAY's previous owner, Magic Broadcasting of Panama City, Fla., was about to sell KDAY and sister station KDEY-FM (93.5) in Ontario for $35 million in 2010. After that deal fell apart, a $19.5 million offer came in April 2013 from RBC Communications Inc., an Irwindale holding company with backing from Phoenix Satellite Television, a Hong Kong company that owns cable TV channels in China. That deal also fell through, but not before fans of the station went into an uproar on social media. Meruelo stepped in shortly after the sale fell apart.
Thom Callahan, president of the Southern California Broadcasters Association, said Meruelo's ownership has brought KDAY into a position where it can grow thanks to its loyal audience.
"The sound and resources they're bringing to bear are encouraging for their future growth," he said. "KDAY has a huge, loyal following that is pretty amazing, but doesn't always reflect itself in their numbers."
Part of the challenge for KDAY is that its signal comes from Baldwin Hills and is weaker than that of other stations that broadcast from Mount Wilson and can cover the entire L.A. metropolitan area. Padron said he's looking at ways to improve the station's reach, possibly by retransmission by antennas in other areas where the signal is weak, such as the northern San Fernando Valley.
Another way to get more listeners is launching a digital stream, which Padron expects to go live in August. The station will sell local and national ads on the stream, which listeners can access via the Internet.
Part of Padron's optimism comes from KDAY's demographics. The station's listeners are about half Latino, and many of them are young and bilingual, which makes an attractive audience for advertisers. Padron, a former TV executive, said he had an a-ha moment of the station's potential after seeing that stat.
Branching out
One that thing that hasn't changed too much is the music. Still, Meruelo has tweaked it a little by putting a greater emphasis on radio-friendly hits and limiting chatter to increase the number of songs each hour. For example, KDAY does not have a morning drive host. The first on-air personality of the day, Brandi Garcia, goes on at 10 a.m.
KDAY still sells a lot of ads for cut-rate car insurance and similar businesses. But Padron said the mix now includes more mainstream advertisers, such as Chase bank and Coca-Cola.
Another part of the ad strategy has included pursuing advertisers that fled when Magic began shopping KDAY a few years ago.
"We have covered an amazing gap, bringing clients back," Padron said.
Still, he acknowledged that traditional ad sales won't provide permanent growth so he's pursuing an expansion of the station's live-event business and digital broadcasting.
Under Magic, KDAY traditionally staged two big concert events a year, Krush Groove, produced with Live Nation Entertainment Inc., and Fresh Fest, produced with AEG Live. The events have featured artists such as Bone-Thugs-N-Harmony, Too $hort, Ja Rule and Kurupt, and play to arena- and amphitheater-size audiences.
The plan for Friday's comedy concert came together in an agreement with Live Nation, which is promoting Epps' U.S. tour and already had a date booked at the Forum when talks began. KDAY had been looking to expand its events business into comedy, said program director Adrian "A.D." Scott, and the station agreed to promote the show on the air.
"We've had this conversation on how do we expand the brand outside of music,"Scott said. "Comedy was high on our list."
So KDAY over the past month-and-a-half has contributed about $250,000 of air time to promote the event in the hopes that it will serve as a vehicle to get new listeners. Live Nation handled the venue and talent.
The station is not getting a cut of ticket sales, since the comedy show was already well into development by the time KDAY got involved. Typically, KDAY does get a share of ticket sales for events it promotes.
KDAY leaders want to make the comedy show part of their annual lineup and they're also exploring other events they can stage throughout the year to further boost the station's profile.
"We're excited about building other franchises as well," Padron said.
For reprint and licensing requests for this article, CLICK HERE.