Parents Give Birth to Businesses
TECHNOLOGY: Mobile devices open doors to educational products.
Monday, July 14, 2014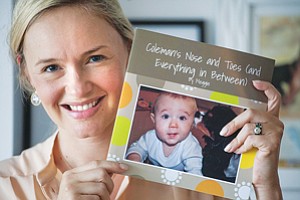 The best-known tech entrepreneurs in Los Angeles might be single men in their 20s who created messaging and hook-up apps, but parents looking for different kinds of mobile interaction – for their kids – are creating their own business niche.
In fact, several local companies have been founded by parents who came up with a product to help educate their young children.
"As the mother of a 3-year-old, I was frustrated," said Abbie Schiller, founder and chief executive of Mother Co. in Los Angeles, which produces and sells videos, books and songs designed to help kids ages 2 to 9 with their emotional development. "I saw how influential media was for my daughter but none of the media she was watching was helping her become a better person."
And advances in portable and mobile technology mean there are more screens on which that learning and development can take place.
With more than 2.4 billion tablets expected to be sold worldwide in 2014, more and more companies are trying to figure out how to engage children on those devices in productive ways.
In a 2012 study of 2,200 parents in the United States and United Kingdom, London marketing agency Kids Industries reported that 77 percent of parents believe tablets can help their children develop creative thinking and problem-solving skills.
Those parents represent desirable slices of two growing economic pies. One is the supplemental learning market, which includes the after-school tutoring sector, which has by some estimates been pegged at $9 billion a year. The other is the much broader children's entertainment market, which includes fare produced by major Hollywood studios.
Entrepreneurs have been taking notice and are attempting to take a bite out of both.
"The question of how we effectively teach our kids in a world where the teaching tools themselves are leveraging a new world of devices is a question that many are seeking new answers to," Dan Chen, managing director of Siemer & Associates, a Santa Monica merchant bank serving the tech community, said in an email. "It's a sector that is gaining momentum."
Disney invitation
The inaugural Walt Disney Co. accelerator class announced last week is further evidence of that trend. Perhaps owing to the studio's brand identity, four of the 11 startups invited to take part are trying to tap the children's market. Each company will receive up to $120,000 in investment capital and have "special access to stories, characters, technology and other resources from across the company," according to a statement from the studio.
One member of the class is L.A.'s Twigtale. The startup, co-founded by two parents, sells personalized children's books scripted by child development experts that are meant to help kids up to age 5 through major emotional or family changes.
Co-founder Nishad Chande, a senior director at private equity firm Centre Partners Management in Brentwood, got the idea after one of his 2-year-old's teachers suggested he and his wife make a book to help their son Remi adjust to his new preschool schedule.
"Nishad wished there were a way to make these books for Remi without having to spend hours on the computer," reads a blurb on Twigtale's website.
In June, the digital reboot of actor LeVar Burton's "Reading Rainbow" program became the most popular Kickstarter Inc. campaign ever in terms of number of backers. By the close of fundraising, nearly 106,000 people had contributed more than $5.4 million to his Burbank digital publishing company, RRKidz, which plans to bring its interactive books and videos to tablets and phones. In exchange for their contribution, backers received a myriad of different perks, ranging from a thank-you tweet to bundles of Star Trek swag and much more.
Parents selling to parents
Perhaps the most successful of these local companies so far has been El Segundo's Fuhu Inc., which started out making tablets for kids and has now ventured into educational content production. Fuhu and Mother are in talks to bring the latter's content to Fuhu tablets.
Fuhu reported revenue of nearly $118 million in 2012, a 96,000 percent increase from 2010. That rapid rise made it the fastest-growing private company in Los Angeles last year.
Robb Fujioka said he and his co-founders were fed up with how their kids used iPad apps and set out to make an alternative product.
"My son spent $480 buying Smurf berries" within the popular Smurf's Village game, Fujioka said. "I decided we needed to create some parental controls."
The "playground effect," in which children see a friend's toy and beg their parents to buy it for them, is a powerful tool when it comes to marketing products for kids, according to Siemer's Chen.
"An extension of that, of course, is parent word of mouth," he added.
Twigtale co-founder and Chief Content Officer Carrie Southworth, a former actress who grew up with Chande in Tanzania, said she built word of mouth for their first book in 2011 by reaching out to other moms directly and on Facebook parenting groups. Southworth and her husband, Collister Johnson III, were expecting their first child when Chande pitched her the idea that became Twigtale.
"I'm a member of all these mom Facebook groups and the engagement on them is constant," Southworth explained.
While she declined to disclose revenue or sales numbers, she said the company has scaled its business by word of mouth alone.
"With zero marketing we've had what we believe to be impressive traction," she said.
Drawing on experts
Southworth majored in economics at the University of Virginia, but she didn't have a background in tech or business. Her younger sister Lucy, however, did have connections: She is married to Google Inc. co-founder Larry Page.
"I'm lucky that I have a lot of friends and family with a business background," said Southworth, who added in an email, "Lucy and Larry have always been of supportive of me and our work at Twigtale."
Southworth and Chande brought in Carolyn Guimbarda, former marketing director at New York's Defy Media Inc., as chief executive a few months ago. A few other execs have joined as well, including Chris Bussard, a former vice president of product management at West L.A.'s Shopzilla Inc. Southworth said Chande is not involved in day-to-day operations and serves in an advisory capacity.
The company now sells about 40 different books written by more than 10 experts on its website, each one retailing for $20. Parents can edit the book to include names and details specific to their family and upload personal photos. Twigtale ships customers a physical book and parents also have access to a digital copy.
Southworth said she and Chande have not taken on any outside funding apart from what they'll receive from Disney, though they thought about it.
"We had planned on raising money a few months ago, but when we got into Disney we decided to postpone," she explained. "We figured we could really learn a lot and hone our strategic plan for the company."
Disney declined to comment on any of the companies selected until later in the summer.
Moms funding moms
Mother's Schiller, a former vice president of media relations at ABC Television Network, didn't just sell her first products to moms in her circle of friends – she raised money from them. Schiller said she received $500,000 in seed funding from 22 different mothers in 2009.
Like Southworth, she credits social media with spreading the word about Mother products; the company's Facebook page has just shy of 40,000 followers. Its digital products have been downloaded in seven countries, she said.
Schiller writes the children's books, which retail for $13. Titles cover a gamut of emotional issues such as anger management and personal safety. The products are available on the company website and elsewhere online. DVDs, produced in-house and covering similar topics, sell for $15.
Both Southworth and Schiller said their customers like having the option of accessing their products on tablets, which can come in handy when traveling, or in Twigtale's case, when an unexpected event occurs.
"If your dog dies, you don't want to wait three days to get the book," Southworth said.
But the mom entrepreneurs said despite the rapid proliferation of tablets in American homes, physical books are still their top seller.
"Nobody's cuddling up around an iPad yet," Schiller said.
For reprint and licensing requests for this article, CLICK HERE.