Re-Digging Westwood
REAL ESTATE QUARTERLY: Developers' ground-up and renovation projects aim to draw crowds back to village.
Monday, January 27, 2014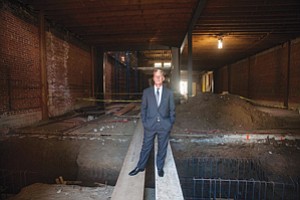 Four decades ago, Westwood Village was one of the hottest places to be on a Friday or Saturday night. Cars and people crammed its streets and sidewalks: bumper to bumper, shoulder to shoulder.
"Growing up, I went there every weekend with my friends," said Josh Simms, a property owner in the village whose family has had real estate interests there for more than 30 years. "It was just absolutely crazy."
But a lot changed as the years wore on, and the approximately 52-acre retail district's draw as a hub for entertainment in Los Angeles diminished. In the last 20 years, the UCLA-adjacent neighborhood has been more ghost town than party town, with dozens of shops along the main boulevard sitting vacant for long periods of time.
Lately, however, Westwood Village has begun to show signs of a slow but steady revival. Property owners and developers have committed an aggregate of about $300 million to major construction projects in the area. At least five ground-up development projects are in various stages of planning or construction in or very near the village, along with at least five additional renovation projects.
Plans for the ground-up developments promise to bring as many as 107,000 square feet of office space, 57,000 square feet of retail, 34 apartment units and 294 hotel rooms. On top of all that, nearly a dozen local and national retailers – restaurants in particular – are negotiating or have recently signed leases to open in the village in the coming year.
This flurry of development activity represents not only an economic shift, but a cultural one as well. The recent history of Westwood Village has been one of at times strident opposition to development. Perhaps most dramatic was the resistance to developer Alan Casden's plan to build the Palazzo Westwood on Glendon Avenue, announced 14 years ago. Because his proposal for the 350-unit apartment complex was larger than zoning allowed, he faced fierce push-back from the community that ultimately cost him about five years and $22 million. (See story, page 24.)
The project was eventually built, much to the benefit, he said, of the community.
"All the merchants opposed my project, and now they're giving discount cards to my tenants to encourage them to buy," Casden said. "My project helped restaurants, it helped retail establishments. I've done more for Westwood than they ever did for me."
In the intervening years a development accommodation seems to have been reached.
David Friedman, a Westwood business owner whose family-run jewelry shop, Sarah Leonard Fine Jewelers, has been a standby in the village since 1946, sits on the board for the Westwood Village Improvement Association. He said he has seen local attitudes relax over the last few years as it became apparent that the village needed to change to regain its appeal.
"There was a time when some of the organizations in Westwood were against any growth in the village; they didn't want anything that would bring more parking or traffic issues," he said. "But now that's been replaced by saying, 'Let's do what's best for the village.' It's been in the doldrums but we're in for a big resurgence in the very near future."
Family vision
Westwood Village was built in the late 1920s and early 1930s by the Janss family, whose now-defunct real estate firm Janss Investment Co. at one point owned hundreds of acres on the west side of Los Angeles. The shopping district, built up around the firm's domed headquarters, was meant to serve the increasingly wealthy local community as well as the student population at the recently founded University of California campus.
The village thrived for decades, gaining momentum in the 1970s as a place where moviegoers could see premieres at one of more than a dozen single-screen theaters. In the late 1980s, however, the area took a turn.
The popular explanation for the area's decline, though locals dismiss it as being overly simplistic, is that crime – and one fatal shooting in particular – scared everyone away. In 1988, a gang shootout in the village left a 27-year-old female bystander dead.
But however much the shooting sullied the area's reputation, community members said other important factors were also at play.
The rising popularity of multiplex theaters, for example, particularly those in nearby Century City and Santa Monica, undercut one of the area's biggest businesses. Local retailers faced competition from the shopping centers that housed those multiplexes, and UCLA's decision to open retail space for bookstores and restaurants on its campus further undercut business. On top of all that came the recession of the early 1990s.
Retailers came and went in the two decades that followed, as independent shops and national chains alike found it hard to stick around for more than a couple of years. Simms, whose Beverly Hills real estate firm H5 Capital is developing one of the five ground-up developments planned for the village, said he saw up close how difficult it was to make a retail business work during that time. He and his father, Ron Simms, who operates Simms Commercial Development, also in Beverly Hills, own the property at the northeast corner of Lindbrook Drive and Gayley Avenue where the old Mann National movie theater once stood.
"After Mann moved out, we found an independent operator to run the theater," said the younger Simms. "But with the change in the theater business, his gross revenue was probably only $1,000 a week. It just made no sense to keep it open."
After winning a fight with community members who wanted to designate the single-screen theater a historic landmark, Josh Simms tore down the asbestos-ridden structure in 2007 to make way for a mixed-use project. The 80,000-square-foot development at 10925 Lindbrook finally broke ground in September and is expected to be completed in November. Designed by West L.A. architecture firm Nadel Inc., the four-story project will have 34 high-end apartments over 5,250-square-feet of ground-floor retail.
Three blocks east of the Simms project is another development expected to complete construction this year. Plaza La Reina, an extended-stay hotel by Westwood developer Kambiz Hekmat, began construction at 10844 Lindbrook last year. Hekmat, whose firm Indivest manages his 23-story Center West building at 10877 Wilshire Blvd. as well as the 17-story Murdock Plaza building at 10900 Wilshire, said he expected to open the 44-room hotel by this fall. Upon completion, the five-story hotel will have about 7,500 square feet of ground-floor retail and a center courtyard.
The hotel is not the only development Hekmat has planned for the village. In 2010, he submitted plans to the city's Planning Department to build a 29-story tower on a triangular lot at the northwest corner of Wilshire and Gayley. Having completed the entitlement process, Hekmat is working to finalize design plans for the 314,000-square-foot tower.
Hekmat has had his battles with the Westwood community in the past, and, perhaps reflecting the more cooperative nature that might be feeding this nascent revival, he solicited design advice from Westwood leaders and homeowners. With that in hand, he hired famed architect Robert A.M. Stern to mimic the style of New York's iconic Flatiron building. Hekmat plans to begin work to construct the tower, which will house either 144 condos or 250 hotel rooms, sometime next year.
Rounding out ground-up development plans under way in Westwood are two mixed-use projects proposed by developer Barry Beitler. The projects, which are still in early approval stages with the Planning Department, sit about a block apart from each other at the southern border of the UCLA campus on Le Conte Avenue. If all goes as outlined, the developments will each consist of three stories of medical offices above ground-floor retail.
Restoration efforts
The five ground-up developments taking shape in Westwood have been joined by a series of restoration projects aimed at reviving five retail buildings.
Already nearing completion is a project that will go some way toward making up for Westwood's lost movie theater business. After signing a lease in 2012 for the former four-screen AMC Avco Center at 10840 Wilshire, luxury cinema operator iPic Theaters of Boca Raton, Fla., is expected to open a six-screen venue this spring after a multimillion-dollar renovation. The new theater, which will feature leather reclining seats and full-service in-theater dining, will be the first to open in the area in nearly four decades. The theater will also open an 8,000-square-foot Italian restaurant.
Design efforts are also under way for renovations to the village's historic Holmby Hall, a three-story building at 921 Westwood Blvd. that was once used as a dormitory for some of the first female students to attend UCLA. The 85-year-old retail building, featuring one of the many clock towers in the village, will undergo a seismic upgrade and interior renovations once plans are approved.
On opposite corners at the intersection of Kinross Avenue and Gayley, two more restoration projects are expected to commence construction later this year.
Rael Merson, whose firm Mixed Use Capital owns the two-story retail property at 10959 Kinross, said he expects to spend up to $1 million to beautify and modernize the old brick building.
"It's a terrific building in a terrific location, but it really is in need of a renovation," he said. "We're hoping to get design approvals in the next couple months and start work shortly thereafter."
Across the way, an approximately $1.5 million project to restore architectural details and prepare interior space on speculation for future tenants is planned for the retail building at 10912-10920 Kinross. The property, owned by the late John Anderson's real estate company Topa Management Co., sat half-vacant for many years until a couple of pop-up shops opened there rent-free in the fall.
Jim Brooks, president of Topa, said renovating the building will allow the firm to charge higher rents to more prominent retailers than it could now. He said base monthly retail rents in the area are pushing upwards of $4 a square foot.
"We've had a number of potential tenants approach us, but we decided to hold off to do this renovation," he said. "We think the rent premium may be up to $1.50 greater than what the market currently allows."
Perhaps most notable among the retail commitments to the village is the expanded presence of fashion retailer Urban Outfitters. The Philadelphia company will leave its existing 7,800-square-foot store at 1100 Westwood, having signed a 10-year lease to move to 16,500 square feet in two long-abandoned properties owned by Topa on Westwood.
Topa has begun retrofitting the buildings, at 1028 and 1038 Westwood. The former, a two-story retail building that for 28 years housed a Tower Records store, has been vacant for about a decade. The latter, a single-story retail building home to various women's fashion retailers over the years, has been vacant for at least three years. Urban Outfitters expects to be open in the buildings by early fall.
Topa's deal with the fashion retailer represents a recommitment to the village. With about 225,000 square feet in a portfolio mostly acquired in a bulk purchase in 2002, Topa is the largest retail landlord in the village.
Rather than heralding a revival, however, many of the buildings it picked up in that deal sat vacant in the years that followed, due at least in part to challenges the company faced finding a new president to run the company leading up to and immediately after Anderson's death in 2011.
Even so, Brooks, who joined Topa as president in May 2012, said the company didn't feel too much pressure to fill vacancies in the village.
"We acquired the property for long-term hold, not short term, so our approach is a little different than others," he said. "We're fortunate that we're very well capitalized and we have very low debt, which gives us the flexibility to pick and choose who we do business with. We don't want just someone who can pay rent, but someone who can survive long term."
Urban Outfitters is not alone in its belief that Westwood Village will be a viable place to do business over the next decade. Chef Anthony Carron's popular pizza place, 800 Degrees, which some local residents argue put village retail back on the map, recently expanded its footprint when it opened a small take-away shop next door to its counter-service restaurant. Furthermore, New York bakery chain Le Pain Quotidien, which has a small eatery at 1055 Broxton Ave., is said to be in talks for a larger space at the Simms project.
These retailers' commitment to the village has not gone unnoticed by others looking to profit from the area's promising demographics. Denver fast-casual restaurant company Chipotle Mexican Grill Inc. recently opened an outpost in the village for its newest concept, ShopHouse Southeast Asian Kitchen. Other eateries have also signed leases in the neighborhood to open shops this year, including quick-service restaurants Tender Greens and Jimmy John's Gourmet Sandwiches. Sit-down restaurants Boiling Crab, Da Pasquale, Tanzy and Simple Things Sandwich and Pie Shop also have signed leases.
For all the millions being spent in the area, Eric Sussman, a senior lecturer at UCLA's Ziman Center for Real Estate in the Anderson School of Management, said many of the underlying problems remain.
"Without fundamental changes in Westwood, it's going to stay in that sorry state of sameness, notwithstanding these modest projects," he said. "What it needs is not attainable. That's the problem. Can Westwood make itself more pedestrian friendly without closing off vehicular access? Can it add substantial low-cost parking with easy access? Can it accomplish these things with neighborhood support?"
Steve Sann, chairman of the Westwood Community Council, said the latest tenants to sign leases in the village are an improvement to the dozens of salons, yogurt shops and otherwise low-end concepts that had taken root in the neighborhood over the past two decades.
"Because of the village's proximity to UCLA, I think a lot of landlords tended to gear businesses toward the student market, so we got a lot of low-priced concepts," he said. "But you can't forget to serve the Wilshire office corridor and our well-heeled residents who in recent years have had very few options in the village. We would much rather see a unique, high-quality restaurant concept than a mass-market fast-food place."
Those kinds of mixed feelings, Sussman said, make it premature to herald a full rebirth of Westwood Village.
"This story has been talked about for 30 years now," he said, "and I think it's going to outlive us all."
Hekmat agrees that a vibrant retail environment with a thoughtful tenant mix is a critical component to successfully revive the village, but, as a developer, he prefers to see the glass as half-full.
"I think Westwood has a very bright future," he said. "There is no reason why we won't have the kind of retailing environment that exists on Melrose or Larchmont or other well-known shopping areas in Los Angeles."
For reprint and licensing requests for this article, CLICK HERE.