Entrepreneur Making News
Internet: Jason Calacanis looks to deliver in journalism.
Monday, January 27, 2014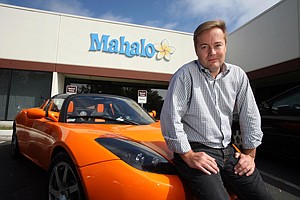 Jason Calacanis has yet another pivot in the works for his Culver City outfit, Inside Inc.
The company, once known as Mahalo and which was most recently a creator of online video content, this week will release a self-titled news-reader app.
Inside will deliver stories in a mobile-friendly format, with a stream of content written and boiled down by a team of freelancers.
Calacanis, who built his fortune by selling blog network Weblogs Inc. to AOL Inc. in 2005 for a reported $25 million, declined to discuss specifics in advance of the release. But sources who have seen the finished product confirmed some of the details, which line up with the bits Calacanis has posted online.
Earlier this month, an article in the New York Times reported that Inside had hired former Atlantic Online editor Gabriel Snyder to act as the company's editorial chief.
Expectations within Inside are high, certainly at the top. Calacanis has already predicted that the app will eventually become a more important news service than CNN and the New York Times and have more content than Wikipedia.
"Nobody's won mobile news yet," Calacanis said in interview with the Business Journal. "There's a big opportunity in this field now."
While it's easy to write these predictions off as entrepreneurial bluster, his plan for Inside takes him into a tech category that's seeing a lot of activity of late. Companies as large as Yahoo Inc. as well as newer startups are trying their hand at developing an app that delivers news tailored for mobile devices.
Yahoo Chief Executive Marissa Mayer unveiled her company's take at the Consumer Electronics Show in Las Vegas earlier this month. Twice a day, Yahoo News Digest sends people a bundle of top stories that have been pulled from sources across the Web and condensed by computers. It's built on a foundation laid by Summly, a U.K.-based app Yahoo acquired in 2012.
Another attempt, San Francisco's Circa Inc., uses its 11-person editorial team to write up breaking-news bits and push them though an app. The company launched in 2012, making it among the older members of the field. Calacanis, as it happens, is a small investor in Circa.
While the strategies of these companies vary – some focus more on a computer-driven approach to creating stories, others rely on an editorial team – they converge in the belief that news made for a mobile audience must look and feel different.
"We're not just delivering the same information on a new platform, we're fundamentally changing the nature of how information is structured," explained David Cohn, Circa's news director.
New format
Headlines might have changed over the years, from above-the-fold attention-grabbers to word strings carefully engineered to lure people on Facebook, but the story has remained the same.
Not so with a modern newsreader.
Circa's theory is to break an article down into bare-bones "atomic units." Each unit represents a single element within a story: an introduction, a quote or a photo. People read through a Circa post by flicking from one unit to the next (information is culled from various news sites, which are listed in a separate section).
If someone chooses to "follow" an article, the app sends notifications every time there's an update; for instance, a person who followed the George Zimmerman trial on Circa received an alert when the verdict was announced.
These updates float on top of a previously read post, and as Cohn explains, it respects the knowledge a reader has by following a story.
"Rather than posting 50 or 60 articles, much of which repeat themselves, we're trying to create one long narrative that takes a reader's background info into account," Cohn said. "It's not just taking articles and putting it on a new device."
News Digest, which is headed by Summly's 18-year-old co-founder Nick D'Aloisio, also breaks news into "atoms" of information.
Unlike Circa, Yahoo's app is driven by an algorithm that can pull information from sources to create an article. There is some human oversight in terms of quality control, but the goal with News Digest is to maintain a balance.
"Humans are good at taking into account common sense and context that an algorithm might miss out on," D'Aloisio wrote in an email. "We want the digest to be precise and therefore feel a hybrid model works best."
Here to stay
Pitching these products as mobile friendly isn't just about embracing a popular trend. Ellyn Angelotti, a faculty member researching digital trends at Poynter Institute in St. Petersburg, Fla., said the move toward mobile is an inexorable shift. It's forced all news organizations to reckon with the change, which means rethinking all aspects of the product.
"If mobile is where their audience is, they'll need to find effective ways to engage with that platform to be sustainable," Angelotti said. "When you're thinking about stories, you just can't think in that limiting format."
None of the app creators was willing to disclose audience size or total downloads. And because they're all still in the early stages, none has started monetizing yet.
But there are some clues as to how they might.
Cohn said one option for his company could be advertisements in the form of Circa posts – essentially native advertising.
Because the app's central feature is pushing story updates, Cohn envisions a scenario where people could follow a fashion brand in the same way they follow a developing story. For example, if someone follows American Apparel, they would get a notification about the new line of outfits for every season.
D'Aloisio would not speculate on any monetization strategies for News Digest, saying the team was still building the main product. But tellingly at the same event where the app debuted, Yahoo also announced plans to boost native advertising on Tumblr, a microblogging platform the company acquired last year.
Calacanis is unlikely to start monetizing Inside at the outset. As he explains, the focus for his company and the mobile news-reader is to become a go-to source, or at least making it the first stop.
"Nothing would please me more than if we can get critical mass and really change some of the behavior there," Calacanis said.
For reprint and licensing requests for this article, CLICK HERE.