It's Up Stream At Beats Music
Entertainment: Startup service enters noisy marketplace.
Monday, January 20, 2014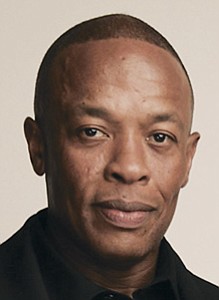 Over the past year and a half, a familiar tune has been coming out of Beats Electronics in Santa Monica.
The company, fronted by music moguls Dr. Dre and Jimmy Iovine and maker of a popular line of high-end headphones, has been openly teasing a foray into subscription online radio.
Starting Jan. 21, Beats Music will offer users access to a library of 20 million tracks, streaming directly to computers and smartphones for $9.99 a month.
The announcement of the launch date capped off a process that began in 2012 when the company
acquired the streaming music service Mog. It heralds a bold if risky move by the consumer electronics star into a competitive field that's fast growing – and littered with duds.
To executives at Beats, the service is the finishing step in their quest to provide an end-to-end experience for customers, a desirable cross-section of audiophiles and hip music lovers.
"Beats was created so people could hear the music the way the artists intended, but speakers were just the first step," said Luke Wood, president of Beats Electronics in a release. "Beats Music is the final piece in making that vision a reality."
If the tune from Beats sounds familiar, that's because it is. In launching a music streaming service, the headphone maker adds its name to a category that resembles less a delicate harmony and more a wall of sound.
Beats Music is nearly identical in practice and price to what's offered by U.K.-based Spotify. That, itself, is similar to a service from Rdio Inc. All were inspired by Rhapsody.
And these are in addition to the dozens of free online radio services that are not on-demand, including San Francisco's Pandora Media and entries from Google Inc. and Apple Inc.
Beat's newness in this crowded market could be an almost unsurmountable handicap, according to analyst Michael Pachter at Wedbush Securities in downtown Los Angeles.
"There are clear leaders, and Pandora is the leader in music discovery, while Spotify is the leader in curated subscription," Pachter wrote in an email. "I think Beats Music will be an also-ran."
Still, there's reason to take Beats' ambitions seriously. In an era when music has trended toward highly-compressed audio files passing through tinny-sounding earbuds, the company has made a billion-dollar business selling $200 headphones.
These candy-colored plastic devices emblazoned with a lowercase "b" have created a brand awareness that could be a big help.
"One challenge is getting people to know who you are. Even a category winner like Spotify is unknown by most music listeners," said Russ Crupnick, a senior analyst at New York's NPD Group. "Between Dr. Dre and Jimmy Iovine and the headphones, they have some advantages over who came before."
Indeed, Beats may be untested but competitors are already starting to worry. In the days leading to the launch, Spotify nixed the time limit cap for on-demand streaming through its web player; Rdio soon followed suit.
Background music
As a way to differentiate itself from the pack of streaming services, Beats has been touting its industry cred. It has tapped Nine Inch Nails front man Trent Reznor to serve as the company's chief creative officer, and other artists will be contributing playlists on a regular basis.
These mixes as well as other personalization features are designed to give a personal connection with artists, as opposed to the cold, unfeeling algorithms from services such as Pandora.
"Beats Music is based on the belief that all music has value and this concept was instilled in every step of its development," Reznor said in the release announcing the launch.
But brand awareness and music industry cred can't solve the problem of high costs. Music streaming is a low-margin business that requires companies to shell out big bucks to the publishers in order to access their libraries. It's a burden that has kept Pandora routinely posting unprofitable quarters, while Spotify, according to one report, has lost $200 million since 2009.
Publishers remain fiercely protective of the dwindling cash in the music business and they already feel once-burned by tech.
"They lost the first round with Napster and the sharing services, so they're afraid of giving it up so easily again," said Sameet Sinha, an analyst at the San Francisco office of B. Riley & Co. "Media companies are going to get theirpound of flesh no matter who's asking."
To counter that, Beats has positioned itself as a close friend to the music industry, propped up by friendly faces. But that image is at odds with its deep connection to the consumer tech world.
The company was launched in 2008 as a joint venture between Dre, Iovine and Monster Cable Products Inc., a manufacturer of high-end audio/visual components in Brisbane in the Bay Area.
In 2011, Taiwan smartphone maker HTC Corp. invested $300 million in the business, becoming the majority stakeholder. Monster ended its partnership the next year, and Beats has since repurchased all of HTC's shares. It's in the process of moving into new headquarters in Culver City.
The company tipped its intentions to branch out from headphones and speakers with the purchase of Berkeley's Mog in 2012. The subscription music service has continued to operate independently of Beats Electronics, and the Beats Music unit has been spun off into a separate company.
Executive from both Beats Music and Beats Electronics would not comment on the roll out.
Cost issue
The balance between being artist-friendly and running a profitable business is delicate. Traditionally, royalty rates for so-called "non-interactive" streaming services such as Pandora, where you create genre stations but can't choose individual songs, is set by a federal copyright board.
But an on-demand service such as Spotify or Beats Music negotiates deals individually with the major labels. Beats did not reveal what its artist compensation rate would be, nor if that rate would be better than what's offered by Spotify.
One major challenge for these young services has been getting potential customers to unclasp their credit cards to pay for music. It's worked for movies: Netflix Inc. has been wildly successful charging customers $8 a month for access to a streaming library and DVD-by-mail service.
The lower margin business of digital music rentals has been tougher. Privco, which estimates financials of private companies, projects that Spotify did break into profit in 2012, but its acquisition costs have also gone up. According to the recent estimates, Spotify has 6 million subscribers in the United States.
The more troubling competition may come from tech giants such and Apple and Google, which are vast enough to run music services at a loss without worrying about the bottom line.
"Those companies are the most dangerous because they don't need to make money from music in order to consider their music efforts a success," said James McQuivey, an analyst with Forrester Research in New York. "Amazon has already shown with its video service that it doesn't think of streaming video as a product at all, but a benefit tied to being a customer of Prime shipping."
Success for Beats may come not through direct competition at all, but a carrier deal the company struck with AT&T Inc.
For $14.99 a month, AT&T wireless customers can get access to Beats Music for up to five people on their account. That deal, in some ways, mirrors a cable carrier arrangement where subscribers pay a few more dollars a month for access to premium channels like HBO.
It's a reframing of the service from just another monthly charge to an added package that parents can purchase for kids on their plans. NPD analyst Crupnick argued that in an era where young music listeners haven't fully embraced the idea of paying for legal music, this kind of a partnership is sound logic.
"My mobile bill is already over $300 a month," Crupnick said. "To add $15 extra have quality legal music doesn't seem that bad."
For reprint and licensing requests for this article, CLICK HERE.