It's Up Stream At Beats Music
Entertainment: Startup service enters noisy marketplace.
Monday, January 20, 2014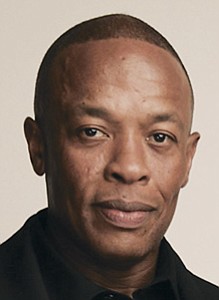 Over the past year and a half, a familiar tune has been coming out of Beats Electronics in Santa Monica.
The company, fronted by music moguls Dr. Dre and Jimmy Iovine and maker of a popular line of high-end headphones, has been openly teasing a foray into subscription online radio.
Starting Jan. 21, Beats Music will offer users access to a library of 20 million tracks, streaming directly to computers and smartphones for $9.99 a month.
The announcement of the launch date capped off a process that began in 2012 when the company
acquired the streaming music service Mog. It heralds a bold if risky move by the consumer electronics star into a competitive field that's fast growing – and littered with duds.
To executives at Beats, the service is the finishing step in their quest to provide an end-to-end experience for customers, a desirable cross-section of audiophiles and hip music lovers.
"Beats was created so people could hear the music the way the artists intended, but speakers were just the first step," said Luke Wood, president of Beats Electronics in a release. "Beats Music is the final piece in making that vision a reality."
If the tune from Beats sounds familiar, that's because it is. In launching a music streaming service, the headphone maker adds its name to a category that resembles less a delicate harmony and more a wall of sound.
Beats Music is nearly identical in practice and price to what's offered by U.K.-based Spotify. That, itself, is similar to a service from Rdio Inc. All were inspired by Rhapsody.
And these are in addition to the dozens of free online radio services that are not on-demand, including San Francisco's Pandora Media and entries from Google Inc. and Apple Inc.
Beat's newness in this crowded market could be an almost unsurmountable handicap, according to analyst Michael Pachter at Wedbush Securities in downtown Los Angeles.
"There are clear leaders, and Pandora is the leader in music discovery, while Spotify is the leader in curated subscription," Pachter wrote in an email. "I think Beats Music will be an also-ran."
Still, there's reason to take Beats' ambitions seriously. In an era when music has trended toward highly-compressed audio files passing through tinny-sounding earbuds, the company has made a billion-dollar business selling $200 headphones.
These candy-colored plastic devices emblazoned with a lowercase "b" have created a brand awareness that could be a big help.
For reprint and licensing requests for this article, CLICK HERE.
Prev Next